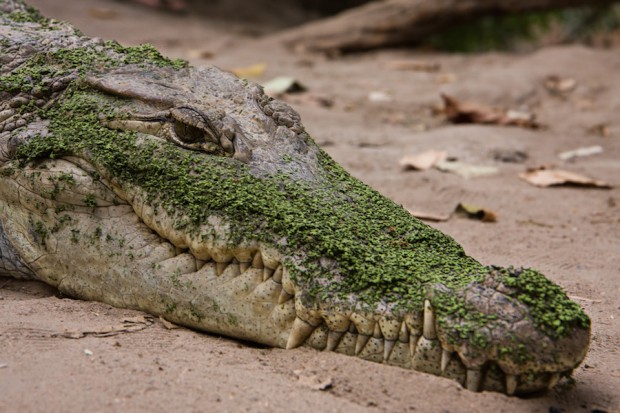 The skincare industry is full of snake oil salesmen who shill products that promise to give you the plump, glowing skin of a Hadid. The more exotic an ingredient's name, the more marketable it is.
But there's a newfangled beauty secret being passed around in the industry, and for once, it's not originating from South Korea—it's coming all the way from South Africa, and it's as wild as the beasts that live there. In fact, it's a byproduct of one such beast: the crocodile.
Crocodile oil, which is derived from crocodile fat, is being touted as the next skincare craze by South African brand Repcillin. It sounds insane, but the benefits are difficult to ignore: It contains skin-repairing antioxidants like vitamins E and A, joint soothing linoleic acid, cell-regenerating oleic acid, skin-softening sapogens and antiseptic terpines. In addition to that, it also naturally-occurring omega 3, 6 and 9 essential fatty acids, which can't naturally be synthesized by humans.
If you suffer from chronic skin problem like psoriasis, eczema, inflammation and irritation, this ingredient could help alleviate your condition. It doesn't hurt that Repcillin also doesn't use silicon, sulfates, parabens, coloring, and synthetic fragrances in their products.
"Crocodile fat is an animal by-product and until very recently has been discarded…There is only 600g of fat available from a single crocodile," says Repcillin press officer Helen Lebedeva. "The crocodile breeding farm we use to get the fat from breeds thousands of crocodiles every year for the purpose of supplying crocodile meat to restaurants and meat suppliers in Africa and Europe. The skin of crocodiles is used locally to produce leather accessories and for export to major fashion houses in Europe."
The brand has also been issued well-being certificates by the likes of Organic Standard Soil Association, Fairtrade, Not Tested on Animals, and Eco Salt. Their crocodile oil has also been tested by the South Africa Bureau of Standards (SABS), and their crocodile farm adheres to the strict regulations of the Convention on International Trade in Endangered Species of Wild Fauna and Flora (CITES).
However, if the idea of smearing a reptile's fat on your body makes you feel squeamish, in the same way that picking up a genuine croc skin handbag makes you guilty, then you may want to opt out
[
The Telegraph
]
Photo courtesy of Wikimedia