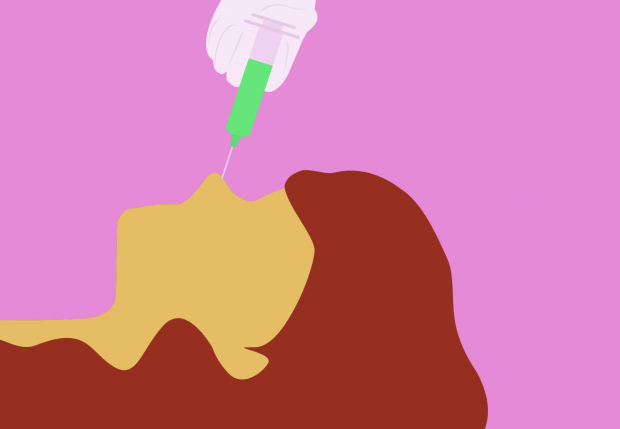 You read the title right. Nowadays, getting a nose job is becoming more commonplace in the Philippines. The procedure seems to be receiving renewed popularity as the taboo around it is now slowly lifting. Take, for example, how you can now go under the knife right after you get a new haircut.
Recently, Creations by Lourd Ramos has partnered with Dr. Shimmian Aesthetic Center, lead by plastic surgeon Dr. Levi Lansangan, to offer facial and plastic surgery services at select Creations branches.
Before, people used to ask for braces after [graduating from] high school. Nowadays, they want nose jobs," Dr. Levi says. He then decided to team up with celebrity hairstylist Lourd Ramos to make the service more accessible. "We wanted to make it easier for people to get the total makeover they want," he continues.
If you're curious about nose jobs or are planning to get one but still have a few questions, Dr. Levi was kind enough to give a small orientation of what it's all about, how technology has made the procedure so much easier, and even why he might turn away some patients.
#1 Which type of plastic should I get? 
Dr. Levi says that for rhinoplasty, Gore-tex is the way to go instead of silicone. "Silicone has been proven to be problematic in many different studies. It tends to give you that pinched, unnatural look especially when done wrong," he says. On the other hand, Gore-tex is a much more recent development in rhinoplasty and gives a more natural look to your face over time. Made of polymer, it lets tissue grow around it once it's implanted, easing its way as a part of you.
#2  How long does a nose job and the recovery time take? 
You don't need to clear a huge chunk of your life to make time fora nose job. "[The procedure] only takes one hour," says Dr. Levi. "Down time is only four days. I have some patients who come in on a Thursday and are ready to go back to work [the following]Monday."
#3 Will my expectations match what the procedure offers? 
Before getting any kind of cosmetic surgery, Dr. Levi tells us that one must be realistic with the results they're going to get. "When a patient comes to me with a photo of a celebrity, I usually tell them that what they want is impossible. They come to me thinking that after the surgery, they will look like that celebrity. It's just not possible because all you're getting done is your nose," he says.
He also tells us of patients who have actually said, "I want my boyfriend back," thinking a new nose would save the relationship. When it comes to this, he reminds us that people like him are just surgeons—not magicians. "I can give you some of your confidence back and make you feel better about yourself, but not bring back your relationship."
#4 Am I doing this for the right reasons? 
Throughout Dr. Levi's career, he has met people who have wanted to get the procedure only to find out that it's for the wrong reasons. "Some people are already beautiful but are simply not content. A nose job won't make much of a difference if there's nothing wrong with your face to begin with or if you're just seeking to be perfect," he says. Apparently, even cosmetic surgeons will tell you there is no such thing as perfect, and if that's your goal, plastic surgery is the last thing you should do.
Dr. Levi also tells us that he also tries to avoid SIMON patients. "SIMON is an acronym which stands for Single, Immature, Male, Obsessive, Narcissistic," he explains. "I try to avoid those patients because they end up regretting their decisions and blaming you for it."
#5  How can I truly say I am prepared for this?
It may seem a little obvious, but you have to be prepared for rhinoplasty in all aspects. "You have to be ready physically, mentally, and emotionally," Dr. Levi says. He emphasizes that it's a big decision that will change you life and how you will perceive yourself.
"You also need to tell your loved ones about it, especially your parents and [partner]. I've had patients whose parents got angry at me for their child's nose job," he shares. "It's not something you should do for anyone other than yourself, but you still have to consider the people directly around you. You have to prepare them for the changes you'll undergo."
Art by Dorothy Guya
Creations by Lourd Ramos. 2nd Floor Cedar Executive Building, A. Arnaiz Avenue, Makati, 1200 Metro Manila. Open from 9 a.m. to 6 p.m. (02) 846 7867. For more information, visit their Facebook page.