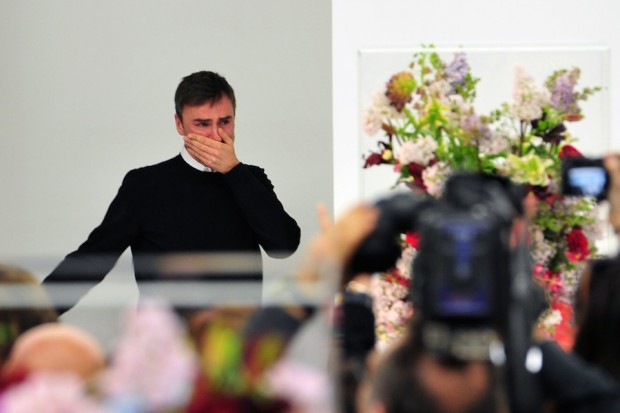 Just when we were getting cozy with the idea of Raf Simons at Dior comes the blind-siding news that after three and a half years, he has decided to leave the house. Having never indicated his discontent at the storied couture house in previous interviews, his decision has left many fashion insiders and ardent fans of his work in disbelief.
In an official press statement, Raf explains his reasons for leaving:
"It is after careful and long consideration that I have decided to leave my position as Creative Director of Christian Dior Couture Women's collection. It is a decision, based entirely and equally on my desire to focus on other interests in my life, including my own brand, and the passions that drive me outside of my work. Christian Dior is an extraordinary company, and it has been an immense privilege to be allowed to write a few pages of this magnificent book. I want to thank M. Bernard Arnault for the trust he has put in me, giving me the incredible opportunity to work at this beautiful house surrounded by the most amazing team one could ever dream of. I have also had the chance over the last few years to benefit from the leadership of Sidney Toledano. His thoughtful, heartfelt and inspired management will also remain as one of the most important experiences of my professional career."
It should be noted that unlike many creative directors who work for major fashion brands owned by conglomerates, Raf had very good relationships with Dior chief executive officer Sidney Toledano, LVMH chairmain Bernard Arnault, and his daughter Delphine, who was instrumental in his appointment at Dior, which is indicated in his press release. So it's safe to rule out a clash with management.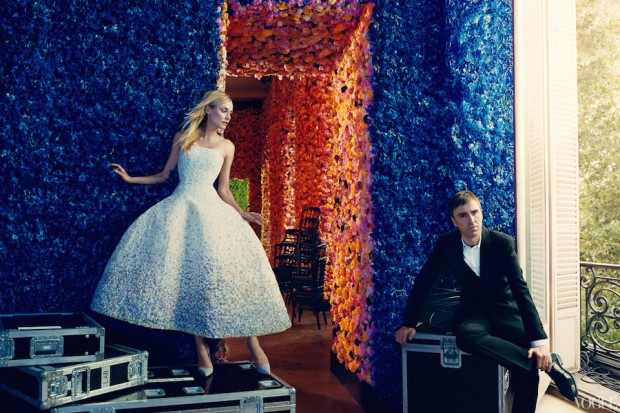 However, the gaps in his reasoning—a "desire to focus on other interests in my life" and "passions outside of work"—are helpfully filled in by his longtime champion, fashion critic Cathy Horyn. In her column for The Cut, she writes, "Simons was frustrated by the lack of time to create."
"I'm not the kind of person who likes to do things so fast… I think if I had more time, I would reject more things, and bring other ideas or concepts in," he says. "When you do six shows a year, there's not enough time for the whole process. Technically, yes—the people who make the samples, do the stitching, they can do it.
"But you have no incubation time for ideas, and incubation time is very important. When you try an idea, you look at it and think, Hmm, let's put it away for a week and think about it later. But that's never possible when you have only one team working on all the collections."
His sentiments are echoed by Vogue.com's Nicole Phelps, who observes, "Simons's abrupt departure will undoubtedly spark renewed talks about the difficulties of overseeing a brand of Dior's size and the almost inhuman demands of the current fashion cycle."
For now, it will be safe to presume that he will go back to Antwerp to work on his avant-garde namesake label. His successor has not yet been named, but Cathy speculates that Céline's Phoebe Philo and Givenchy's Riccardo Tisci are possible candidates, while WWD name-drops Lanvin's Alber Elbaz and Proenza Schouler's Jack McCollough and Lazaro Hernandez.
Raf's last collection for Dior was presented last Oct. 2 at the Louvre for Paris Fashion Week spring/summer 2016.
[
WWD
]
Photos courtesy of The Huffington Post, AFashion Consulting, and Vogue