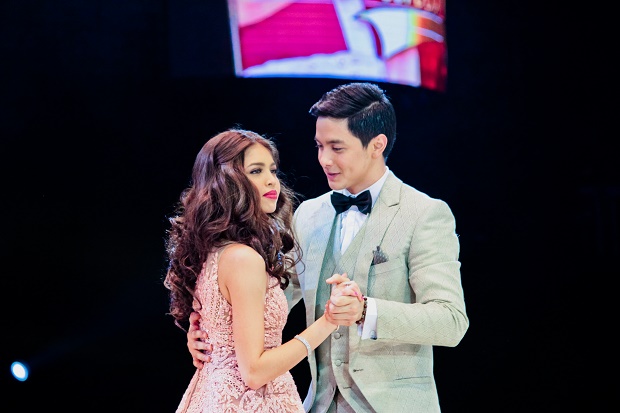 Another Saturday, another #AlDub moment—what's new, Philippines? I came home last weekend to a newsfeed filled with news of Alden Richards and Maine Mendoza's prom date. Unlike that tragic cliffhanger from weeks before, the two finally met, ever so ready to do their pa-bebe waves.
Are you done obsessing over Maine's Francis Libiran gown? Have you stopped gushing over Lola Nidora's chat room love advice? Is your throat alive after all that screaming? Good. It's been two days, and the high isn't over yet.
Now that you've got the fangirl/boy out of your systems, let's take a look at what made #AlDubEBTamangPanahon the most watchable episode yet.
#1 Blame that backtrack

Or more accurately, Erik Santos' "I'll Never Go." They shouldn't expect us to wait on Alden's grand entrance and watch this #AlDub medley without John Lloyd Cruz invading our heads, crying and hoping we tune in to his home network instead. Sorry, Lloydie, we gave it enough chances.
Sandwiched between other mushy love songs, this nostalgic tune sets the tone for the meeting—and for you. After all, you didn't go far away from that TV screen, didn't you?
#2 AlDub proves they can deliver kilig sans the cheese

While today's hottest love teams try their best to kiss onscreen without their noses hitting, Alden and Maine were too busy silently judging the cheesy lines they had to say.
"Ang tagal kong hinintay 'tong chance na 'to to say that God gave me you," Alden tells Maine, giggling like a teen. Maine snickers, too, when she says it herself. Later, we see the two goof off as they share inside jokes and chat off-mic, all the while giving their stage manager a heart attack. Keep to the program, kids!
AlDub's chemistry is hard to deny, even if you try not to watch and keep your eyes shut.
#3 It goes on and on and on

Oh yeah, before we forget, did you see any commercials? No? We didn't, either. Lola Nidora didn't just bring her best contour game to the show, but also a folder that contained the magic words: "No Commercial Interruption." Good day for your viewing pleasure, bad day for your bladder.
Be thankful you can watch the replay on YouTube. Imagine controlling your pee and feels altogether. (Or maybe you cried them all out last time instead, we don't know.)
#4 An audience as entertaining as the couple

It gets tiring to see the same old faces reacting to AlDub's noontime flirtations. And so when we get a glimpse of actual fans' real-time reactions, it makes watching all the more memorable.
First, just listen to the fangirls. When Maine starts talking, they freak out like mommies cooing over their babies' first words. And then there are the crying and leaping men. Yes, I'm talking about grown men who unabashedly shed a tear over the lovebirds in front of them. I mean, screw gender norms! Men can cry and ship, too!
#5 Alden Richards' 'blind' performance

If you still think Alden is as pure and innocent as his dimples seem to be, think again. (And maybe stop antagonizing me for stating the obvious, really.)
Just when you thought Alden was through making his fans melt with his Prince Charming attire, he reveals his guns and lets this orgy of turtleneck-wearing girls blindfold him into dancing.
Now, whoever choreographed this must have been out of his or her mind—hopefully Alden's got his face insured before that performance—but hey, we all want to see a completely different side to this angelic, otherwise stoic, leading man.
#6 Eat Bulaga's monumental milestone 

It's now a truth locally acknowledged that whoever tries to trump #AlDub will fail. Yes, even 27 million tweets strong and many advertisers after, the kalyeserye has all the bragging rights enough to keep the celebratory mood.
No doubt it's legit when somebody from Twitter's got time to do a spiel about the AlDub phenomenon. "We created a community that believes in love, happiness and hope," it states plainly in the segment.
Well, even haters know it's true. You're part of this lot, aren't you?
Photo courtesy of Gwendy De Los Santos via Philippine Daily Inquirer