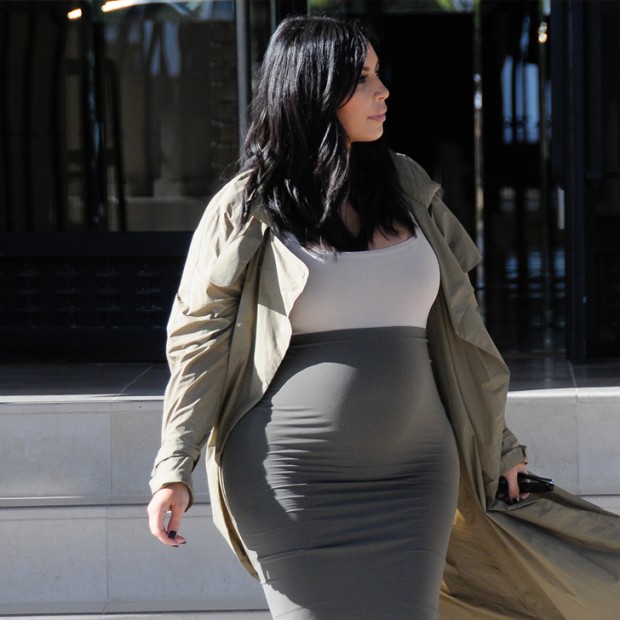 Last August, Kim Kardashian posted a nude selfie on her Instagram account to slam haters saying she's gotten too big. "I've learned to love my body at every stage! I'm going to get bigger and that's beautiful too," she said. But on her paid-for website KimKardashianWest.com, the seven-month-in mother opened up about her pregnancy woes. "I'm feeling like a fucking whale!" she says.
The list also goes on and on. The 35-year-old star says, "It gives me too much heartburn." She also admitted that instead of cozying up to husband Kanye West at night, she kicked him out to the spare room and chose to surround herself with pillows while sleeping.
And she's not done yet. She revealed that her son, now that he's the size of a "coconut," always makes her want to go the bathroom. The baby is "sitting on my bladder and I have to pee every 5 minutes!"
While it may seem that the pregnancy has gotten to her more since she first posted that naked selfie, Kim, due for labor this December, reveals that her family has been "super supportive" of her. They were also at her Troop Beverly Hills-inspired shower, dressed in their PJs. Even Khloe Kardashian, who has been beside her husband Lamar Odom at the hospital round the clock, decided to drop by.
She may have been brutally honest about what she "suddenly disliked" about this stage in her life but hey, now you know that just like all other expectant moms out there, Kim Kardashian isn't an exception to these very human pregnancy issues—though you might not have a bejeweled bra like she does.
[
The Daily Mail
]
Photo courtesy of Pop Sugar