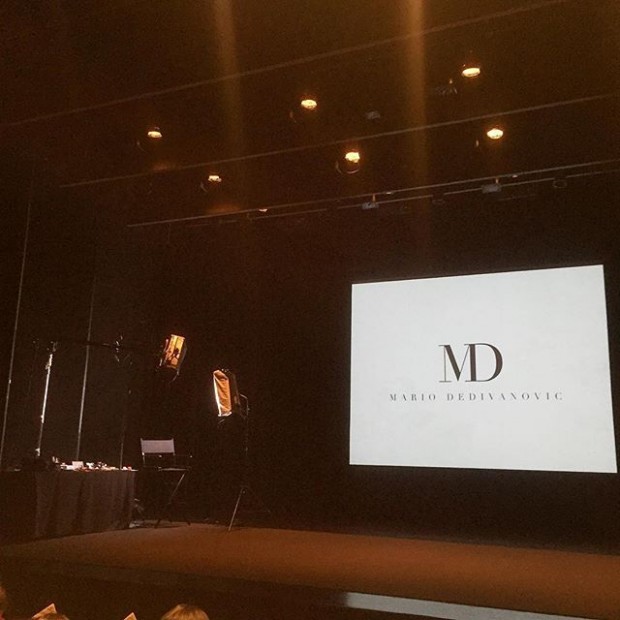 I've been a fan of Mario Dedivanovic ever since. I like his work because he can go from natural to a smoky look. That being said, I'm not a fan of Kim Kardashian's makeup, though. It feels very "put-together" and heavy.
But I went ahead and took Mario's masterclass in New York is because I heard that he has different techniques that other makeup artists don't use. (I also heard about his humungous goody bag—that one made me really excited.)
The atmosphere was very chill, with the audience consisting mostly of makeup artists, beauty bloggers, and makeup junkies. Everyone was very interested in the class and people would just ask questions along the way. Sadly, Kim was not the model. We were expecting her, but I guess she couldn't make it. Most of the people there were quite disappointed. But the show went on! Besides, I was there to learn about makeup, not to see Kim.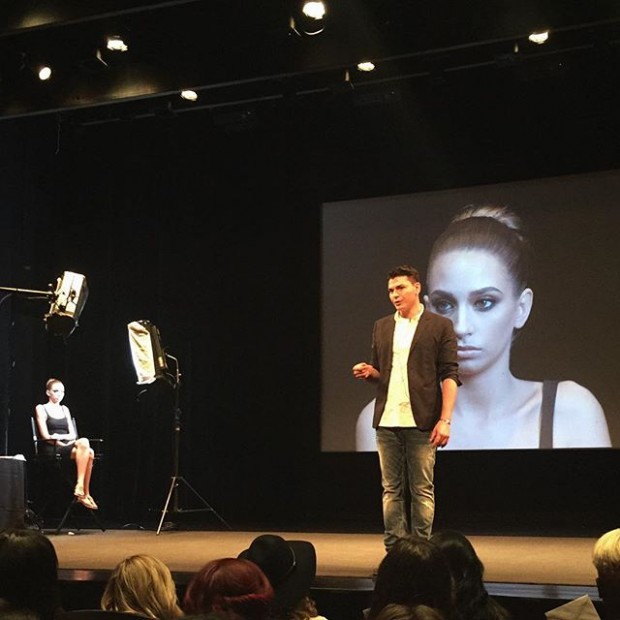 The big let-down
Unfortunately, everything he taught, I already knew. He only taught the basics, actually. I went to makeup school, and I continue to hone my craft by going to classes and workshops. He did have one trick that I ended up using, though: When he does eyeliner, he uses a pencil first, and then he coats it with a gel liner. He says that it's better for building up product. It works for me so I kept it in my bag of tricks.
He also talked about his life and how he started. He is a self-taught makeup artist who began assisting big makeup artists. He said that he was—and I quote him—"the best makeup assistant there ever was." The class was three hours long, and I think that was more then enough time to cover everything.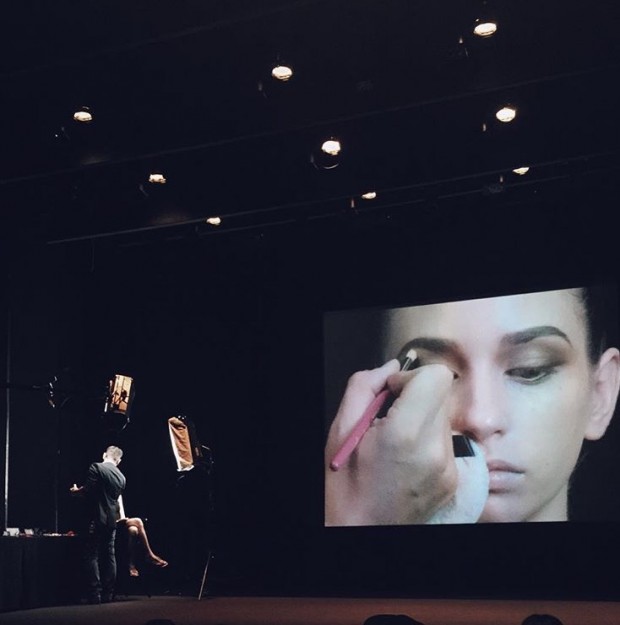 A matter of hygiene
As a professional makeup artist, I had several concerns with the things he taught. For one, he was very poor on hygiene. He did not have disposables with him. Here in the US, we use disposable mascara wands, disposable sponges, brush cleaner, etc. He also mentioned that he uses the same mascara wand on all of his clients. I noticed the reaction of some makeup artists when he said that.
It was bad. That is a NO-NO. What if one of his clients had pink eye? He could pass it on to his next client because he used the same wand on her. He would also blow on the false lashes while making the glue dry.
The moment he did that, I just lost interest in him. Hygiene is number one for me and I just cannot do those things to my clients.
He also never uses a primer or a corrector. As a professional, I feel that both of those products are very essential in your kit. Primer is the one product that makes foundation last longer. A corrector is a product you apply before concealer. Let's say a client is red all over her face—foundation and concealer will not be enough to fix that. It will, somehow, if you keep applying concealer. But it won't look natural and no one wants that much product on the skin, either.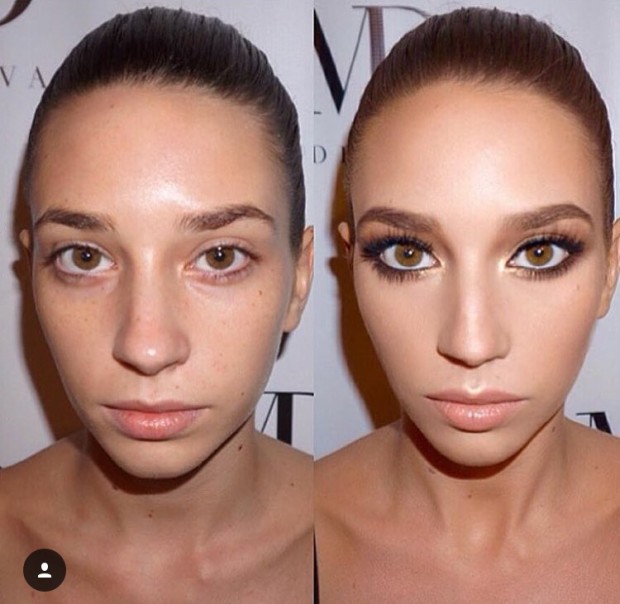 Was it worth it?
I would strongly suggest going to a makeup school instead of going to Mario's masterclass. If makeup artists who are just starting out see and learn how he does things, then they might be off to a bad start. It's just better to be hands-on, anyway. Also, when people would ask him questions, he didn't really get to the point. I felt like he was lazy to answer them. If he were more interested in answering the questions properly, it would've been better.
People just hyped his class up so much. I felt like I wasted my money, honestly. If there were a follow-up class, I would not take it either. I'm not trying to bad-mouth him or "destroy" his reputation. He is where he is for a reason. He's a great makeup artist. But I've already accepted that fact that there are makeup artists out there who don't see hygiene as something very important. To each his own.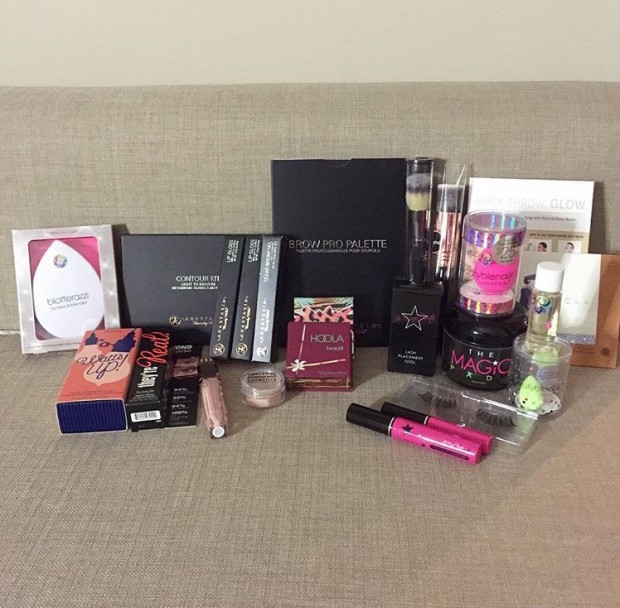 The goodies
At least the giveaway bag was exciting! It contained many top brands that are quite covetous, like the Anastasia Beverly Hills Original Contour Kit, Brow Pro Palette, two Lip Glosses, and Brow Gel, along with Benefit Cosmetics Coralista Box O'Powder Blush, Hoola Matte Bronzer, They're Real! Lengthening Mascara, and Watt's Up Highlighter. There were also two makeup brushes from Sigma, two Beauty Blender makeup sponges, and many more! I've used all of the products and I love them all. It was like Christmas morning!
What I also took home was his passion. He talked about how hard he worked to get where he is right now. He said that in order to be a great makeup artist, you need to learn how to connect and network with people, assist key makeup artists, and just be the best you can be. It made me dream even bigger dreams. I mean, if Mario can do it, why can't I?
As told to Cai Subijano
See more of Nikki's work by visiting her website, Facebook, Twitter, and Instagram pages.
Photos by Robbie Piñera, Martin Bautista, Nikki Guevara-Perez de Tagle, and Helen Mills