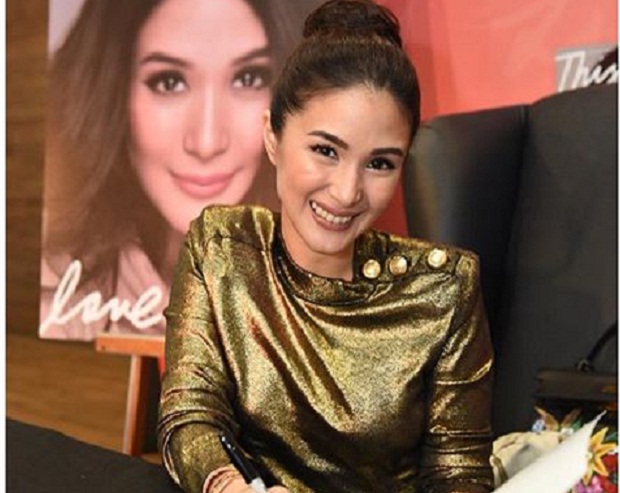 It's hard to believe, but Heart Evangelista has been in the entertainment industry for a little over 15 years already. After all those years, TV shows, movies, and commercial campaigns,  she still  has that same sweetheart smile.
It's then quite fitting that she's added "beauty book author" to her achievements. This week marks the launch of her book This Is Me, Love Marie. A compact guide of seven chapters, the book covers makeup and skincare tips, recommendations, and tricks Heart believes in. She also inserts some snippets of her life in showbiz and also how she and her team worked on making the project come to life.
Sure enough, we here at Preen picked up a copy, trying to crack the code behind Heart's secrets as we list down the pieces of advice she swears by.
1. Here's an interesting tip for those of you who want long and soft lashes: "Moisturize your lashes before going to sleep by applying a tiny bit of aloe vera." Aloe vera has long been a miracle product for healthy hair and thus, would also help when growing your lashes and making sure they are cared for after all those coats of mascara.
2. Heart's travel makeup essential? "Neutral palettes are perfect when I go on vacation, because they don't take up much space and they carry all the colors you'll need on your trip."
3. For creating the perfect pout, Heart believes that it is best to always exfoliate and moisturize the lips first. When applying lip products she says, "If you're applying lipstick, blot the balm with tissue beforehand so the lip color will not slide off." Heart puts a premium on priming your lips before putting any kind of lipstick. She also puts an emphasis on priming your lips and recommends the E.L.F. Studio Lip Primer (P249) and also the MAC Prep + Prime Lip (P1,200).
4. She recommended red shades like NARS Velvet Matte Lip Pencil in Red Square (P1,450), Art Deco Lip Passion Smooth Touch Lipstick in Deep Cranberry (P795), L'Oreal Paris Collection Star in Pure Garnet (P400), MAC in Red  (P1,00), and Lancôme L'Absolu in Velour de Caprice (P1,850).
5. When it comes to skincare, Heart not only makes sure she cleanses, tones, and moisturizes her face each night. She also takes time in doing every step. "Let each layer of product set on your skin before moving on to the next item. In between applications, let at least three minutes pass."
6.For bronzing, she offers up a quick tip. "The basic bronzer rule is to trace the number "3" starting on top of your cheekbones, to you chin. Don't forget your neck!"
7. When it comes to blush, Heart likes to use different kinds at the same time for maximum effect. She says, "Use an orange blush to make your blush color really pop!"
8. Shaved or plucked? Heart goes for shaved arches. "My mom says if you keep pulling hair from the root, you tug at your skin and cause damage. That's why I shave my brows instead of plucking them.
9. For pimples, Heart goes for a simple remedy. "Reduce swelling by using a cold compress. My mom used to make me place ice on my pimples."
10. Lastly, Heart reveals the three items one must really have in their makeup kit. "If you could splurge on three makeup items, get a no-fail brow product, a tried-and-tested lash curler, and a fabulous lipstick."
This Is Me, Love Marie (P295) is now available at National Book Store, Glorietta 1 and will soon be available in all branches. You may also download the e-book version on Buqo.