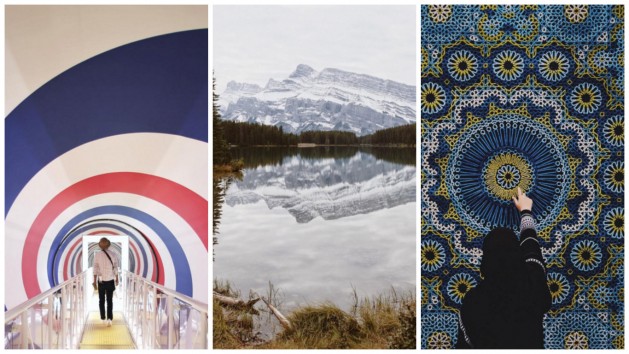 While we're stuck in the city, up-to-our-necks in deadlines, other #blessed travellers seem to be perpetually knee-deep in sand, sun, saltwater, and exotic grub. But let's not give in to the burnout. The long weekends are near—have you filed your leaves of absence in time for the 20th? Yes, we're hyping you up for it.
Find your next destination or just fuel your travel lust by following these picturesque Instagram feeds. Whether you're in the mood for the usual beach scenery or into the urban jungle, take your picks here.
#1 The girl you follow for her bohemian trips: Rachel Halili
@rachelhalili
https://instagram.com/p/6qy3rlqn2E/?taken-by=rachelhalili
Rachel is an all-around adventurer with a goal of visiting each and every one of the 7,107 islands in the country. Besides the drool-worthy photos of her skin-diving, trekking, swimming, and more, she also shares some of her "artventures," the personal collages she creates that give us a glimpse of other fictional destinations.
#2 The couple you wish you third-wheeled with: Kimi Juan and Thomas Caja
@kimijuan and @thomascaja
https://instagram.com/p/99nL8IBqTn/?taken-by=kimijuan
Forget cheesy surprises and Twitter clichés. Kimi and Thomas are the real #relationshipgoals. Always going places, this photographer couple has a whimsical and dreamy perspective on the world. With their lenses, they're able to make an adventure out of anything, whether they be beach trips, park walks, or even just coffee shop dates.
#3 From Dubai with love: Herald Herrera
@heraldherrera
https://instagram.com/p/8-XwTtt5z8/?taken-by=heraldherrera
This UAE-based photographer shows us a different side of Dubai beyond the flashy cars and skyscrapers. His subjects of choice? Strangers.
Since moving from the Philippines, Herald has been organizing "InstaMeets," where he explores places out of the usual tourist track. This drove him to get out of his comfort zone and build a community that celebrates everyday life without living it ordinarily.
#4 The girl who ends up everywhere: Lucy Laucht
@lucylaucht
A serial traveler by heart, Lucy is a British writer living the New York dream—and beyond. Fawn over her pastel-perfect perspective, from the quaintest corners around the Big Apple—and under the coconuts of Palm Springs, to the grand steps of Machu Picchu and the glorious San Jacinto Mountains.
#5  The man you will blame for your French obsession: VhuTheara Kham
@vutheara
Fall in love with the City of Lights through VhuTheara Kham's breathtaking pictures of his beloved hometown. The French photographer is a visual-storyteller who evokes feelings of romance and captivation. He'll make you wish you were sitting in a café on the side of the Champs-Élysées, people-watching, and just waiting to get whisked away by a Parisian.
#6 The woman who sees through space: Yuko Mouton
@yukomouton
A fashion designer by profession and architecture by heart, Yuko's Instagram feed is structural porn at its finest. Featuring spaces that are slick, sleek, and state-of-the-art from all over Japan, she transports viewers to a world so modern and futuristic, you'll be inspired to take the first plane out to Tokyo and stare in awe for yourself.
#7 The girl who will get you out of the city: Shanelle Frederickson
@grandmotherwolf
Shanelle's photos might as well be straight out of a postcard from your lover with a hand-written "Wish you were here!" She captures lakes, valleys, forests, and mountains so vividly scenic, you'd think they're too good to be true. It's an ode to the beautiful, slow life.
#8 The twins who travel together and stay together: Ann and En Estrada
@trasienne and @tracianne
https://instagram.com/p/84bDSpybsz/?taken-by=trasienne
https://instagram.com/p/9R2YvvEllw/?taken-by=tracianne
One can only hope to live off coconut juice and string bikinis the way Trasienne and Tracianne Estrada do. While their beach and surfer girl lifestyle is enviable on its own, their photographic style, described as having "the subtle melancholy of a Sofia Coppola film and the sly wit of something from Wes Anderson" makes their travel documentations a visual feast.
#9 The woman who has a more interesting job than you do: Ana Barros
@anasbarros
"A day in the office is just not creative enough," claims Vienna-based architect Ana Barros. We couldn't agree more. If only we, too, had the luxury of having the streets of Europe as our workspace, we'd probably love going to work every damn day.
#10 The man with the best travel tips: Kash Bhattacharya 
@budgettraveller
A bonafide jet-setter, Kash Bhattacharya's photos are not only your newest catalogue for a bucket list, but a goldmine of travel hacks—from finding the cheapest, quality grub in Berlin, to knowing the most unique, hole-in-the-wall accommodations in Edinburgh. Preaching the art of traveling in style while on a budget, he proves that you need not sell your house and your organs to get around the globe.