Last week, we covered 10 dessert gift items to give out for the holidays. This week, we're dishing out 10 savory food items—from snacks and condiments to entire legs of ham—for your nearest and dearest to enjoy in time for Noche Buena.
Fasten those belts and keep those traps shut—you're going to salivate over this list.
#1 For the cheese addicts: Totally Baked Queso de Bola Crisps
What's Noche Buena without a little Queso de Bola, right? Add a twist to your usual Queso de Bola and pan de sal sandwich by inserting a Queso de Bola crisp by Totally Baked instead. Available in Original (P300) and in Rosemary and Garlic (P300) flavors, these are nothing like the usual thin Parmesan crisps you find at Baker's Fairs because they've got some bite to them. Savory and crunchy, they go with ham, honey, even chocolate!
 Totally Baked. (0917) 898-6766. For more information, visit their Facebook page. Pick-up point is in Katipunan, Quezon City; delivery up until Makati is available for a P100 fee.
#2 For the woefully lactose-intolerant: Coco Green Evolve Pili Cheddar Cheese
Can't have dairy? Bad news: Your life is a lie. Good news: There are alternatives that are good enough for you to trick yourself into thinking that they're the real deal. Coco Green's artisanal Pili Cheddar Cheese (P375/250 g) is made of moringa, sprouted pili nut, nutritional yeast, sea salt, and quinoa. Yeah, yeah, the ingredients list isn't sexy, but it's taste that matters! Close your eyes and lie to yourself again and again until your body believes it.
Coco Green. (0916) 641-4309. 2/F Picasso Hotel, Leviste Street, Salcedo Village, Makati City. Open daily from 11:00 a.m. to 6:00 p.m. For more information, visit their official website.
#3 For the insatiable snackers: G Stuff Taro Chips
We all have that one relative who just can't help but get a case of the nibbles while waiting for the feasting to commence. (Scratch that; we probably all are that one relative.) To pass the time, munch on guilt-free taro chips (P170/100 g) by G Stuff. Available in Paprika-Spiced, Healing Salt Vinegar, and Healing Crystal Salt and Vinegar, these are so healthy, you'll dodge the looks of judgment from the people who share your bloodline.
G Stuff. For a complete list of locations, visit their Facebook page. Also available at Sprout. G/F Signa Designer Residences, Valero corner Rufino Street, Salcedo Village, Makati. 3/F Greenbelt 3, Ayala Center, Makati City. Open from Mondays to Saturdays from 7:00 a.m. to 10:00 p.m., and on Sundays from 8:00 a.m. to 8:00 p.m. For more information, visit their official website.
#4 For your fancy pants relatives: The Butchery Organic Chicken Liver Paté
Related to someone who can't be bothered with chips and dip? Fine, offer them some of The Butchery's Organic Chicken Liver Paté. The gift set (P850) comes with a pot of paté and a pack of crostini for them to spread and spread to their heart's desires. It also comes with a wooden spreader and basket in case they want to take the rest home with them. Last day for pick-up and deliveries is on Dec. 22, so order quick!
The Butchery. (0917) 795-5005. For more information, visit their Facebook page.
#5 For your even fancier pants relatives: Art of Pie Caviar Pie
Organic chicken liver paté and crostini still not doing it for them? Are you seriously related to these people? (Don't answer that.) In any case, bring out the big guns with this traditional Caviar Pie (P2,200/6 inches) or Smoked Salmon Caviar Pie (P3,000/6 inches), which comes with crackers. Let's see them stick their noses up at that.
If you so desire, Art of Pie, Chef Ann Dy, and The Butchery have come together with Holiday Spread Sets (P2,500), which includes organic liver paté, organic pesto al basilica, pimiento de bola spread, 3.5-inch caviar pie, and crackers. They've also got an Ultimate Holiday Gift Basket (P5,000) with an organic sausage sampler, organic pesto al basilica, organic liver paté, 6-inch caviar pie, and crackers.
Art of Pie. (0917) 509-4855. For more information, visit their Facebook page.
#6 For your finicky fogeys: Deep Dips Gourmet Tuyo Antipasto
Before you utter the words "artisanal" and "organic," the older fogeys at your Noche Buena reception will stop you right there: "Where's the patis?" they'll ask. Accommodate their more traditional palates by topping pasta or some crackers (Skyflakes, most likely) with this Gourmet Tuyo Antipasto (P280). Apparently, it goes well with Fino Sherry wine, too.
Deep Dips. Available at Food Source.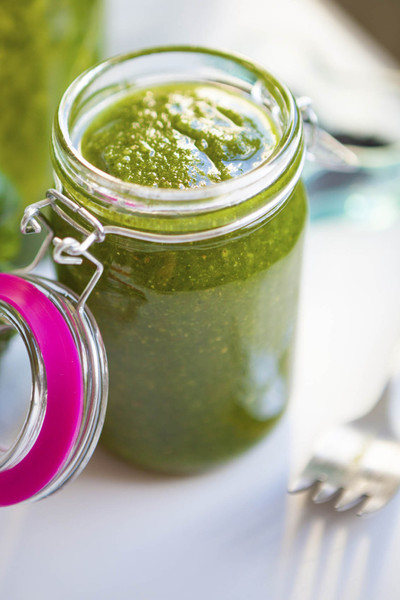 #7 For pasta lovers: Down to Earth Arugula Pesto
Let's be honest: pancit just ain't for everybody. Cater to those with worldlier taste buds by serving them a plate of pasta tossed with Down to Earth's Arugula Pesto sauce (P180/300 g). Made with biodynamic arugula leaves, cashew nuts, olive oil, grass-fed raw cheese, and sea salt, this pesto is also high in Omega-3, Omega-6, Vitamins A, D, and E, calcium, and protein! Feel free to spoon a little extra on your leftover crostini.
Down to Earth. (02) 814-0854. (0922) 816-5147. For more information, visit their official website. Delivery is available for a flat shipping rate of P150.
#8 For the alcoholic uncles (and aunts): Proudly Promdi Tapuey Wine
Family gatherings can be pretty insufferable if not everybody gets along (which, if we're being honest, happens a lot of the time). Make it all the more bearable by serving up a glass of Proudly Promdi's Tapuey Wine (P350/500 ml), which is made from locally produced glutinous rice that is cooked, fermented, and stored in earthen jars for two to three months. Keep the conversation going as the booze is flowing by explaining how Tapuey is a popular local drink during rituals and special occasions. Neat, huh?
Proudly Promdi. For orders and inquiries, e-mail [email protected]. For more information, visit their Facebook page.
#9 For the serious eaters: Mister Delicious Brown Sugar-Glazed Smoked Ham
Forget the appetizers—where's the meat?! Christmas ham is the crown jewel of any holiday celebration. Make this year extra meaty by ordering Mister Delicious' Brown Sugar-Glazed Ham, which can be had Bone-In (P2,900/3.8 kg) or Boneless (P950/1 kg). Slow-cured and smoked for an entire day, this Christmas ham is made with a brown sugar mustard glaze. If there's anything an entire family can agree on, it's this ham. (Except your vegetarian sister—she can gorge on all the pesto pasta she wants.)
 Mister Delicious. (0947) 990-3747. Available at Hole in the Wall. 4/F Century City Mall, Kalayaan Avenye, Makati City. For more information, visit their Facebook page.
#10 For your favorite relatives: Whisk and Zin Premier Gift Boxes
We all know we're not supposed to play favorites with the people we're related to, but let's be real okay? So before sending everybody home, pull aside the people you love best (after the ones who are on your shit list have walked to their cars) and present them with this Premier Gift Box (P1,440) from Whisk and Zin. It contains Whisk's best-selling Raspberry Vinaigrette, Spiced Mango Jam, and Tomato & Lemon Marmalade, plus Zin's Natural Sea Salt and Triple Pepper Blend. So every time they pull these condiments out of the pantry, they'll always remember you. Feel the love yet?
Whisk and Zin. (0917) 877-1948. For more information, visit Whisk's Facebook page and Zin's Facebook page.