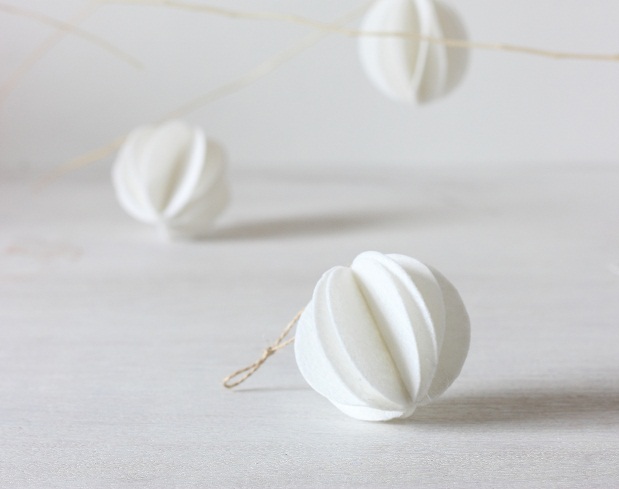 Stop! How many days are left before Christmas? Have you shopped for those presents? Is your pantry stuffed with all the good treats that holidays bring? Of course, you've got your place decked out with the right amount of glitter and décor, I bet.
Still, there's got to be a thing or two missing. Maybe your Christmas set-up needs something extra or you need a new ornament to add to the collection because you don't want to go for the usual parol.
If that's the case, make it a handmade snowball. Get crafty with the whole family and make this project a bit more special.
Felt Snowball Ornaments
Materials
Plain white felt cut into 6 circles (about 3" in diameter)
Medium-sized needle
White thread
Scissors
Twine or string

Procedure
1. Fold each circle right in the middle, running your finger on the crease.
2. Join two folded circles by aligning their creases, with their folded "petals" pointing outward. Sew the two pieces together along their creases with a simple running stitch. Don't cut the thread.
3. Fold each circle so the two pieces look like one single circle, joined in the middle by the stitch.
4. Put the second pair of circles on top on either side, aligning their creases on the middle,sew them together on the crease.
5. Repeat with the final pair of circles the same way, making sure the previous circles are folded, and your last stitch goes through the middle of all the aligned creases. Knot the thread.
6. Using the needle, pull out the knotted thread through one of the petals to the top of the ornament so you have two pieces of thread sticking out on top.
7. Loop a piece of twine, and work the thread to form the loop from hanging.
8. You can sew the petals together at the lower bottoms to keep them fanned out.

Source: Ina Amor Mejia for Southern Living, "Make It Felt," November 2015.

Photo by Ina Amor Mejia