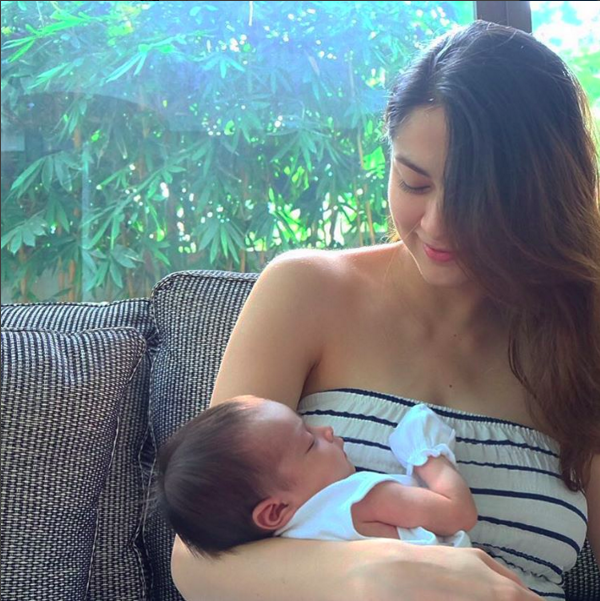 Netizens have updated their Internet résumés. Just recently, they've assumed the new role of child specialists as they question the parenting skills of royal celebrity couple Dingdong Dantes and Marian Rivera.
In a short video posted on Instagram, baby Zia snoozed and smized her way to dreamland as daddy Dingdong patrolled on a Hovertrax. Netizens were quick to note the tablet lying next to Zia in her crib faster than they spotted the Dantes' house water of choice. (Evian, nice touch.)
The newly minted baby experts pointed out Dingdong's erring ways. "Mali naman talaga 'yan. May radiation yang tablet, dapat nilalayo yan sa baby.Isa pa, 'pag gadget, pinapatong 'yan kung saan-saan. Eh, 'di ba dapat lahat ng gamit ng baby sa loob ng crib malinis? (That's just wrong. The tablet emits radiation, and should be kept far away from the baby. Also, you don't know where that gadget's been. Shouldn't all things that go near the baby and its crib be as clean as possible?)" cried one. (Yes, guys, this netizen knows just where the DongYan couple puts their gadgets all the time.)
"WiFi is the silent killer nga raw po, lalo sa mga bata, radiation po kasi. Kaya turn off an (sic) WiFi 'pag hindi ginagamit para 'din naman sa health ng pamilya (They said WiFi is the silent killer, especially with kids because of the radiation. So when not in use, turn off the WiFi. It's for the family's health, anyway)," added another.
DongYan fans, and possibly more forgiving individuals, also defended the couple. "It's not a crib, it's a bassinet for newborn babies… You can take it anywhere [in] the house, like what Dingdong did. Cots should be in the nursery," one user said.
Both sides have valid claims. But just like any other parent, the most Dingdong and Marian can do with all these tips is to see which one applies to their kid the best. After all, we're just doting netizens—we're not Zia's genetically blessed parents.
[
Bandera
]
Photo courtesy of Dingdong Dantes' Instagram account