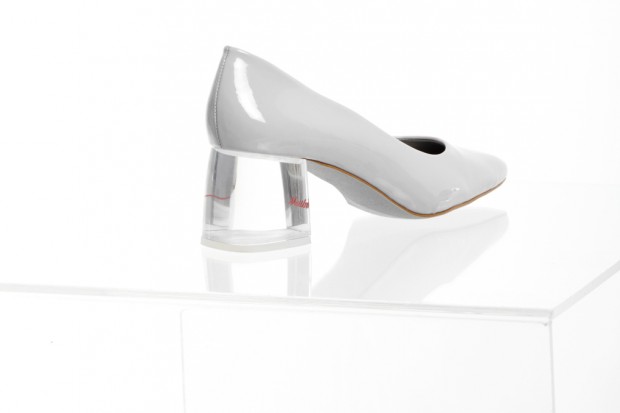 When former Baywatch actress Pamela Anderson announced a vegan shoe collaboration with French designer Amélie Pichard back in September, there was a moment of cognitive dissonance. Previews of the collection were published on WWD and the outcome was entirely unexpected: Yes, there were "trashy" elements like Lucite heels and bedroom slippers, as observed by Vogue. But they were translated in a way that was chic, yet cheeky at the same time.
In an interview with Vogue, Amélie shares, "In 1992, Baywatch was on French TV. I was nine years old, and from that moment Pamela never stopped being a source of inspiration for me."
At the line's official debut at Opening Ceremony recently, she echoed a similar sentiment to Man Repeller's Leandra Medine: "In the early days of my brand, I told my friends that I wanted Pamela Anderson to be the first celebrity to wear my brand. Pamela is my inspiration, and she has become my muse. She's starring in our campaign shot by David LaChapelle."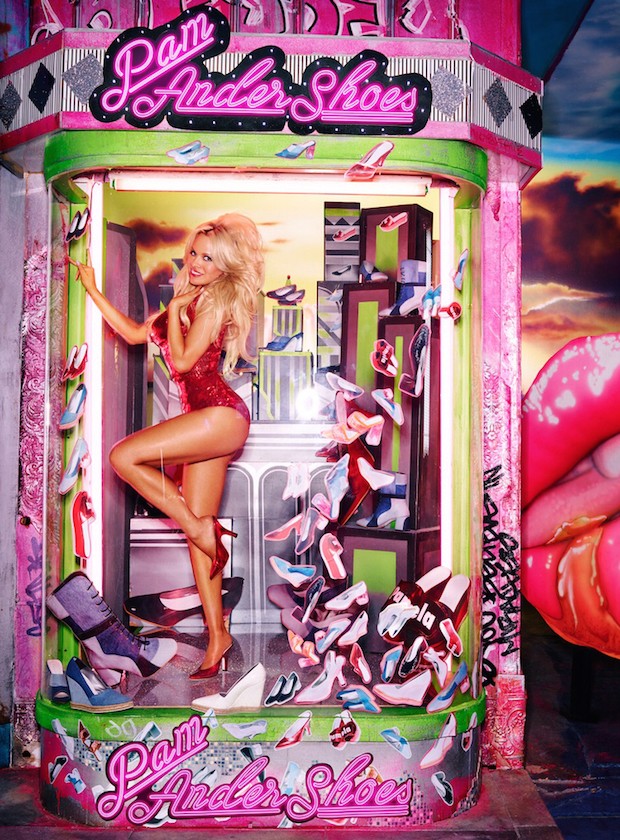 On Pamela's part, the admiration is mutual. "A mutual friend and business acquaintance sent me some of her previous catalogues and lines. She had sent me a pair of 'Pamela' silver slides, as I like to call them, and used me as inspiration for her other campaigns," she tells Leandra. "I loved what she was doing, so when she asked me to fund a vegan line, I thought that was a perfect investment in myself as well as in an artist I believe in. And we are getting a great response."
Leandra observes that the heel of every shoe is covered in glitter, which is representative of the duo's inspiration for the collection. "We were thinking beach clubs and cobblestone streets," Pamela explains. "Malibu meets St Tropez. Glitter soles because after a night out with my friends, the bottoms of my shoes are covered in glitter."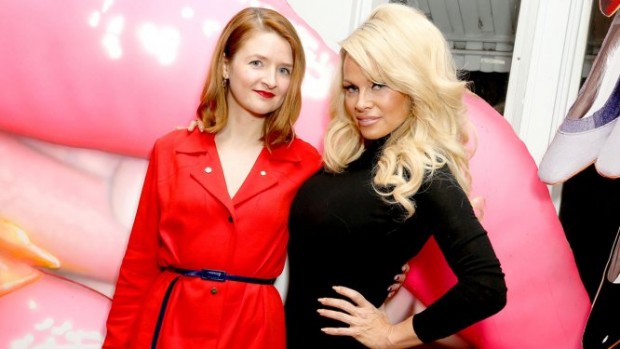 Pamela has been a vegan for 20 years and is a long-time supporter of People for the Ethical Treatment of Animals (PETA), as evidenced by the many campaigns she's starred in for them over the years. An environmental and animal activist herself, a luxury vegan shoe is something she's wanted to do for a very long time.
"I've been trying to do my boot line for 20 years, but no one thought there could be a vegan luxury brand. So I funded this myself. I feel like now is the time. I feel like young people in particular are responding to this. Young people understand that you don't have to wear or eat animals," she says in an interview with Elle. "I get that it can be cheaper to use animal products—but using animals really cuts corners. We are really making an effort and being innovative. My boots use recycled electronics and recycled plastics from the ocean."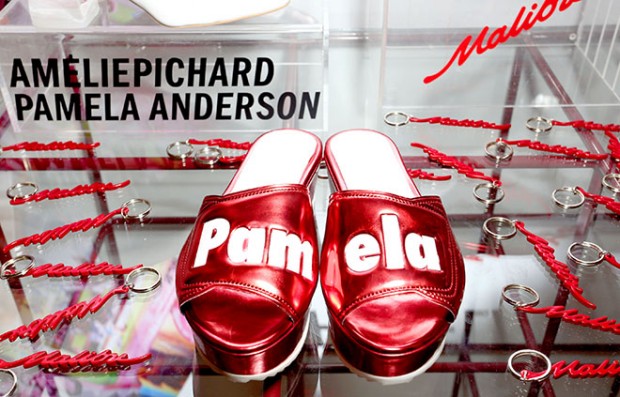 The collection, priced between $490 to $950, is comprised of 17 shoe designs and a tote, available in black and white. Currently available on Opening Ceremony, they will begin selling in Colette and Ssense in January. According to Man Repeller, all proceeds will go to the PETA-approved Pamela Anderson Foundation.
[
Man Repeller
]
Photos courtesy of WWD, The Hollywood Reporter, and the Pamela Anderson Foundation.