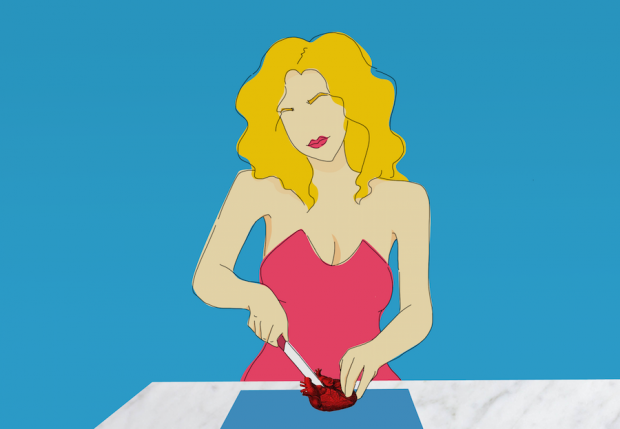 Welcome to Ask Poppy! I'm Poppy, your go-to girl for all of life's woes. And when I say ALL, I MEAN IT. I'm not an expert on anything except maybe for being me, which makes me totally qualified to do this. 
Dear Poppy,
I have been married for a long time. After a while, admittedly, we both stopped, [so] I stepped out and cheated. Then we began to reconcile; I made amends and vowed to be better. But she cheated on me and embarrassed me in front of her new man and friends. Any chance I let my guard down, she hurts me.
I still consider her family and news [came] around that [that] she's conflicted over me now and may be severely affected by adjusting to the effects of separation with a single income.  Even worse are the rumors of her escorting to make ends meet.
I keep this heavily on my conscience. Yet, anything I try to do to help her backfires and I get hurt. She has even gone as far infecting my business computers with viruses and refuses to remove them unless I pay. This is out of character. How can I ever trust her again? Am I obligated to help if I'll [just] set myself up for more pain?
—Anonymous
Hello, friend.
Holy shit, this totally sounds like it came straight out of a telenovela. But yeah, it happened to you and I'm just amazed at how vivid everything was in my head while I was reading your letter.
You didn't sign your name, so I'm calling you Catullus. During the Roman Republic, while everyone was all about war and politics, Catullus and his bros decided that the best way to lay waste was to make love to fine women and write a bunch of poems about their conquests. Not that you're a Roman hipster/slut but because just like you, Catullus was constantly despairing about Lesbia, the woman that he loves.
Lesbia, much like your ex, is one of the earliest examples of the femme fatale. You, my friend, have one in your life. In the old movies that I watch on TCM, the femme fatales were chain-smoking tough cookies who use their sexuality to leave men in ruins. Lesbia's true form was depicted throughout Catullus' poems, showing how his emotions swung back and forth, from love to disgust. He hates how Lesbia is married and a serial cheater, but at the same time, he feels totally enamored by her.
In one of his poems, he wrote:
I hate and I love. And if you ask me how,
I do not know: I only feel it, and I'm torn in two. 
I might be pointing out the obvious here, but this stemmed out of your actions and snowballed into a clusterfuck of telenovela terror. But I don't blame you, man. You said you cheated only because you both stopped trying. Marriage takes two people to work: You and your wife. It only makes sense that you stepped out with your nonexistent hall pass. But then, of course it's wrong because: first, how dare you, but second, fuck you for doing that.
Here's what I like about you though: I know that you tried even though she constantly hurts you. That's how it works, man. "Hurt people, hurt people." You say that what she's doing is out of character. Uhm, maybe because you fucked up, stirring up a bevy of emotions inside her, which drove her to change. The person you know now is not the same one you knew before. For some, change takes time, but then for others, one event can drive you to do things. She turned to the dark side. You have to accept this fact.
Do you still love her? You failed to include that word in your letter, giving me the impression that you genuinely care for her, but you don't love her anymore. I know how that feels. It's difficult to give love if all you're getting is spit on your face. From the virus to public humiliation, those are Grade-A kontrabida moves.
If you've seen Star Wars: The Force Awakens, you'll realize that once the Dark Side takes over you, there's really no turning back. (I mean, Jesus H. Christ, Kylo Ren! What the actual fuck!!) You cannot measure how much your ex has changed. One minute, you're trying to help her and then BAM! There's a lightsaber piercing through your body. I know you consider her family, but if the Dark Side is strong, you just have to stay the fuck away.
But before you give up entirely, make sure that you gave it a good fight. Talk to her and make sure that you understand her. Clear out all the stupid rumors and conflicts and band together to achieve a resolution. It will be painful, all this conflict, but it will be worth it.
Catullus, I know that this is such a big burden, but it's important that you remain good. Sure, she's fucking shit up, but that's how she decided to deal with her life. From what I've read, you two are already separated. This marriage is as good as dead and we all know that. You have to own up to your mistakes, live with them, and make a change for the better. I feel that your ex is no longer your problem.
From now on, just focus on yourself and do good things. If you feel like you don't deserve to get hurt by her, then do good things for others. She doesn't deserve you. Say it, man. No, actually scream it. Right now.
To end this letter, here is an apropos song from Owen: a cover of The Velvet Underground's Femme Fatale:
She's going to break your heart in two, yes it's true.
She'll build you up just to put you down, what a clown.
She's going to play you for a fool, yes it's true.
Love yourself,
Poppy
Got a question for Poppy? From love and relationships to weird questions you dare not ask even your psychologist, Poppy is ready to answer them all. Send in your questions to [email protected] or post your question over Twitter or Instagram with the hashtag #AskPoppy, and you just might get the answer you are looking for.
Art by Dorothy Guya