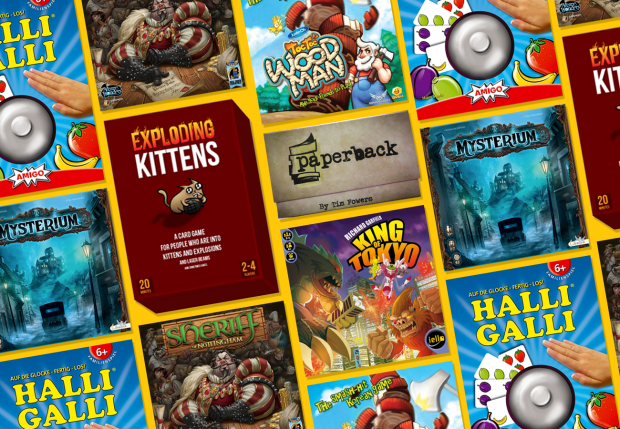 Three days from now to be exact, it's Christmas Day already. Last-minute gift shopping can be a total nightmare. Books, gift cards, and other suspects are all well overplayed. So why not give something you can enjoy with the entire family this year—say, board and card games? Uhm. Fun!
Board game culture is exploding in Manila. It's novel, fun, cheap, and offers a way to get the family doing something together instead of staring at cell phone screens come Christmas Day.
If you're game to game, here are some suggestions from a Board Game Coach (yes, that's a real thing!) on how to move your family forward from your usual repertoire of classics.
#1 Jenga: Toc Toc Woodsman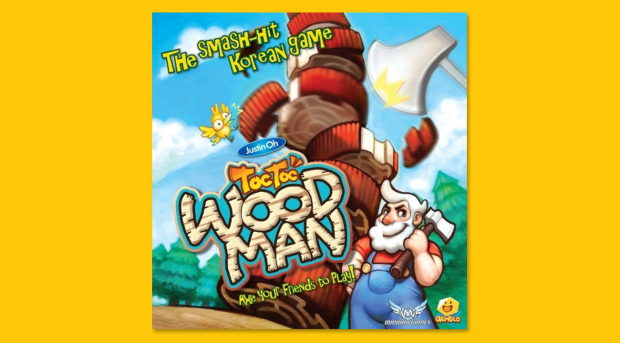 Jenga has remained nearly identical to its African origins. It doesn't need introduction or reinvention but variants have cropped up over the years, like the irregularly shaped Tetris Jenga or the hybrid Uno Stacko, but the format stays the same.
Toc Toc Woodsman is just as accessible as Jenga. A tower of plastic "wood" discs sits atop a trunk base. Slotted into each disc are several pieces of bark. With a small axe, players take turns "chopping" the wood, in attempts to dislodge the bark without knocking any of the core discs off the trunk. That's it. Family members of any age can swing the axe; there are no confusing cards to read or game-changing twists. From grandma to your baby nephew, anyone can play!
That's the game. It's intuitive, easy to pick up, and hard to master.
#2 Uno: Halli Galli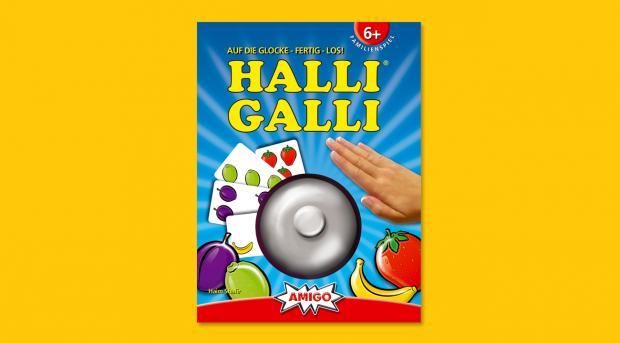 Everyone plays Uno, but when was the last time you felt passionate about Uno? Who fist pumps based on an Uno victory?
Halli Galli takes the core components of Uno—colors, numbers, cards—and speeds up the process. Halli Galli is ultimately a test of reflexes. Each card has a certain amount of fruit symbols on it. Players take turns quickly flipping over cards until five of the same fruit appear. Once they do, the first person to ring in collects all the cards. It's a quick-fire game that keeps everyone on their toes, even when it isn't their turn. Slamming a concierge bell has never been so exhilarating.
A cautionary note when playing, particularly with young, potentially shrill ones: guard your eardrums. You will have the entire family screaming with excitement.
#3 Snakes and Ladders: Exploding Kittens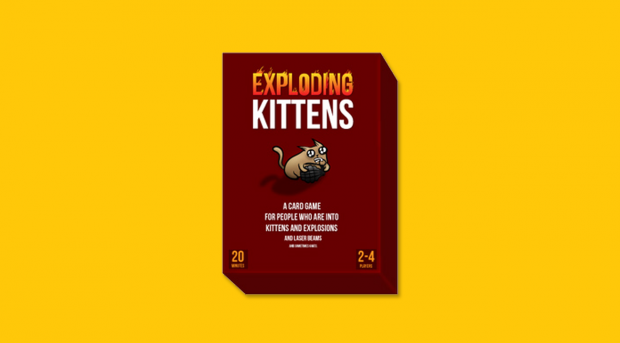 If luck-based games featuring animals are your thing, this Kickstarter darling Exploding Kittens is an upgraded version of the Snakes and Ladders we've all grown to love. Russian roulette with a feline twist, it's a card game and that has players peeking and shuffling a deck of irreverent cards as they try to avoid ending their game with the eponymous exploding kittens cards. Several cards allow players to attack one another to otherwise tip the game in their favor or against their opponent. Sibling rivalries will get fired up, and even mom will be game for a betrayal in this one. Payback has never been so furry or adorable. The player who is left unscathed wins.
#4 Monopoly: Sheriff of Nottingham
Money management and negotiation can be fun, but Monopoly's game length is prohibitively long. Most games of Monopoly devolve into a merry-go-round of rental payment and visits to jail before being abandoned due to boredom or frustration.
Sheriff of Nottingham blazes. Each player takes turns playing the sheriff, while the other players work as merchants attempting to bring goods to market. Each player fills a pouch with goods before bringing them to the sheriff. Bread, chicken, and other goods are standard fare, but there are also high-value illicit contraband such as crossbows and mead a player can attempt to slip by the sheriff by bluffing or negotiating with the crooked cop. The game is high stress, has low downtime, and ends within a half hour. Kids love to bluff, and the snap close velvet bags and chunky coins are fun props for any age.
#5 Clue: Mysterium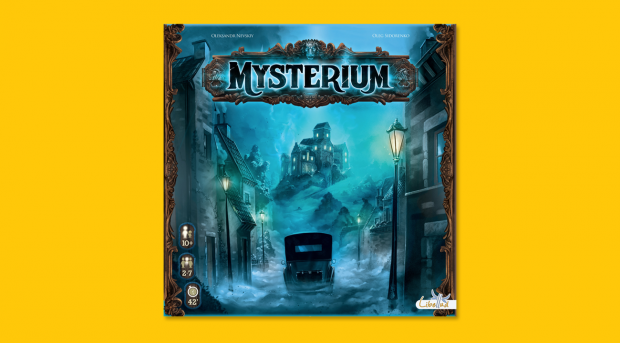 The love child of classic board games Clue and Dixit, Mysterium is a rare co-op game. Everyone wins or loses as a team, as one player takes the role of a ghost, leading the other players as "psychics." The ghost gives each psychic several beautifully designed and downright eerie "vision" cards in order to lead the psychics to the correct suspect, room, and murder weapon.
Mysterium is the type of game that involves making abstract connections. If Halli Galli is best paired with a couple shots of espresso, Mysterium's leisurely pace requests for a glass of red wine.
With a successful ghost, the group will be on high energy as they roll through the game with ease. A ghost who isn't in tune with the ways of thinking of their partners will quickly lead to the game devolving into a question of their judgment. This game could be a possible failure for groups who can't get it together here. Typically, families have an edge with Mysterium. Whether they are great minds or not, those who live together tend to think alike. This game is a personal favorite, and is one I bring to every family gathering.
#6 Scrabble: Paperback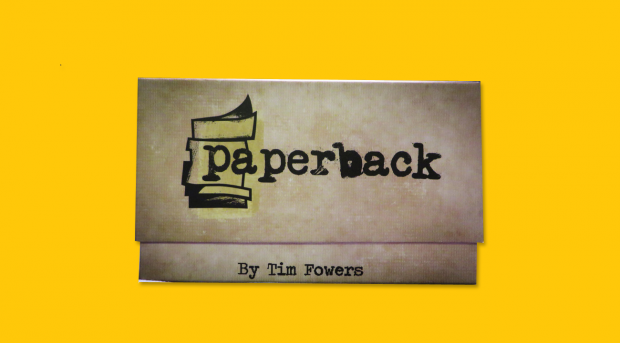 Scrabble is a pain. It's a game of algorithmic memorization. Despite your superior vocabulary, your sister will somehow corner the market on triple word scores and zoom ahead. Every. Single. Time.
Paperback is a visually gorgeous card game with a woman protagonist in the backstory. Players take the role of Paige Turner, an aspiring novelist who earns money for each letter she uses. Each time players spell a word, they can use their profits to buy new letters. Unlike Scrabble where you can draw seven vowels, Every player is given the same set of letters and wild cards to use at the start; progress depends on strategically buying additional letters with special powers. Victory can be achieved by either buying several novel cards or spelling long words, allowing for a strategic latitude, unlike Scrabble's rigid grid. Your uncle who always has Scrabble on lock may be surprised when you turn the tables and bring home a victory in Paperback.
#7 Yahtzee: King of Tokyo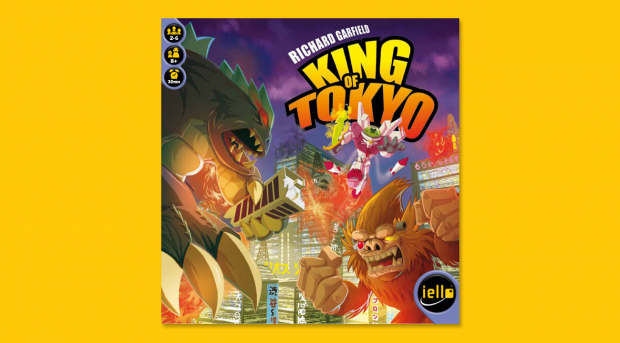 Yahtzee can be played in solitary confinement. It's fun, but there's no interaction. King of Tokyo is also a dice game, but one that demands interaction. Each player represents a monster—The Kraken, Cyber Bunny, and Giga Lizard! Players roll through Tokyo, attempting to murder their opposition and terrorize the town. To claw to the top, players have to take over the heart of Tokyo and slash their opponents. There are some light strategic aspects, but the game boils down to a clash of Titans, supplemented with the soundtrack of satisfying dice thuds. Kids love the visuals, and getting to roar in victory as they throttle their opponents.
All games are available for purchase at Puzzles: Board Game Lounge, The Fort Strip, 28th Street corner 5th Avenue, Bonifacio Global City, Taguig City. For more information, visit their Facebook page. 
Art by Dorothy Guya