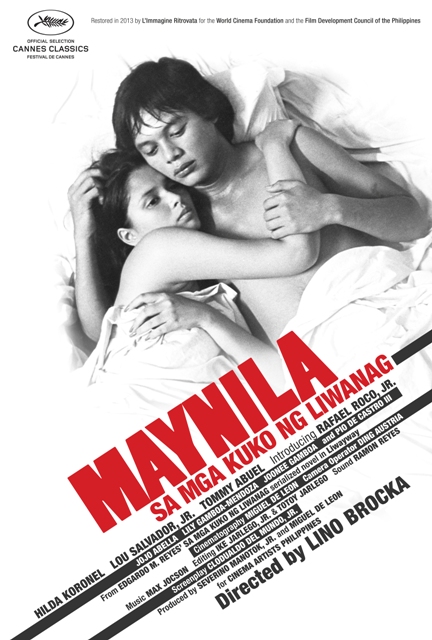 The structure formerly known as Instituto Cervantes de Manila along T.M. Kalaw in Ermita has been refurbished and taken over by the Film Development Council of the Philippines (FDCP) and renamed into the Cinematheque Centre Manila.
Manila's brand new film center will have its inaugural screening this Friday, Jan. 8, with a restored version of National Artist Lino Brocka's classic film Maynila sa Mga Kuko ng Liwanag (1975) starring Bembol Roco and Hilda Koronel. Along with Ishmael Bernal, Lino was heralded as one of the directors who ushered in the second Golden Age of Philippine Cinema.
Screening alongside Lino's masterpiece is A Portrait of the Artist as Filipino (1965), also a restored version by the FDCP, by fellow National Artist Lamberto Avellana, which is based on the play of the same name by acclaimed wordsmith Nick Joaquin.
Those with a taste for experimental film will be pleased to see Henry Francia's On My Way to India Consciousness, I Reached China (1968), along with Lav Diaz's Mula Sa Kung Ano ang Noon (2014), which won the Golden Leopard Award, the top prize at the Locarno International Film Festival.
Other films by acclaimed directors like Chito Roño's Badil (2013), Elwood Perez's Esoterika: Manila (2014), Mel Chionglo's Lauriana (2013), and Peque Gallaga and Lore Reyes' Sonata (2013) will also be screened.
In addition to that, in cooperation with the Embassy of Denmark in the Philippines, a selection of films from the recently concluded Danish Film Festival will be included in the mix, such as The Hunt (Jagten), In a Better World (Hævnen), Babette's Feast (Babettes Gæstebud), Waltzing Regitze (Dansen Med Regitze), and A Royal Affair (En Kongelig Affære).
Cinematheque Centre Manila. 855 T.M. Kalaw, Ermita, Manila, Metro Manila. To see the schedule of screenings, visit the FDCP's official website and Facebook page.
[
Inquirer.net
]
Photos courtesy of the FDCP and Tsismoso