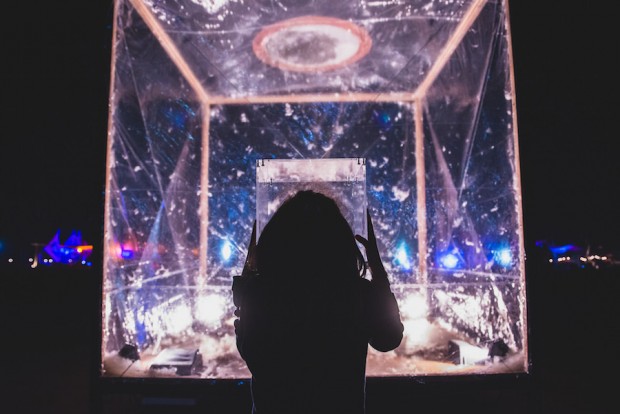 It would be my first time taking a 12-hour transit alone. My destination: Pattaya, Thailand, home of the Wonderfruit Festival—what they say will grow to be Asia's version of the radical culture event Burning Man—and the sex tourism capital of the world. Fun, colorful, and dangerous: It was the perfect cap to 2015.
The responsible traveler that I am, I armed myself with do's and don'ts: Choose your cab driver carefully, do tip, don't buy drugs, don't leave your drink unattended, and don't get into fights with the ladyboys (not that I ever will).
But yeah well, with me being me, plus my friends, in fucking Thailand, things got interesting. Here's how my crazy weekend went.
DAY ONE
Noon. I am in the airport waiting to board. Wow, I feel like such a financially independent traveling adult. Despite growing up in an overprotective family it's a nice feeling to—UGH, my phone is ringing. Shit, it's my mother. "My friends and I are super excited, they say hi," I say.
That is a lie. They're all in Thailand already. I am alone for the next 4,000 kilometers.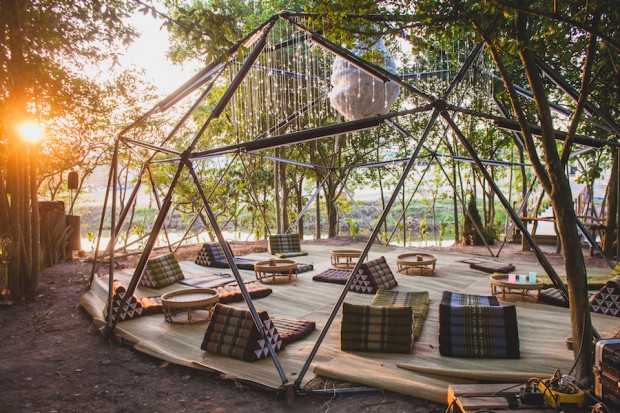 7:30 p.m. I'm in Kuala Lumpur on transfer, finishing my spare ringgit at a 7-Eleven. I should get going soon, I'm boarding in an hour and the immigration queue is the longest one I've ever seen. I scour for my boarding pass—it's not here. I frantically drop my bags on the floor and search. NOT HERE. I run to the tourist desk. "I NEED A PRINTER." "Up three floors, to the end of the hall." I sprint in record time.
"Print… boarding… pass…"
"Three ringgit, madam."
"Can I pay in USD?"
"Surely."
I hand him a hundred.
"Do you have a smaller bill?" he asks.
"No…" Awkward silence. Heavy breathing (mine).
"I will look for a money exchange and come back?"
"Yes…"
I burn 202 calories, says my Health app.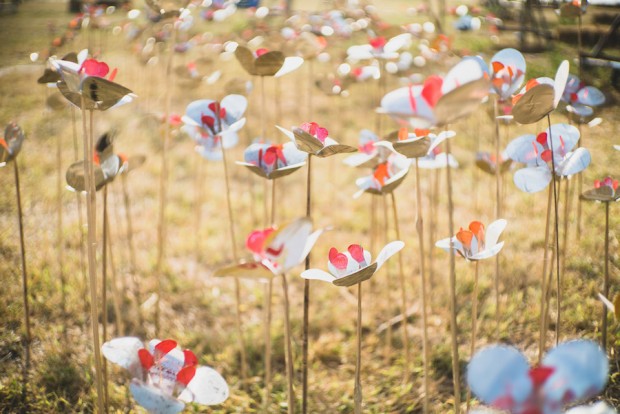 11:30 p.m. TOUCHDOWN BANGKOK! Two more hours 'til Pattaya. I ask an operator to get me an airport limousine ("Get a limousine, not a taxi," a local told me on the plane). He is saying the same words over and over again. He keeps scratching his face. His eyes are bloodshot. My heartbeat goes up a notch.
1:45 a.m. I wake up to the sound of a car door banging shut. I dozed off during the drive. We're parked in a dark alley. The driver's gone. I scramble to the driver's seat and lock the doors. I see him inside a store talking to the cashier. Asking for directions, I hope.
2:30 a.m. I arrive at my hotel. We got lost, and my driver apologizes, "Kor thod krub!" I tip him, grateful I'm safe. Ten minutes later, I am asleep.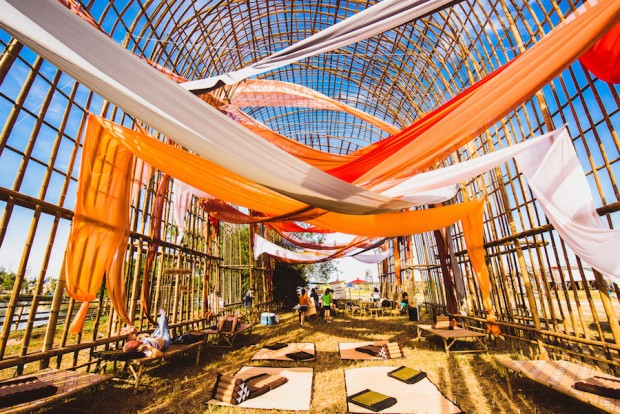 DAY TWO
9:00 a.m. My friend Pat and I exchange stories at breakfast. I tell her about my edgy cab ride, and she tells me about her new friends. "I was hanging out with this Kazakhstani guy last night," she says. "He told me he was always curious about ladyboys, but never really got the guts to go for it."
"He motions for this ladyboy to come over to us anyway, and offers to buy her a beer. Then they start flirting, and he asks her how much it will cost to take her home. Guess how much?"
A beat.
"200 baht."
That's 260 fucking pesos. You spend more on mani pedis and Uber rides during rush hour.
2:00 p.m. I get a massage, then some fresh coconut water and green curry. There is nothing more I want. I go back to the hotel for a nap.
6:00 p.m. I wake up and remember I came here for Wonderfruit. I fill a clear glass bottle with Black Label, then head downstairs for a quick dinner at Pattayanis, the only authentic Greek restaurant in town.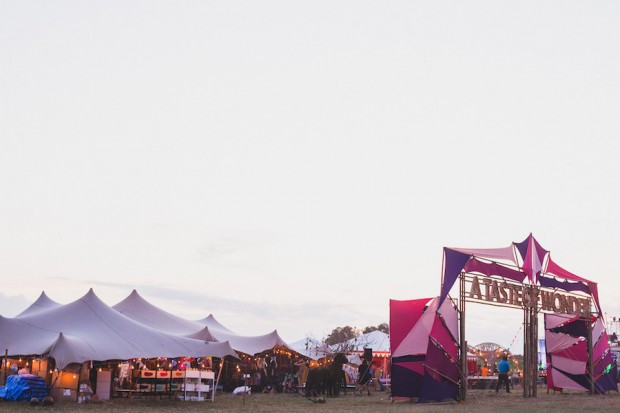 8:00 p.m. I am in a van with old and new friends, passing around the bottle. Our driver drops us off, and I look at the venue in awe. Grass fields, prairie lights, and huge colorful tents like those in the heyday of the 18th century circuses. The site can probably accommodate 20,000 people. Men and women prance around in headdresses and crazy costumes. Kids run about with their moms and dads, dressed like hippies. The cool wind and starry sky contrast the slight air of debauchery.
"Welcome to Wonderfruit, Mara," Regina Belmonte, erstwhile newspaper columnist currently holding the fort as Manila's resident party girl, greets me. "Let's go home in time for the breakfast buffet?"
I laugh noncommittally, fearing she might actually be serious. Breakfast is at 7 in the morning.
I watch the Lucent Dossier Experience, an LA-based circus/electronic rock band, on the main stage and gasp as two acrobats swing and dance on a suspension, held by nothing but a stretch cloth. They are bathed in blue light. The production set looks amazing and surreal.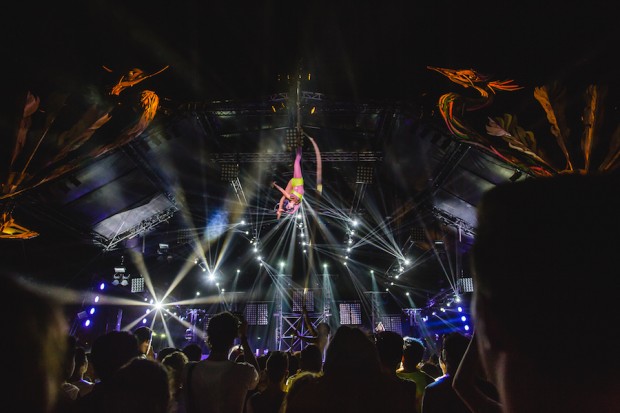 9:00 p.m. The group splits up, and I walk to one of the tents. The roof is a colorful parachute. A woman in a tie-dye top and flower crown is cooking curry, and a couple of guys in floral shirts are serving organic home-distilled gin, infused with citrus and tamarind. They make me a cocktail and top it with lemongrass. It's one of the best gin cocktails I've ever had. One of them takes out a bag from his pocket. "What's that?" I ask. "Bar chow." He puts some in my hand. They're salted crickets, and they are delicious.
11:00 p.m. If there's anything I learn today, it's that in huge, amazing music festivals, you must pace yourself. I am a 7-out-of-10 drunk. I type all my thoughts down so I don't forget: "I'M HAVIJNG SO MUCH FUN!1"
I trespass backstage at the Soi stage (made with beautiful printed cloths, designed by the same people from Coachella) to say hi to electronic artist Daedelus. Then I dance for an hour to Austrian acoustic techno band Elektro Guzzi, right in front of the stage. I notice, much later after much disco, that the band set up a GoPro on record behind them. Ashamed of myself, I run to the main stage to see a light show by Chris Levine. It is out of this world.
I discover that Chris is a "laser master," lauded for making the most evocative portrait of Queen Elizabeth II in history, and has worked with Mario Testino, Grace Jones, and the MoMA.
11:30 p.m. Levine's lasers are upping my level so I lie down on a haystack for a while, next to the now-closed Wonder Salon. My friends Pat, David, and Anna join me. Mikhail Schemm, a music agency director and DJ from Manila we're traveling with, sees us and invites us to the Quarry, the dance arena to the edge of the field.
"We have to go now. It's a 20-minute walk. You can't miss it," he insists.
12:00 m.n. It's quite a walk, but I survive. On the way, a group of dancers covered in glitter in a golf cart adorned with giant paper roses yell at me, "GO TO THE QUARRY!" I yell back, "OKAY!"
The Quarry, a hall made with bamboo, bathed in flashing halogen lights, looks unreal. One minute you think you're in a club back home, and then you remember you're in the middle of a forest. Everyone inside is swaying dreamily to the music. I am dancing next to a guy in a banana suit. Is this still real life? Everything looks so strange and wonderful. I look around me and it all looks alien. Spend enough time in Wonderfruit and you start thinking you're in a completely different dimension.
No, I did not take drugs.
1:00 a.m. I sneak away from my friends and nap on a wooden plank next to a stall selling bottled water. I wake up and Pat, David, Anna, and Mikhail are beside me talking. Guess they found me.
2:00 a.m. I resurrect, and explore the other sites. I enter the Forbidden Fruit stage and people-watch for a while. I watch a woman in black explaining something intently to a group of twentysomething-year-old girls. Then she takes out a dropper, and squeezes clear liquid on their wrists. They lick it and start laughing and crying and hugging each other, overwhelmed with happiness. Excuse me, ma'am, I want some of that.
She misses my expectant eyes, and walks away. 🙁
3:00 a.m. I am not sure if I gave the cab driver a hundred or a thousand baht. Good night!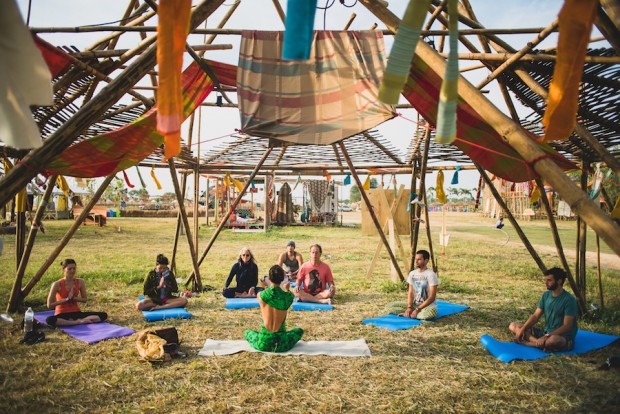 DAY THREE
10:00 a.m. I am up early. At Wonderfruit you can pre-book reservations for banquet feasts, and I chose the hangover-friendly Sunday oyster lunch buffet. So I eat a light breakfast.
Noon. I show my ticket to the host, and she welcomes me to the Theatre of Feasts, a majestic banquet hall covered in colorful sails. Four long bamboo tables are laden with a simple but elegant lunch setting, colored with glasses of bubbly. A live band performs acoustic renditions of Beatles songs. "Paella will be served to you soon, but feel free to get oysters when you're ready," she points to the oyster bar at the end of the hall. Bill Marinelli, chef and owner of The Oyster Bar Bangkok, personally shucked oysters for me. I finish eight.
1:00 p.m. Wonderfruit in the daytime is a lot more laidback. Families join workshops, friends sing and play guitar in the shade, and a percussion circle provides a gentle humdrum. There's a whole other world you don't see at night: organic food markets, boutique lifestyle stores, a swimming pool, playgrounds for kids and adults, yoga and wood-carving classes, guided meditations, massage huts, tarot card readings, dance performances, and art installations.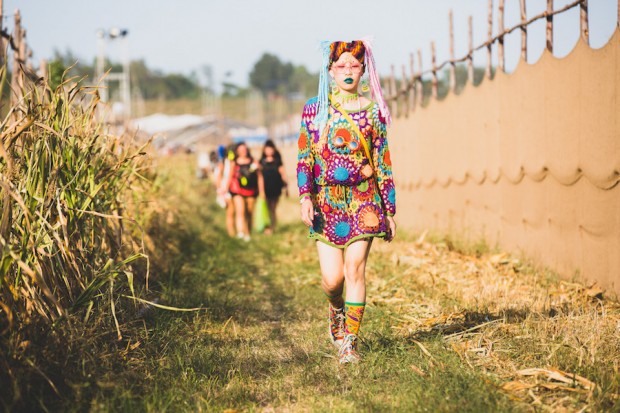 I enter the Wonder Salon and meet Fiow Graham, a stylist who looks straight out of the Hunger Games. She puts real leaves, feathers, and flowers in my hair. At the makeup station, I meet a Thai woman wearing matching bindi, glitter, and tattoos with her dog.
4:00 p.m. I visit a stall selling crystals, and I sit on a haystack to make a bracelet. The owner comes over to me, and smudges my bracelet with sage. "You're not open!" she says abruptly. "Your energies are blocked. I can see it. You must be open to love and hurt. You must forgive yourself, and stop blaming yourself. Learn to relax. It's okay to make mistakes." She "programs" my crystals to give me balance, and bids me peace. I thank her.
8:00 p.m. We wait for Tarsius to play, the only Filipino act in the lineup. We cheer and dance in support, and we're happy to see so many locals and tourists are coming over to watch them. "More!" they scream, as Diego Mapa thanks the crowd.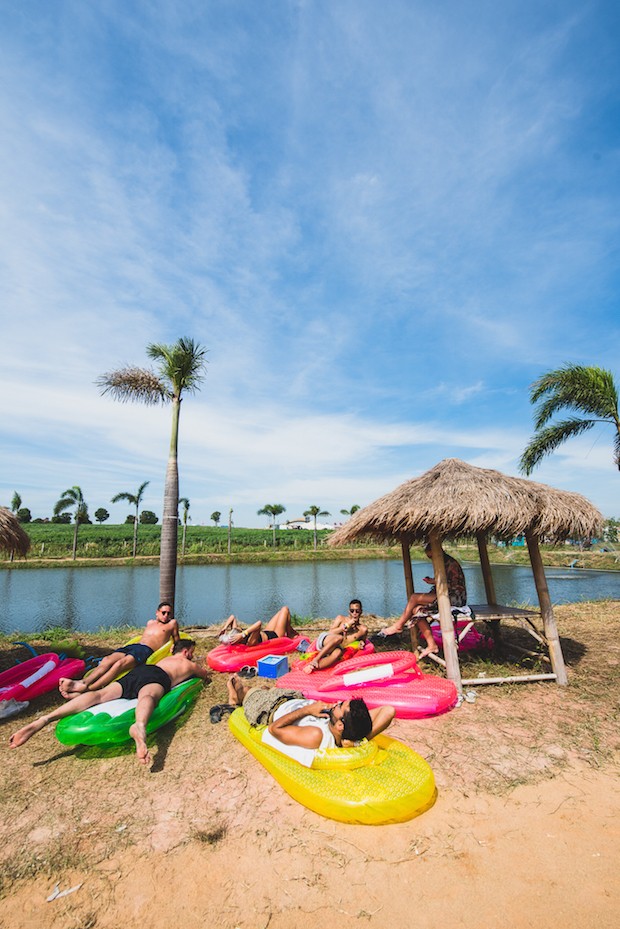 9:00 p.m. I go around Taste of Wonder, Wonderfruit's food village, while waiting for Rhye's and Blonde Redhead's sets. I look at Thai cuisine, normal food, exotic food, sweets, blah blah blah… then, I find treasure.
Sitting quietly on a nondescript display, a small sign reads, "HAPPY BROWNIE." I walk over slowly, recalling all the scary shit I read on VirtualTourist: Don't buy drugs. Not in Pattaya. My drunk conscience wins me over. But this isn't a drug, right? It's dessert.
"Why does this say happy brownie?" I ask indirectly. The guy smiles, "Because it makes you happy." He tells me to eat just half. I noted to follow his advice, but I think I got hungry and ate another quarter absentmindedly.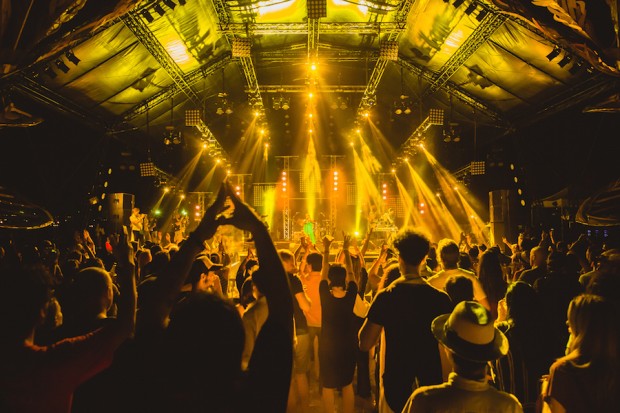 10:00 p.m. I'm super, super stoned by the time Rhye came on stage (BUT THEY ARE SO GOOD LIVE), and I barely remember Blonde Redhead's performance. All I have of that night are blurry photos and videos, mostly of me laughing at everything.
I honestly don't remember how the night ended, but I do know for sure that that could easily be one of the best weekends of my life. If you are to travel far for a music festival, make it Wonderfruit. It's one of the things you have to try at least once.