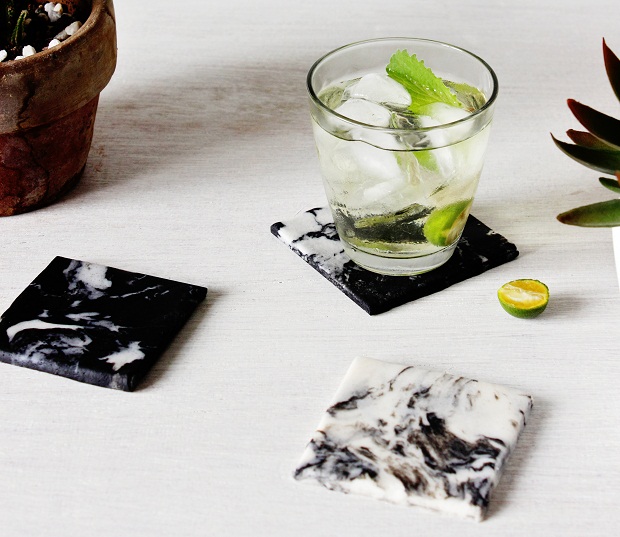 Whenever someone brings up the need and importance of coasters, I remember Monica Geller from Friends. Being the obsessive-compulsive character she is, she freaks out when a cold drink is left to leave a water ring on a pristine wooden table.
But, really, it does drive up one up the wall to see those rings. How do you get them off?
Other than that, coasters are a good way to complete your table setup. You can use them as a pop of color or even to add a personalized touch to your bar. And with this guide on how to make marbled clay coasters, you'll be able to do just that.
Marble Coasters
Materials
Polymer clay (two colors of your choice)
Wax paper
Rolling pin
Hard plastic ruler
Small knife with a dull edge
Oven (not microwave)
Piece of sand paper
Felt paper (optional)
Procedure
1. Take a piece of one color of clay and a smaller piece from the other color.
2. Form small balls, dots or thin long loops with the smaller piece, folding and pinching the pieces into each other to mimic a marbled effect.
3. Form the joined pieces of clay into a smooth rounded shape, lay on wax paper, and flatten with a rolling pin to about 1/4 of an inch thick.
4. Mark the shape of the coaster using the ruler and the dull knife, and then cut out the shape using the knife.
5. Following package instructions, bake the clay in low heat until it hardens.
6. Once cooled, gently sand any rough edges on the coasters.
7. You can also line the bottoms with felt paper in a matching color to protect its surface.
Source: Ina Amor Mejia for Southern Living, "Happy Hour", December 2015.
Photo by Ina Amor Mejia