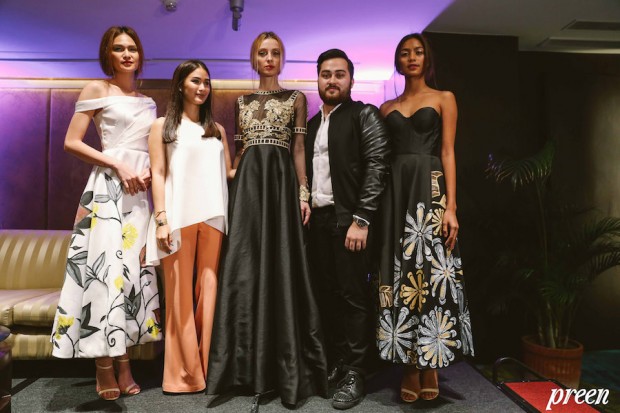 Actress Heart Evangelista, known more these days as Mrs. Chiz Escudero, has come a long way from being the teenybopper we grew up watching on our TV screens. Ever since she came out as a painter, using her birth name Love Marie, her art has traveled from canvases to Hermès Birkins, and now, couture gowns in collaboration with celebrity fashion designer Mark Bumgarner.
"We were at my shop and we were fitting. [It was a] normal day, and then all of a sudden, I was talking about how I wanted to design shoes and bags. And then she was like, 'Oh, I've always wanted to paint on bags' and stuff like that. And then I said, 'Well, why don't you paint on the dresses?'"
This conversation took place nearly a year ago when Heart was still prepping for her impending nuptials. The two first met through her stylist Kat Cruz while working on a TV advertisement together. "From there, we pretty much clicked. She's so easy to work with," Mark observed.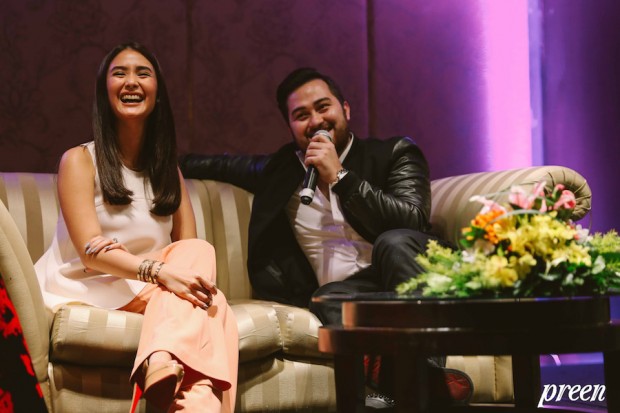 Arriving on the same page
That Heart and Mark get along so swimmingly, both professionally and creatively, comes as no surprise, considering they both arrived at their current passions after pursuing entirely different career paths initially.
Many are familiar with Heart's recent transition from being known as an artista to a proper artist with sold-out exhibits in Ayala Museum. She was also the first Filipino artist to show at Singapore's Chan Hampe Gallery at the Raffles Hotel. In addition to that, she currently has a three-month waitlist for clients who want her to paint on their Birkins.
"That's why I love painting because it kind of immortalizes you, even if you pass away. It's different from being an artista because nowadays, the turnover is so fast. There are so many beautiful women. But with painting, as you age, as you grow older, the more that a painting is treasured. And when you pass, and you leave your paintings behind, it immortalizes you and people will remember you for that," Heart shares.
But fewer people know about Mark Bumgarner's former career as a racecar driver. "I started racing when I was six until I was 19. It was really back and forth around the world, and I just had a moment where I wanted to come home," Mark starts.
"And then when I came home, I wasn't doing anything. So I'd go to events, this and that, and everyone I was meeting was in the fashion industry," he continues. "It was a fast transition; I didn't become a designer right away. I was helping backstage at the shows, parang saling pusa lang. Then one day I was like, I'll try doing it myself.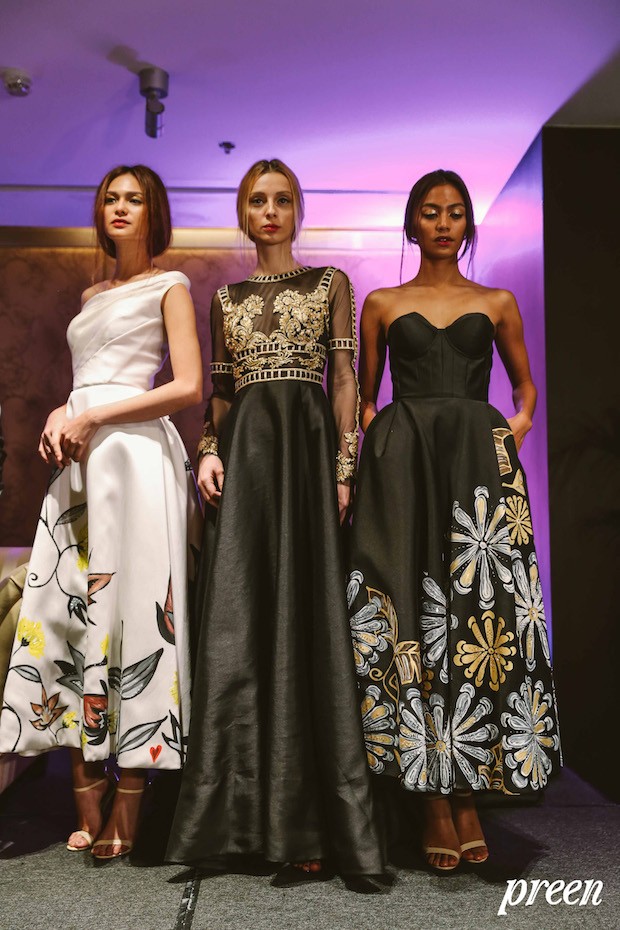 "I was doing trial and error for about a year; [I was not] accepting clients at all. Just trying to see if I could do what was in my mind. And it slowly progressed; I'm still progressing every day. I've had a shop for about a year and a half now, so [I'm] still working on it."
Heart's apprehension about gradually coming out as a painter is similar: "[It's] a different side of me. I wanted to become a painter and a vet when I was young. I'd paint on my walls, and so, I said I wanted to introduce [myself as Love Marie], who I really am, in the real world without being judged."
 The creative process
Given their hectic schedules, sometimes it takes Heart and Mark two weeks to complete a single gown. Mark will send her a piece in its raw form, she'll mull over a pattern paint on it, then send it back. Then Mark finishes the dress, and even adds a few hand-embellishments. Other times, however, it takes up to a month just figuring out what to do with a single dress.
"But if she's on a roll, and I'm on a roll, in one week, we [can do] five or six [gowns]!" Mark adds.
"If we're inspired!" Heart chimes.
Though they didn't always have the opportunity to physically work together on this collaboration, it appears that the creative freedom they've given each other is what makes this partnership work.
"At the end of the day, without even having to talk about anything, [our styles] kind of just goes together. For example, I give her complete freedom when she paints on the dresses. I mean, you can't really judge until it's done. And after she paints, I also embellish on top of the paintings as well," Mark explains.
Heart adds, "I guess in every relationship, you both have to be on the same page, no matter what. No matter what color it is, if it's the same shape, you like it. That's how it worked for Mark and I."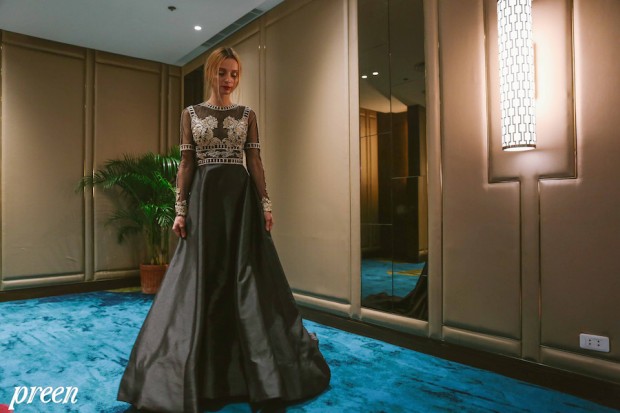 At the end of the day, however, no matter what kind of aesthetic they agree upon, only one thing matters to the both of them: "When women wear the dress, I want them to feel beautiful. I mean, that's priceless. If you feel beautiful, everything else follows," Heart says.
Each piece, they say, is to be treated like a work of art or even an heirloom piece. "It should last a lifetime, but for the painted pieces, I can only see someone wearing it maximum of twice. Because it's an art piece, it's an iconic piece that I don't think you could wear it again," Mark says.
"So whoever gets the dresses, you can wear it, or you can cut it and you frame it!" Heart exclaims.
Planning the gala
Though only a sampling of the pieces were shown at the press conference yesterday, a total of 40 pieces, 15 of which were hand-painted by Heart, will be presented during a gala at the Dusit Thani Manila on Jan. 18, in addition to a 12-piece collection for a pre-show presented by Mazda, one of their sponsors.
"It hasn't [sunk] in on me yet [that the show is next week] because I've still got a lot of work to do! But I mean, we're really excited, obviously, but I'm scared," Mark admits.
"For me it's exciting and scary because it's something that I've never done. It's different, but it feels good to do something different. I really enjoy what I'm doing now," Heart shares.
A silent auction will be held at the gala where all proceeds will go to the Corridor of Hope Foundation and the Thalassemia International Association.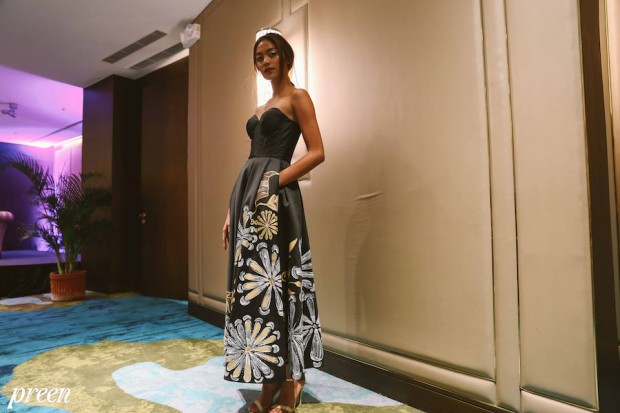 "I've been helping [them] for over 10 years now," Heart says of the Thalassemia Association of the Philippines. "[Thalassemia is] a blood deficiency; more or less it's like leukemia. But the kids, they have to get chelation and blood transfusions every month, so the maintenance is really, really expensive. At least P20,000 a month."
"The Corridor of Hope Foundation is very close to my heart," she adds. "They are actually patients from St. Luke's; I used to teach painting to the patients there. All the women there have very inspiring stories, so [we dedicated a] dress to them, that's why; we wanted to make it light, very feminine."
The gala, however, is just a harbinger of a long-term partnership between Heart and Mark. They hope to continue doing more collaborations together, and excitingly, they will also accept commissioned works from clients.
"For this show, you'll see something different," Mark promises.
Photos by Paolo Tabuena