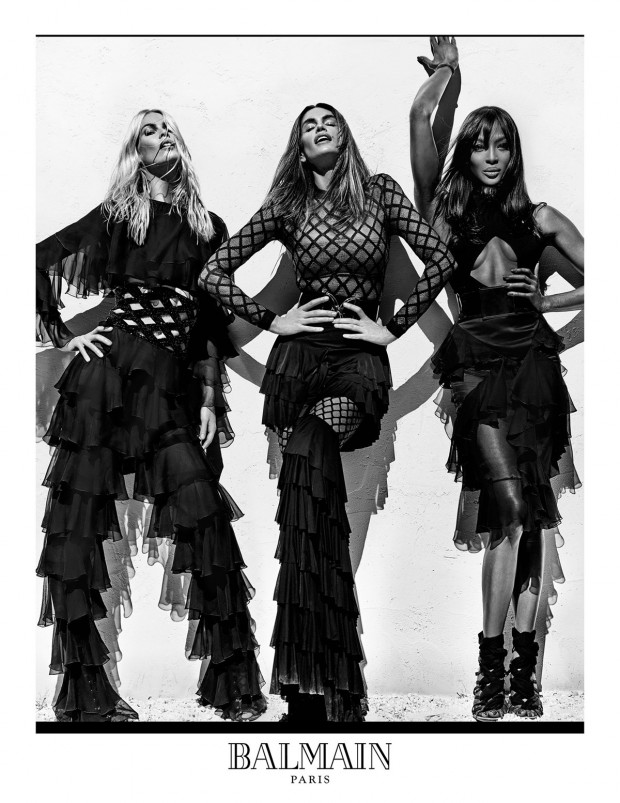 Let the original supermodels show you how it's done.
French designer Olivier Rousteing has just blessed all of us with this once-in-a-lifetime reunion by calling in '90s model icons Naomi Campbell, Cindy Crawford, and Claudia Schiffer to front Balmain's Spring/Summer '16 campaign, and it's giving us all a bad case of fashion nostalgia.
"For this campaign [shot by Steven Klein], there was never any question of which direction to take; I wanted to create beautiful iconic images, strong portraits of these beautiful women. It was obvious that there was no need for any special installation or any type of lighting tricks," Olivier said in an interview with Dazed.
Olivier shares that it's been a dream of his since he was a teenager to work with them, and said, "They made fashion relevant. As relevant to pop culture as music, cinema, and sport…They are much more than models; they are strong businesswomen, and at the same time they have families. I find this very inspiring."
As pop culture influencers, Claudia, Cindy, and Naomi join other #BalmainArmy recruits such as Rihanna, sisters Kim Kardashian and Kendall Jenner, and Kanye West.
But the question now is: Will Balmain also book them for a fashion show anytime soon? We sure hope so!
[Dazed]
Photo courtesy of Dazed