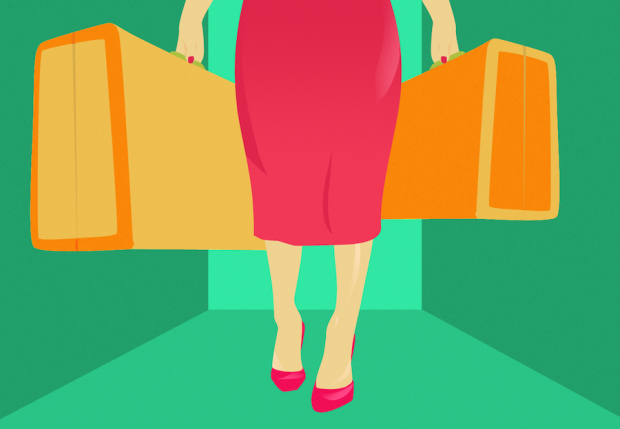 Welcome to Ask Poppy! I'm Poppy, your go-to girl for all of life's woes. And when I say ALL, I MEAN IT. I'm not an expert on anything except maybe for being me, which makes me totally qualified to do this.
Dearest Poppy,
My mother and I have a close relationship with each other. I call her my best friend because she knows all about the boys I've dated and allows me to do things other parents would still be mortified to find their adult offspring doing.
However, when it comes to the house we are currently living in, I can't talk to her. It's too big a space for us. Currently, it's only my sister, my mom, and I who live in it when it can house around 10 people comfortably. My other relatives have suggested renting out the land so we could move to a smaller space and have extra income. She refuses and shuts down the idea at once. She's always paranoid that someone is going to force her to leave the house her husband, my father, left us after he passed. I can't blame her because she did actually experience being forcibly removed from her first home. I was around five years old at the time and I remember it as well.
Sometimes, I feel I just want to move out and let my mom lead the life she wants. But I would feel guilty just leaving her alone. Anyway, nowadays we end up shouting at each other every time I talk about my plans to move out or to study abroad.
I hope you can help me out, Poppy.
-Angelica
Dear Angelica,
When Netflix rolled out in 130 countries last Thursday, I was ecstatic because I can now finally use my parents' account from the US. Filipinos, being such social media savvy people made hashtags like #NetflixPHShows trend worldwide, well because, that's exactly our thing, Philippines. My favorite reaction is this:

That went from haha to huhu real quick, because (1) not only am I living in the house that my parents own, (2) I'm also leeching out of their ULTRA HD plan. To Filipinos, living in your parents' house is pretty much the norm. We're not as vast as the United States where you can move off to another city and have the chance to completely start anew. We don't have the culture of getting kicked out once you turn 18 because you're no longer their responsibility. What we do is that we huddle together as a unit, bound together for as long as we can stand each other. And that's not such a bad thing. At the core, that's what family is. And also, hey, fuck rent.
I can understand why your mother is firm about staying put. Your father left her this house. They built it together while you were too busy playing with your Polly Pocket collection. This house that you seem to hate with such conviction is one of the few remaining strands that binds your mom to your dad. Have you seen Guillermo del Toro's Crimson Peak? It's basically a love story masking as a gothic horror movie. "Ghosts are real," Edith (Mia Wasikowska) reveals in her opening monologue. "There are things that tied them to a place, very much like they do to us."
I'm not just saying that your dad is the mumu that's always with you. I'm saying that this house is part of a lot of memories that your mom is clinging onto. The reason why you've been having these shouting matches is that she's also trying not to lose you. Like you've said, it's just you, your mom, and your sister. Three people in a home for ten. The only thing that would make it more heartbreaking is if only two people lived there.
Angelica, I always feel proud whenever I hear that my friend is moving out of their homes. A close friend recently moved to a place with her cat, and another has decided to focus on moving out this 2016. So yes, if you think that you're really ready to make the move, who's stopping you? Living alone is never lonely because you can always invite someone over to hang out or whatever.
"The things you most want to avoid are the things that make you feel the greatest when you actually do them." That's a quote from Kevin Wilson's The Family Fang, this oddly affecting novel about a brother and sister who grew up being subjected to the whims of their parents, who are famous performance artists. Throughout the book, the adult siblings search for their missing parents who are either dead or are executing their greatest piece of performance art ever. Haunted by their tormented past and beaten up badly by adulthood, the two discover that they have the capacity to be real human beings and tell their parents to back the fuck up.
Sorry that I had to talk about that book, but I felt that such a story would be such a relief for you. It's a pretty funny read, and Jason Bateman turned it into a movie starring him and Nicole Kidman as the siblings. It is possible for you to move out, Angelica. If you really think that it's the best for you, then you should do it. Applying to study abroad takes about a year to process, start now. But before you do, I want you to spend a bit more time with your mom. Get rid of the shouting bouts and the resentment. Cherish this home as you're preparing to leave. Rekindle that spark between you and your mom. See how that feels.
As for me, I'm still living in my parents' backyard. They're in New York. I was already 21 when the ball started rolling, which means that I couldn't be with them. Yes, I'm living in my parents' house because there's really no one here to live in it. It would be ridiculous to rent out a place in Makati. I can't exactly pay the rent with my earnings from this column. I'm here because it's comfortable and it's what my family left me.
If given a chance to live with them, I would totally feel the opposite of how you're feeling now, Angelica. It's because I've spent years spending Christmas on FaceTime. This summer, they took me with them to see the Niagara Falls. My mom celebrated her birthday in Atlantic City, she said the casino industry is dying. I made a joke about Nucky Thompson rolling in his grave. She did not get it even though they have HBO. I would take a peek at my dad's Netflix viewed list and watch the episodes of Narcos that he had finished. He also likes The Blacklist and My Little Pony: Friendship is Magic. He only saw one episode of Daredevil. This is how I feel connected to my parents because I'm here and they're there.
Angelica, you're in your home with your mother and sister. What's your next move?
I love you. Please think about it.
Always,
Poppy
Got a question for Poppy? From love and relationships to weird questions you dare not ask even your psychologist, Poppy is ready to answer them all. Send in your questions to [email protected] or post your question over Twitter or Instagram with the hashtag #AskPoppy, and you just might get the answer you are looking for.
Art by Dorothy Guya