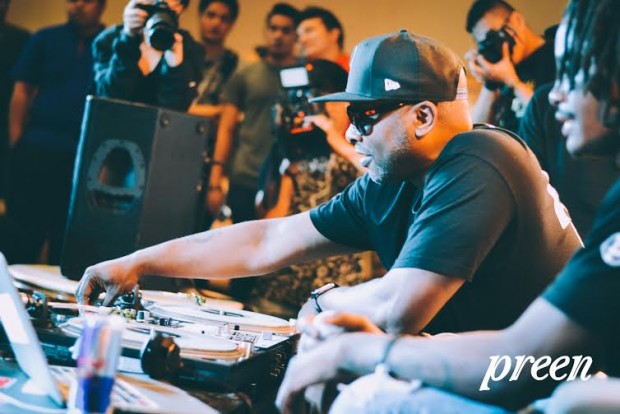 It's pretty rare for people to see how DJs work their magic to create that perfect blend of music up close, and watching iconic DJ Jazzy Jeff do it while seated on a couch with his equipment on a coffee table was absolutely insane.
He didn't play anything that required us to stand up and dance though—he saved that for his club show later that night. An intimate place needed the appropriate music, he brought just that with the help of his current MC, Dayne Jordan.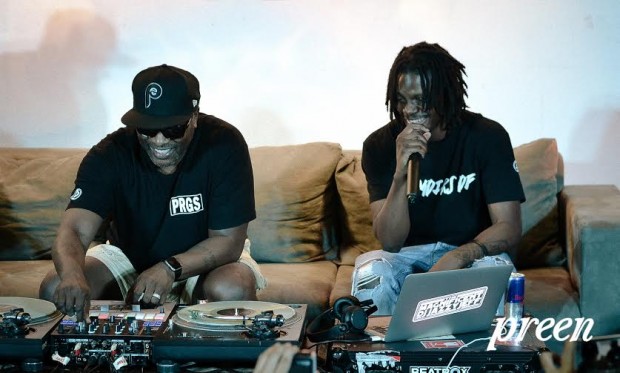 The mix he played was composed of mellow soul music, R&B, and even a few ballads with subtle bass drops. The question in my mind at the time was, how does he do that?
Then I remembered that Jazzy Jeff is basically a legend in hip-hop who can mix and produce upbeat and gritty rap tunes, as well as enchanting Christmas tracks. He even won the very first Rap Grammy Award back in 1988 for the hit song "Parents Just Don't Understand" with his good friend Will Smith.
"I like playing cool music—if that makes any sense," he says. "To me, the essence is playing some stuff that people don't, stuff that people may not know, and stuff that's unexpected. Because at the end of the night people don't usually talk about the stuff that you did or play that they don't know. They talk about that different thing you did that wasn't expected [and made them go from "Okay" to "Holy shit!"]"
Growing up in an upbeat neighborhood in West Philadelphia, Pennsylvania, Jazzy Jeff was exposed to the wonders of party music at 10 years old as he rode his bike, seeing all the block parties that were happening during the summer.
"People would set up speakers in the middle of the street, and they'd block the street off and just play music. You could just ride your bike from block party to block party, just [listening] to the music that people played," he said. "So, you know, it's just one of those things growing up right in the middle of it 'cause you kinda got the chance to experience the whole new music from the inside out."
One of the defining moments of him deciding to become a DJ was seeing one at a nearby block party affect all the people there with his music even though nobody saw this guy's face during the whole set.
"You just connected with him with the kind of music that he played, and I would kind of stare at the porch [where he was playing] and at the people…It was like he was a puppet master," he shares.
The chemistry with Will Smith
That same West Philadelphia neighborhood was where he met Will Smith, who is now known for his films such as Men In Black, Independence Day, and the upcoming Suicide Squad. But before all the movie premieres, he was popularly known as "The Fresh Prince."
They met at a local house party, where Jazzy was scheduled to play sans his emcee at the time who went AWOL for some reason. He says, "The first person that walked in while I was setting up was Will, and he was like 'Oh man, I live just up the street!' and he asked [where my MC was]. I said I couldn't find him, then he asked, 'Mind if i rocked with you tonight?'"
And that night, something amazing happened.
Jazzy swore to everyone in the room that he never rehearsed anything with Will, yet they created a cohesive set. They knew exactly what each other was thinking and could predict each other's next move even though they just met a few minutes or hours before.
"He would rhyme, and I'd actually knew what the fourth beat I was gonna drop my music out so his punchline would come through, and I would bring that in. And he just kinda looked at him and was like, 'How did you know when to do that?'" he said.
From then on, the two formed the hip-hop duo, DJ Jazzy Jeff and The Fresh Prince. They went on to create five albums throughout the late '80s and mid-'90s, and were offered to star in the television show The Fresh Prince of Bel-Air.
Years later, the duo has went their separate ways with Will pursuing a successful acting career, and Jazzy still making music and touring around the world, while producing for other artists like rapper Eminem.
When asked if anything has changed between them with their hectic schedules, he simply answers, "When we see each other, we talk like how friends who've known each other for 20 years are supposed to talk. We have that chemistry even on a personal level… If he ever asks me to go on a world tour or if I could join [the reboot of Fresh Prince], then I'll be more than happy to say yes."
Making people happy
Today, performers like David Guetta, Avicii, and Zedd who are DJs in their own right are taking mainstream music by storm with their chart-topping hits. However, some people think that DJs are just there in the background of shows, shadowing the performer of their tracks.
Jazzy Jeff hates that idea. At the same time, what's more important for him is still being able to do what he loves for a living, and to create something that will connect to people, and make them happy.
"If you think about it, a DJ's job is easy. I make music, and I play them to make people happy," he emphasized. "The greatest joy in the world is doing something you really, really love. It comes across to people if you love what to do.
Check out DJ Jazzy Jeff's music on his website, Soundcloud, and YouTube.
Photos by Acushla Obusan