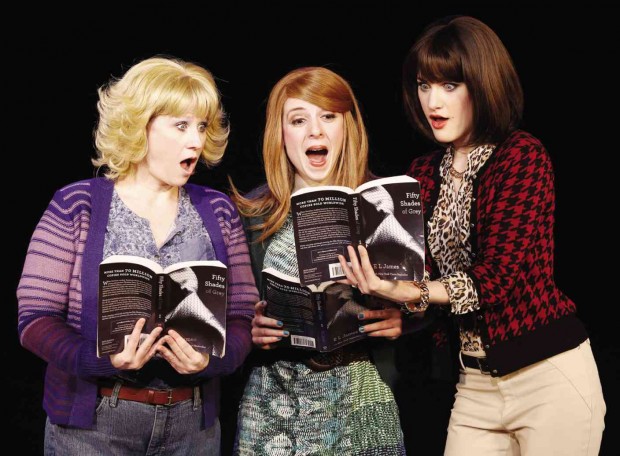 I have to admit, I was never a fan of the Fifty Shades of Grey novels (yes, I read all of them), but seeing a five-minute sneak peek of the upcoming 50 Shades! The Musical Parody made me want to tug all my friends to see it on Valentine's Day for a good laugh and a free pass to gawk at shirtless men.
The Off-Broadway show, which gained various praises from The New York Times, Variety, and other media outfits, is centered around three book club ladies who read the erotic novel and gets sucked into the sexual affairs of Anastasia Steele and Christian Grey as they read on. And for the first time ever, the show has made its way to the Philippines.
As the 50 Shades! team gear up for their opening night on Feb. 12 at the Carlos P. Romulo Auditorium in Makati, American director Albert Samuels and the talented cast teased us with some insights and a few surprising things that has happened during shows, rehearsals, and everything else in between.
#1 Yes to dirty Filipino words
Aside from including Filipino talents such as Karel Marquez and Bituin Escalante to the original cast, Albert confirmed that they've also added in a few dirty Filipino words and references to the script to make it more relatable to the Philippine audience.
"I think the combination [of both the actors from the US and the Philippines] will make for a great production, one that builds on the success the show has enjoyed around the world, but also with an awesome Pinoy flair," Albert says.
#2 No nudity required for Anastasia Steele
Anastasia may have had too much sexual fun with Mr. Grey in the novels, but according to Karel Marquez, the 50 Shades! version of her character is relatively tamer than what all of us are expecting.
"At first I was scared because I thought 'Oh, that's too daring for me' because of what she did in the book, but then they said that the show's about it and doesn't necessarily that you're going to show skin. It's a parody. It's a musical, and I'm gonna sing songs about it and be princess-like and such. There are still sex scenes, but they would be executed in a different and funny way…The songs and the script surprised me though because ang daming bad words that I myself don't say a lot," Karel shares, assuring that she's very comfortable with her role despite her last few musical stints being High School Musical and Beauty and the Beast.
#3 A brewing bromance?
Theater and movie actor Lorenz Martinez, who played the tough-looking Philippine Revolution General Tomas Mascardo in Heneral Luna, definitely showed his funny side, not just in the musical, but in his friendship with co-star Chris Hodgson, who may play as Christian Grey in the musical.
According to some of the cast members, Lorenz teaches Chris some Filipino words from time to time, and Chris even tried saying a certain phrase that declares his love for the gays, and thinks that it means 'Welcome!' in our language.
Good thing he forgets the phrases easily, otherwise there would be a long queue for this good-looking man.
#4 Audience members getting too into it
When you make a musical about sex and sexuality, there's bound to be some wild stuff happening in the theater.
"We serve alcohol in our theater in Vegas just to get you into the mood. So you know, what happens in Vegas does stay in Vegas but unfortunately you have to see it," cast member Greg Kata tells us. "We were very close to the audience and there was a couple who just couldn't wait to get to their rooms [and] they started doing it in the theater, and they were in the center aisle." Okay, awkward.
Albert also shared that some women have thrown their panties onstage. He didn't specify if they were clean or not, but we'd rather not know.
A more important question: Is this going to be the same scene here in Manila?
#5 Going all-out for the Filipino audience
We all know that we live in a predominantly Catholic country with conservative ideals, but Albert hopes that 50 Shades! can still entertain us Filipinos with that demographic in mind. (Note: There is an age restriction.)
"The south part of the US is the more religious part and the people there really enjoyed the show. I think there's something about them both being heartfelt about religion and also, deep down they're just the craziest, wackiest people. So I'm hoping the Philippines will be the same," he said.
Singer-actress Bituin Escalante, who plays one of the three book club ladies, shared her thoughts in the matter, saying, "You don't talk about sex every time, and I like telling that story to a Filipino audience—showing the awakening of someone who denies her sexuality and celebrate her femininity."
50 Shades! The Musical Parody will run from Feb. 12 to 28, 2016 at the Carlos P. Romulo Auditorium, RCBC Plaza, Makati. Tickets are available via SM Tickets, Ticketworld, and Ticketnet outlets. For more information, visit their website.
Photo courtesy of Inquirer.net