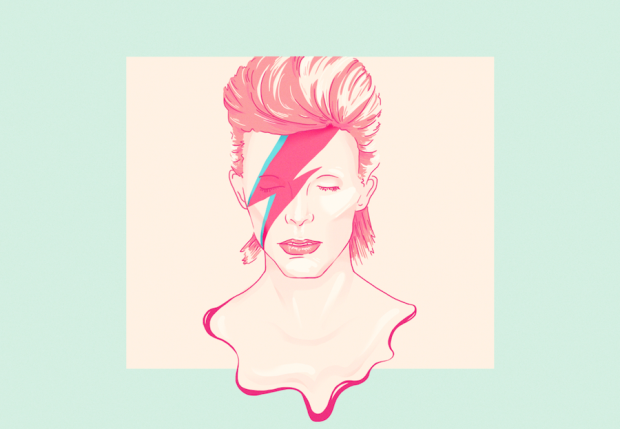 I have my own David Bowie story. Actually, it's more of a six degrees of separation David Bowie story, and it could very well be apocryphal, as both parties to this tale are nowhere to be found. One of them, of course, we mourn today, the musical legend, the rock rebel, the style iconoclast David Bowie, the artist also known as Ziggy Stardust, Aladdin Sane, and The Thin White Duke, the one immortal star that makes "all the stars look very different today."
The other was a former roommate of mine in Paris, who left as mysteriously as she'd arrived, with no forwarding address.
Dania, as we shall call her, was a model and aspiring actress from Los Angeles who, I suspected, moonlighted as a high-class escort. There was quite a bit of evidence upon which to base my suspicions—limos collecting her at night, sudden disappearances on the weekends, followed by the sudden appearance of piles of cash every Monday.  But hey, she paid her rent on time.
And there was the little matter of Adnan Khashoggi, the Saudi billionaire arms dealer, then at the apogee of his wealth, whisking Dania off to Monte Carlo for 10 days, billeting her at the Hotel de Paris while his yacht, the Nabila, was docked at Cannes, with his wife Lamia on board. In fact, I did speak to A.K., as he apparently was known to his closest friends, associates, and women, when he called the apartment a couple of times.
Anyway, Dania was telling me once about all the famous people she had slept with, and David Bowie's name came up. I was rather impressed. In the pantheon of celebrities he was a class act. And a kinky one, too, if Dania was to be believed.
While in the last part of his life—certainly over the past 25 years at the very least—Bowie seemed to have settled into a hetero-normative lifestyle, i.e., straight, with an enduring marriage to the stunning supermodel, Iman, and a happy family life that included their daughter plus a son from his previous marriage, for most of his career, he epitomized a gender fluidity that was at once daring and transgressive, even criminal, chic, and perhaps to some, enviable. He was the first major rock star to declare that he was gay, telling Melody Maker back in 1972, right before the release of the Ziggy Stardust album, "I'm gay, and always have been, even when I was David Jones."
Bowie happened to be very much married at the time, to the model and actress Angie Bowie, who helped him create his Ziggy Stardust persona. She famously claimed to have caught her husband and Rolling Stones' frontman Mick Jagger in bed together. If the two musicians had indeed had sex, one has to wonder: who was the top?
In her autobiography Backstage Passes, Angie wrote that after their first tryst, she quickly realized that "the man is a stud and proud of it."  She characterized him as having "the instincts of a bisexual alleycat."
Through the years, Bowie had flipped and flopped about his sexuality, insisting he was gay, then saying he was actually bisexual, and then denying it, saying he was merely promiscuous at one point in his life, and was "experimenting."
In a 1993 interview with Rolling Stone, he said: "I think I was always a closet heterosexual. I didn't ever real feel that I was a real bisexual. It was like I was making all the moves, down to the situation of actually trying out with some guys…I wanted to imbue Ziggy with real flesh and blood and muscle, and it was imperative that I find Ziggy and be him. The irony of it was that I was not gay. I was physical about it, but frankly it wasn't enjoyable. It was almost like I was testing myself. It wasn't something I was comfortable with at all. But it had to be done."
Certainly Ziggy Stardust emanated an otherness that was truly alien, with his fey gestures, fine features, and slight build. But looking at images of Bowie during that particular era, he seemed, in fact, underneath all the makeup and costumes and theatrics, not even gay, but post-gay. To many young lads of that time, whether he was gay, straight, or confused, he was incredibly inspiring and really quite revolutionary, not just in his music, but in his determination to define himself according to his terms.
He seemed to foreshadow a time when you could be who you want, sleep with whom you want, engage with whomever you want, and it really would be no one's business but your own. You could have a male lover at some point, as an ex-assistant, Tony Zanetta, claimed to be. You could have orgies, as he reportedly had done with Angie in their own home. You could date a bevy of hot AF stars like Susan Sarandon and Oona Chaplin. You could have a high-class escort like my ex-roommate Dania give you a golden shower, if that's your thing. And you could settle down to a contented, if glamorous, domesticity with a gorgeous supermodel wife.
So will the real David Bowie please stand up? Why bother? It doesn't really matter. He was a star brighter than all the others.
B. Wiser is the author of Making Love in Spanish, a novel published earlier this year by Anvil Publishing and available in National Book Store and Powerbooks, as well as online. When not assuming her Sasha Fierce alter-ego, she takes on the role of serious journalist and media consultant.
For comments and questions, e-mail [email protected].
Art by Dorothy Guya