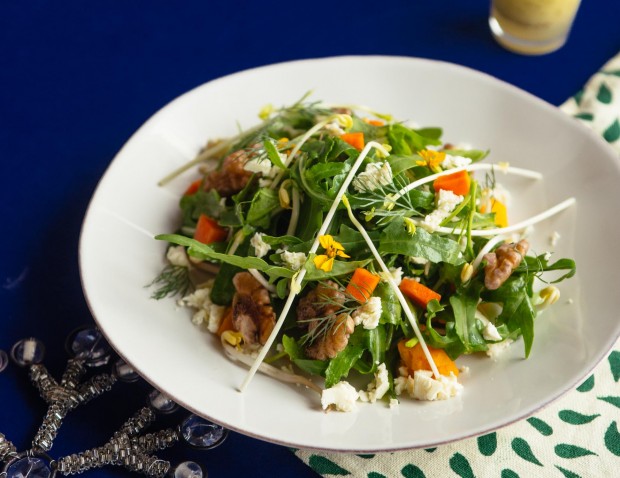 Have you and your friends made a pact to eat healthier this year and would actually do it for real this time, but have no idea where to begin? Well first, find something that's easy to make and something that you would like to serve for lunch or dinner, like a trusty salad.
If you're looking for a fresh, easy, and tasty dish that's not doused in bottled Caesar salad dressing, here's a recipe that you can snack on and share with your friends and family at dinner parties.
Sweet Potato Salad with Avocado, Feta, and Pickled Green Walnuts
Ingredients
455 g sweet potatoes
1 fennel bulb (thinly sliced)
2 to 3 avocados (1/4-inch slices)
2 cups arugula
1/4 cup mixed bean sprouts
6 pickled green walnuts
115 g feta cheese
Dill
Parsley
Salt and black pepper
Dressing
3/4 cup lemon juice
2 tbsp honey
1 garlic clove
2 tsp salt
Dill
Walnut oil
Preparation
1. Preheat oven to 180-degrees Celsius, and place the sweet potatoes on a rack and bake for 45 minutes. Let them cool.
2. Peel and cut the potatoes into 1/4-inch rounds. Set aside.
3. For the dressing, combine all ingredients in a blender and puree them until smooth. Set aside two tablespoons for garnish.
4. In a medium-sized bowl, toss the fennel and arugula in the dressing.
5. Arrange a layer of sweet potatoes and top them with avocados and sprouts. Season with salt.
6. Place the dressed arugula and fennel on top of the first layer.
7. Garnish with walnuts, dill, parsley, pepper, and the remaining dressing, and crumble a generous amount of feta cheese. Serve dish immediately.
Source: Charlie Carbungco for Northern Living,"Age of Decadence," December 2015.
Photo by Patrick Segovia