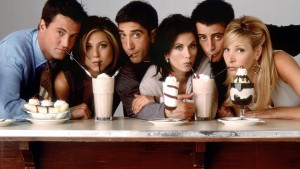 The good news is the Friends cast reunion on February is still a go despite Matthew Perry's decision to skip the affair. The horrible news? The show's co-creator Marta Kauffman is still firm on her decision to not reunite them, even for a movie.
Almost three years have passed since Marta told E! News that she doesn't plan on arranging a comeback season for the show. Surely she must have changed her mind by then, right? After all, the cast reunion for the James Burrows NBC special is a good excuse to execute this since the show's final season was 12 years ago, wasn't it? Hell, no.
During the recent 2016 Winter TCA Press Tour, Marta was asked if she'd consider making a Friends movie after the cast reunion on NBC, and answered E! News, "There will never be a Friends reunion movie."
"Friends was about that time in your life when your friends are your family and once you have a family, there's no need anymore," she said in a previous interview.
We're guessing that she didn't get the memo to keep your friends close in order to stay young.
[E!Online]
Photo courtesy of Mic