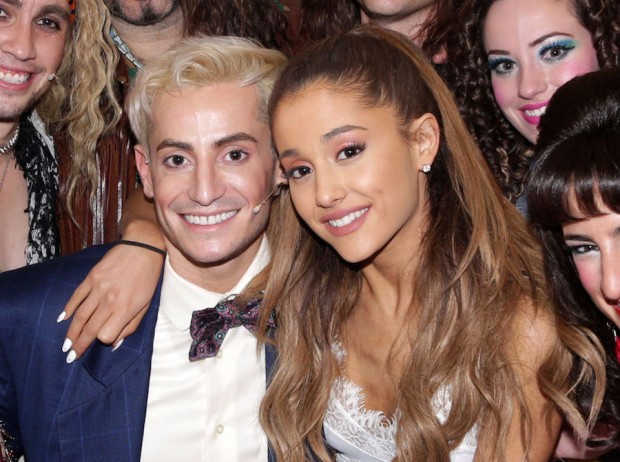 Despite the downward trend of celebrity fragrances, Ariana Grande's foray into the showbiz perfumery appears to be going strong with the success of her first EDT Ari, which launched back in September, and now with the release of her second fragrance Frankie, which is named after her 32-year-old older brother.
As you can see, the bottle design is nearly identical to Ari, except the bottle is silver instead of crystal pink, and the pom-pom is black instead of white.
The scent is being marketed as "gender-inclusive," meaning it's a "non-gender exclusive fragrances (sic) meant to be enjoyed by ALL," Frankie announced on his Instagram page. This appears to be a new trend in the beauty industry since the launch of CK2, Calvin Klein's first "genderless" scent.
According to Ulta, where Frankie is exclusively retailing for $49 for now, "This sexy new scent embodies the larger than life energy of sibling duo Frankie & Ariana, captured in an ultra-modern metal bottle with a lux black pom-pom…don't forget to share the love!" The perfume has notes of spicy pink pepper, pear, apricot, wild orchid, cedar wood, sandalwood, musk, and surprisingly, sugar crystals.
While celebrity fragrances and gender-inclusive scents are nothing new (isn't "gender-inclusive" just another word for "unisex?"), we give Ariana and Frankie props for embracing progress and inclusiveness.
Besides, we'd be lying if we didn't admit to being just a little bit curious about what sugar crystals and sandalwood smell like when combined.
[
Glamour
]
Photo courtesy of Wikipedia