Watching John James Uy play his ukulele, Janina Manipol sing Blackstreet's "No Diggity," and Sky Yang join them on the couch out of boredom and friendship felt like intruding on a sitcom moment. Unless your life's patterned after Friends, Monday mornings don't always involve beautiful people lounging around and still looking interesting.
But that day was different. I was in the same room at Max Pavilion as six members of The Love Club. (Justin Gascon, Camille Villavicencio, and Christiana Collings were all having their makeup done on the other side of the room.) Their group name rings a bell to those wired to Instagram, where it's currently a trending #squad (a term better left in 2015, but admittedly most fitting for this band of social media influencers).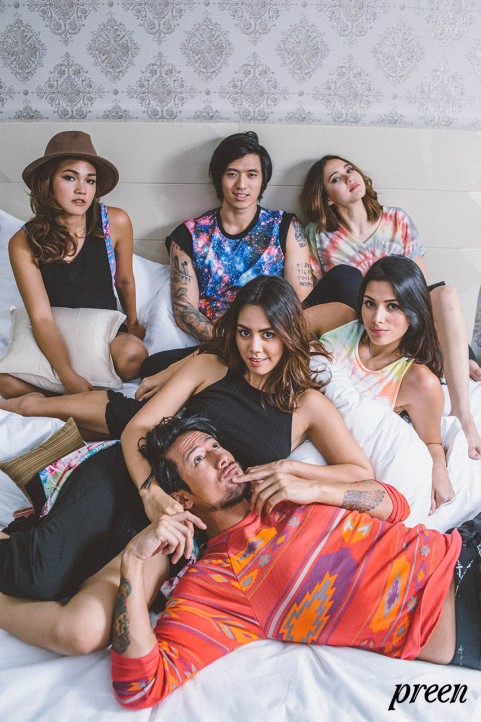 The squad wears crop tops 
The group, 11 in full, consists of seasoned models, brand ambassadors, a licensed doctor, and frequent travelers who couldn't make it that day. A trip to their namesake account gives me glimpses of their group dinners, nature trips, public events, and many inside jokes rendered in emoji that are far too cryptic for outsiders like me.
Young ones are inspired by their camaraderie. But it's mostly the image: What you can see off their feeds are as charming as the coveted Diane von Furstenburg jackets that The Bling Ring once sported. And like these looted items that catapulted the teenage syndicate to their infamy, it's the visually good life—the millennial dream of traveling, being loaded with dough, and looking good filter-free—that has secured The Love Club a legal status of popularity. Rachel Lee and her crew had to drop by clubs to flaunt their stolen swag. The Love Club only needs to post a photo.
As of press time, they've got 9,932 followers. For a mostly non-celebrity clique—that ironically banks on the ways of celebrities—those are impressive digits. Maybe these are what Internet sensations are made of these days: Have interesting, real lives and just happen to post about it online. But don't most already do that?
Maybe, just maybe, to be as interesting as those in The Love Club, one might have to possess high cheekbones or freakishly good skin.
"But it's not like, you [can just] get in here," model Jessica Yang told me, weeks before I gathered her friends for a shoot. She couldn't make it due to another work commitment. "People ask [me] like, 'How can someone be part of The Love Club?' I just say, 'It's a friends thing.'"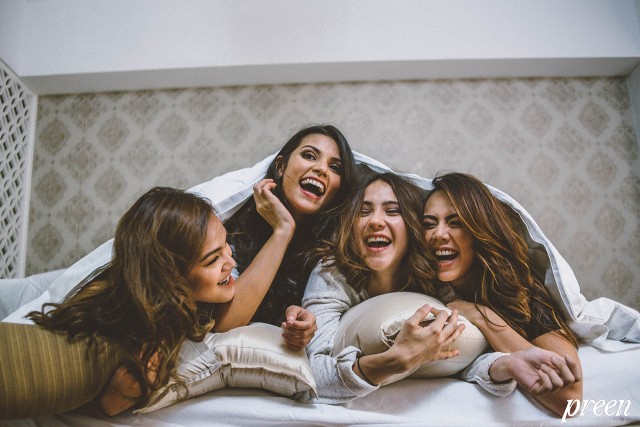 Not a cult
Jessica knew John first. She is his girlfriend after all. They've been dating off and on for three years, and during that time, she met two other members of The Love Club: Christiana and Mari Henud while shooting separate commercial work. She didn't know about The Love Club until she joined in.
"It's so funny, even before the song 'The Love Club' came out—you know the song by Lorde right?" she asked. I nodded meekly as I remembered that I barely tuned in to her discography. "So yeah, before that, [the group] already called [it] The Love Club. They call [each other] 'love' or 'hey, love' and that's really how they do it. That's what I heard from them."
Minutes into talking, Mari arrived. She found us sipping cold Starbucks drinks at Spark It Marketing's office at noon. "Love!" she called out. Jessica wasn't kidding.
The pet name flows as easily as each members' personalities. Jessica is the boho chick with songs for exes and a stringed instrument; John is the prankster that disapproves of "people in a hurry to grow up and be super serious;" Sky is Jessica's health-conscious sibling who's pretty reserved around crowds; Mari is the nomadic blogger; Christiana, they say, is their human TV. The others are a mish-mash of other hobbies, all of which make up their group's DNA.
They tell me that they all first hung out for a night in Punta Fuego back in 2013. Today, they spend time in the private rooms of restaurants like Sugi and Myron's Place, or in their condos if hotels seem like impulsive luxuries.
Everyone would initiate these dinners. But one person really got them all together.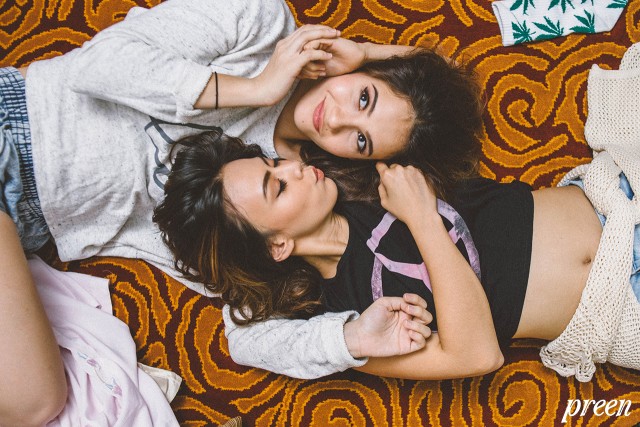 Meet "The President"
If The Bling Ring had Rachel Lee, The Love Club has Janina. A commercial model, a partner at concert production company Vybe, a filmmaker at Midnight Bonkers Studio, a celebrity in her own right, the leader who glued these people together—she is all of these sans the kleptomaniac tendencies.
Back in our suite at Max Pavilion, she opens a luggage brimming with clothes. It's mostly crop tops, shorts, and breezy trousers. Everyone's glammed up to pose, but Christiana is still digging through this big pile—everyone brought outfits—for something cute.
"Here, I have a top for you to wear," Janina suggests. "Actually, I have stuff for all of us."
With her doe eyes and 4'8" frame, Janina doesn't seem assertive. But she is when she starts coordinating with me, reminding the members about their meetings, and telling them they need to have their weekly Thursday dates for bonding's sake.
She first got her college friends Camille, Pat Cabral, and Miles Ng to meet Justin and John James (JJ, for short), whom she both met at a Jollibee commercial when she was 17. This was the cycle she began until The Love Club became what it is today—11 members strong and still growing, depending on whom they meet along the way.
"It's a small world," Janina tells me. "There's only a few [people you'd] want to hang out with, and they [kept] popping up. Then we started seeing each other, and it started to become a thing."
The others tell me the same. They came together through Janina. They prefer wine over beer like Janina. They get "bullied" by Janina.
"I like how we're all so different. We really just complement each other," Janina says. "We can all be together and just be quiet… Hindi kami nang-aagaw ng spotlight (We don't steal each others' spotlight). We're literally just always together."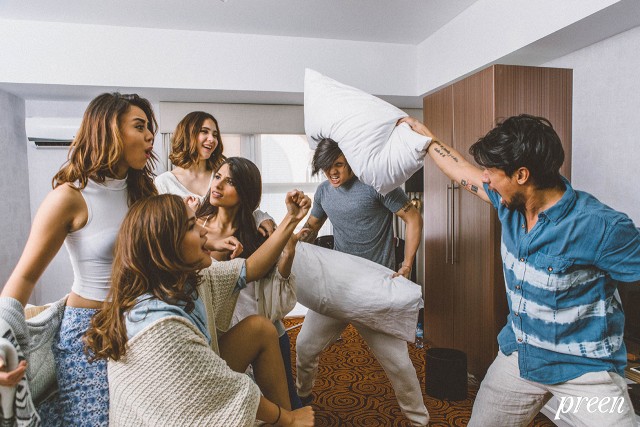 #SquadGoals
In their group shots, the six members hold their own. The penchant and habit to pose as the camera clicks (it doesn't matter if it's Canon D-SLR or an iPhone 6s) get the group to reenact just how they might fill their Instagram feeds.
For social media lurkers, their pronounced jawlines, exotic geotags, and free swag are the stuff of perfect friendships. Followers even drop by each of their accounts, often littering the comments section with hashtags (#goals, obviously) or virtual hearts.
Their spontaneity makes up half their charm. The other is their mindful branding.
Franco Santos manages the group's activities. Basing off the members' hobbies, he comes up with hashtags for each of them—the Love Club is his talent—the way Spice Girls needed identities. The members may have individual gigs, but together, they attend events in batches as if to remind everyone that they're a bundled package. Janina keeps them in check.
"This group is unique and honest. They're not fake—I think that's the problem with millennials now. They have masks on. They're only who they are because of social media," Franco observes.
Matters of authenticity plague the virtual world. For bloggers to come clean of their habits like Essena O'Neill, you know there's a demand for something more real. Or at least, something that looks real.
Becoming a #goal on the Internet lately means putting a face on netizens' dream aesthetic. You want funny? Look to J-Law and Amy Schumer. You want pretty? Follow Georgina Wilson's posse.
This leaves people craving for candidness: less celebrity figures, fewer staged #fotds, and more embarrassing videos. But we still want something beautiful, candid, and achievable for those of us with boring lives behind our screens. The Love Club came along and addressed that need.
"We're just us," Janina says.
It's the 21st century: This honesty—not your designer bags nor celebrity connections—is what people now stick around for.
Photos by Artu Nepomuceno
Styling by Randz Manucom
Hair by Reynard Bonuzo and Glenn Soberano of Triple Luck Brow and Nail Salon
Makeup by Jorence Delimos and Alexandra Lisbona of MAC Cosmetics
Special thanks to Max Pavilion Serviced Suites and Agoda Philippines. To reserve and book rooms at the best rates, visit their website.