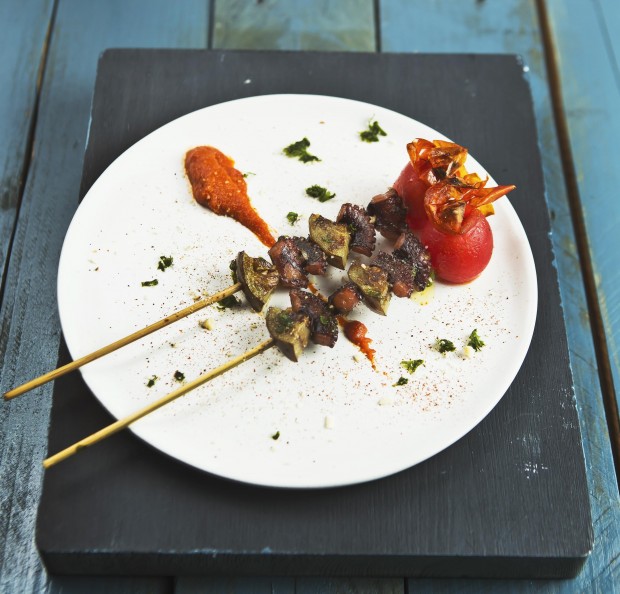 Remember when you were a little girl who binge-watched on Disney movies, and wanted to be like Ariel from The Little Mermaid? Just swimming in the sea (or at least pretend-swim in a pool) with your pretty mermaid tail, flowing hair, and singing with your talking fish friends. Maybe even find a charming prince washed up on the beach and live happily ever after.
We may have grown out of that fantasy now, but a trip to the sea is always delightful and relaxing. However, as much as we want to go to the beach all the time to experience this, we can't. So, why not bring the beach to your backyard by whipping up this tangy seafood dish?
Grilled Octopus with Salsa Romesco
Ingredients
1 pc octopus
3 cloves garlic, minced
1/4 cup parsley
2 pcs eggplant
6 pcs cherry tomatoes
1/4 cup olive oil
For salsa romesco
1 pc onion, minced
2 cloves garlic
1 can of peeled tomatoes
1 can of pimiento
1/4 cup of olive oil
Almonds
Parmesan cheese
Preparation
1. Clean the octopus tentacles under running water until the ink is removed.
2. Prepare boiling water with salt. When water starts to boil, leave the tentacles in it for 45 minutes. Once they've softened, let them rest for 20 minutes.
3. Cut tentacles to one-inch pieces.
4. Sauté tentacles in olive oil, garlic, and parsley.
5. Blanch cherry tomatoes for around 10 seconds and peel them after.
6. Cut the eggplant into cubes and deep-fry it until it softens.
7. Assemble the octopus, eggplant, and cherry tomatoes on a barbecue stick, and grill them for a smokey flavor.
For salsa romesco
1. Sauté the onion, garlic, and almonds until they caramelize.
2. Put the peeled tomatoes and pimiento in a pan.
3. When the mixture starts boiling, put it in low heat and let it simmer for around 30 minutes.
4. Put ingredients in a blender to make the sauce, and strain the mixture to make it smoother.
5. Season with salt, pepper, and parmesan cheese.
Source: Charlie Carbungco for Northern Living, "Slow Current," May 2015.
Photo by Gabby Cantero