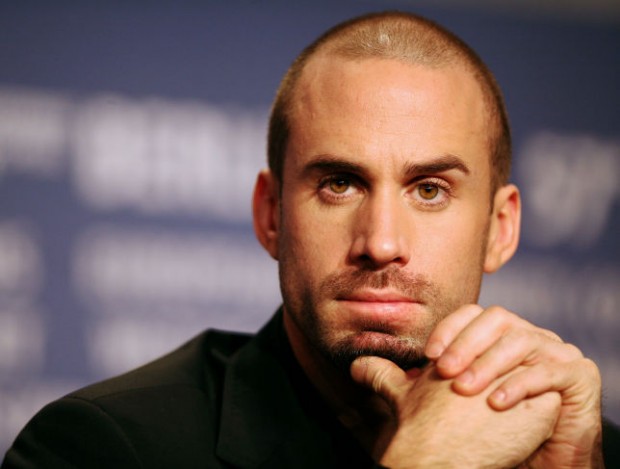 With everyone still arguing over the #OscarsSoWhite controversy, what better way to add to the drama than with the announcement that Joseph Fiennes (you may know him from Shakespeare In Love) has been cast as none other than the King of Pop Michael Jackson in the upcoming comedy TV movie Elizabeth, Michael & Marlon.
Yes, you read that right: A Caucasian actor is playing the African-American pop star. Michael's "Black or White" can't even justify this.
The movie, which will air on UK television channel Sky Arts, is based on an urban legend published in Vanity Fair that Michael, along with renowned actors Marlon Brando and Elizabeth Taylor, allegedly went on a road trip to flee New York City after the 9/11 terrorist attacks.
In a statement issued to Time, a spokesperson from Sky Arts said that the network "gives producers creative freedom to cast roles as they wish, within the diversity framework which we have set."
To make matters even more awkward, Joseph defended his role in an interview with Entertainment Tonight, saying that Michael "definitely had an issue—a pigmentation issue—and that's something I do believe…He was probably closer to my color than his original color."
Of course, netizens were quick to pounce on the announcement, saying that they thought this was all a joke, and pointed out the issue of diversity.
Wait wait wait. Joseph Fiennes is playing MJ? This wasn't a joke?

— This Is Rochelle (@RR416) January 27, 2016
Joseph Fiennes can play Michael Jackson. (A real person). But Idris can't play James Bond (a fake spy for a fake agency)? Cool, cool, cool. — Prentice Penny (@The_A_Prentice) January 27, 2016
So Joseph Fiennes (A WHITE DUDE!) is gunna play Michael Jackson… I say Denzel Washington plays Elvis in the next movie just to be fair.😒😡

— Nico Madden (@_nicomadden) January 27, 2016
I'm TOTALLY on board with Joseph Fiennes playing Michael Jackson IF AND ONLY IF Angela Bassett is cast as Elizabeth Taylor — Orlando Jones (@TheOrlandoJones) January 27, 2016
As much as we want to imagine Michael moonwalking in the afterlife, we wouldn't be surprised if he suddenly rose from the dead to smack some sense into this movie's production team.
[
Nylon
]

Photo courtesy of Nylon