Just like that, January 2016 is coming to a close. It feels like it was just yesterday that we were popping champagne while ringing in the new year. While we hope the first month of 2016 was good to you, we also hope you were good to January, too. Or was January like your free trial of 2016 so you could decide whether or not you want to fully commit to those resolutions?
Anyway, whether or not this month was the best or a bust, we've got a roundup of events to help you end it. From open mic nights to outdoor movies, and magazine tours to album launches, we've got your weekend plans covered.

Film
#1 Pop Up Night Cinema at Circuit Makati
Jan. 30 to 31, 6 p.m. to 10 p.m.
The Deck, Circuit Lane, Circuit Makati, Hipodromo Street, Makati City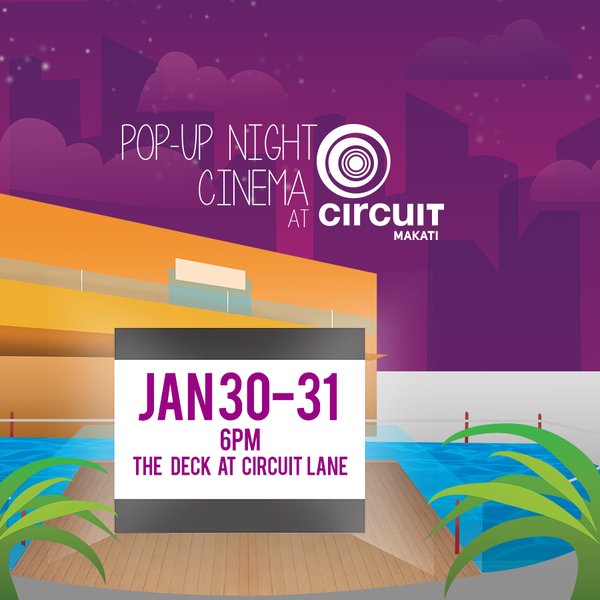 Instead of staying at home and binge-watching movies downloaded from the internet, opt for this outdoor cinema playing your favorite films like Mamma Mia and Les Miserables.
#2 The Happy Life Film Screening
Jan. 29, 5:30 p.m to 8:00 p.m.
KCC Wave Hall, Korean Cultural Center of the Philippines, Taguig City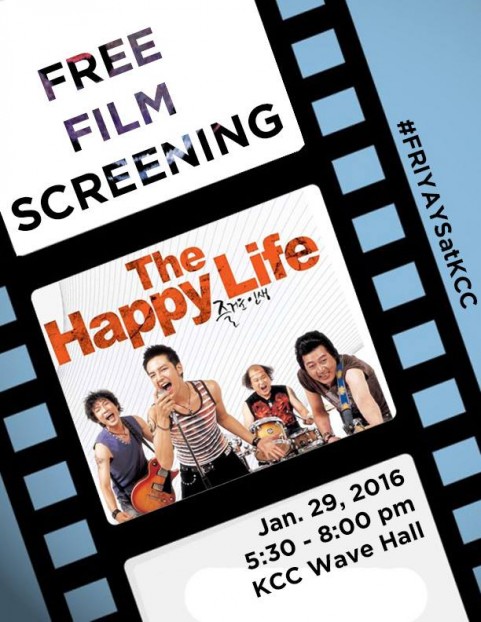 See the story of four young men, played by Jung Jin-young, Kim Yoon-seok, Kim Sang-ho, and Jang Keun-suk, unfold as they venture out to revive their music dreams in this 2007 comedy film, and it's for free! This is part of the Korean Cultural Center's initiative to share the country's culture and entertainment to the Filipino audience.
Pet Adoption
#1 Adopt-A-Kitten
Jan. 31, 8:30 a.m. to 11:30 a.m.
Cat Cafe Manila, 2/F 189 Maginhawa Street corner Makadios Street, Sikatuna Village, Quezon City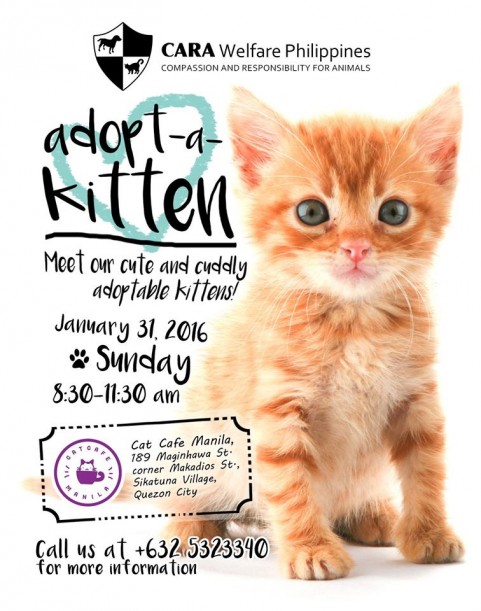 Just pay a fee of P800, which will cover the cat's spay/neuter fee when it reaches five to six months, and you can take home a new furry friend from CARA Welfare Philippines!
Launches
#1 Purveyr Magazine Launch Tour
Jan. 30, 5 p.m. to 10 p.m.
Easy Skate-Surf. Unit 104, #3 Brixton Street, Pasig City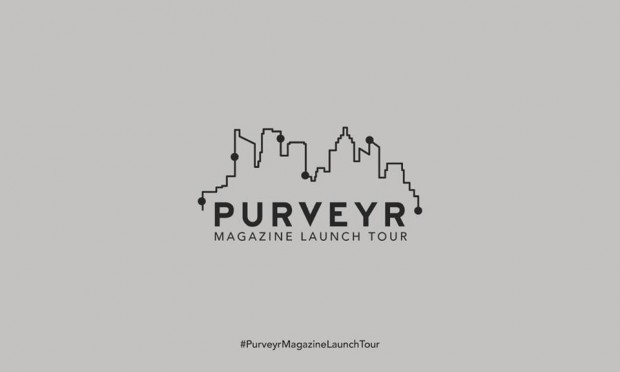 Take part in the third out eight pop-up launches of online magazine Purveyr's as they debut their first print edition at Easy Skate-Surf. According to their official announcement posted on their website, the eight pop-up location will be "representing different categories of our local modern culture."
#2 Tom's Story Album Launch
Jan. 30, 8:30 p.m. onwards
Route 196 Bar, 196-A Katipunan Avenue Extension, Blue Ridge A, Quezon City

Pushing the boundaries of math and post-rock, local underground band Tom's Story will launch their very first album this Saturday with performances from the band, along with other underground performers such as Autotelic, Musical O, and tide/edit. You wouldn't want to miss out on the moving and head-bobbing instrumentals that this musical trio has to offer.
#3 SKIN Sud & Words Anonymous Album Launch
Jan. 29, 8:30 p.m. onwards
Route 196 Bar, 196-A Katipunan Avenue Extension, Blue Ridge A, Quezon City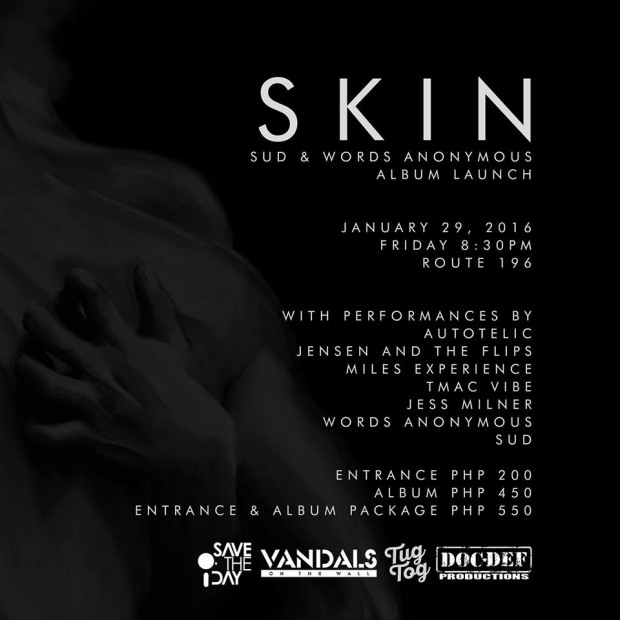 Turn up to the music of Jensen and the Flips, Autotelic, DJ Jess Milner, and many others, and get first dibs on Sud & Words Anonymous's album.
Open Mic Nights/Poetry
#1 BLooM Launch Open Mic Night
Jan. 29, 6 p.m.
Jeepney Bistro Phils, 42-A Esteban Abada Street, Loyola Heights, Quezon City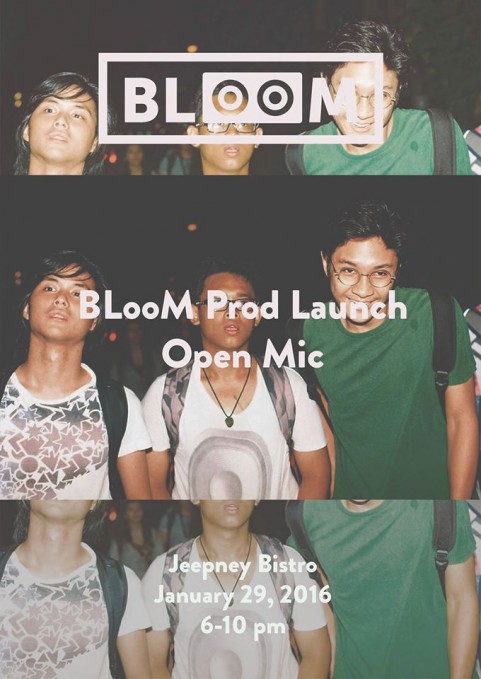 Sign up for a 15-minute slot to bring out your inner poet at BLooM's first ever Open Mic Night. Bring your friends—it's free!
#2 FOREWORD: An Open Mic Night
Jan. 29, 7 p.m.
EXILE, Unit H, 299 Katipunan Avenue, Loyola Heights, Quezon City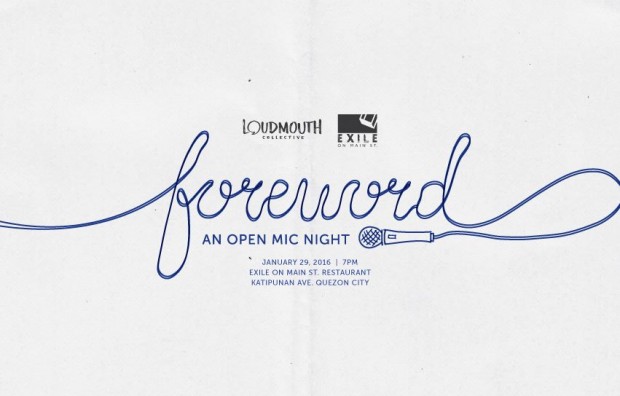 With an entrance fee of P200, you can grab a free beer and perform your original spoken word poems for 3 to 5 minutes, as well watch others spill their hearts out on stage.
#3 Tugma II
Jan. 30, 8 p.m. onwards
Conspiracy Garden Cafe, #59 Visayas Avenue, Quezon City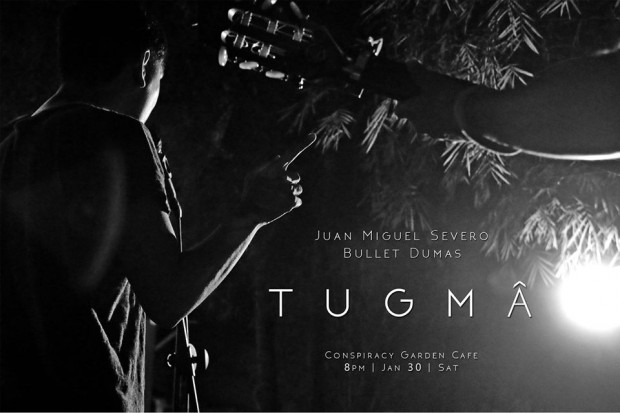 For the second time around, enjoy a night of music and spoken word poetry from Bullet Dumas and Juan Miguel Severo.
Parties
#1 Higad Presents: Ichi, Nii, San!
Jan. 30, 9 p.m. onwards
Mow's Bar, Basement, Kowloon House, 20 Matalino Street, Quezon City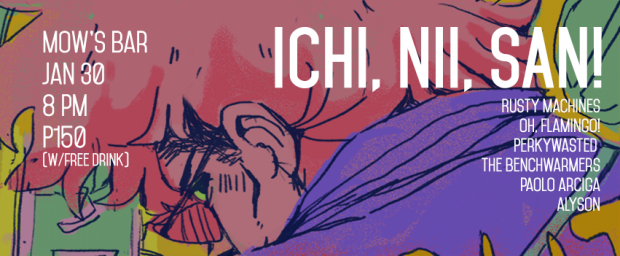 Higad is back and better than ever with performances by Alyson, Rusty Machines, Perky Wasted, The Benchwarmers, Oh, Flamingo, and Paolo Arciga.
#2 The Groove Pocket
Jan. 29, 10 p.m. onwards
Black Market, Warehouse 5, La Fuerza Compound 2, Sabio Street, Makati City

Can't get any more lit than this! Beats are dropping tonight with DJs Don P, Red-I, and Zabow.
#3 Consortium 9 in 1
Jan. 30, 10 p.m. onwards
House Manila VIP Club, Remington Hotel, Resorts World Manila, Pasay City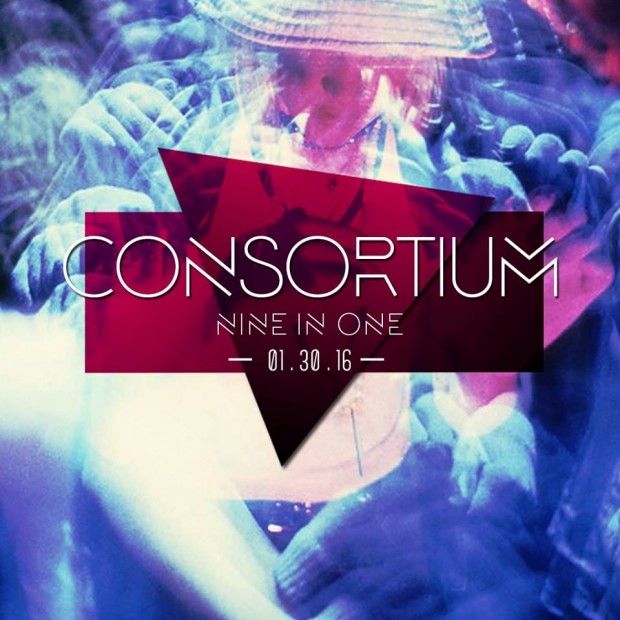 If you're in the mood for a fresher clubbing experience, head to House MNL this Saturday and experience the music of nine acclaimed DJs, including Callum David, Lady Trinity, Mark Thompson, and more!
#4 SUB-URBN
Jan. 29, 10 p.m. onwards
URBN BGC, 3rd Floor, Fort Pointe II Building, 28th Street, Bonifacio Global City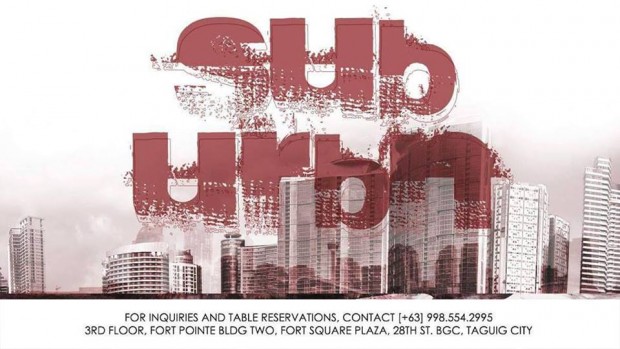 Let DJs Renee, Gabby Zulueta, and Mica Atkinson shake up your Friday night!
Art
#1 Scope: Manila
Jan. 30, 7 p.m.
98B Collaboratory, First United Building Escolta Street, Binondo, Manila City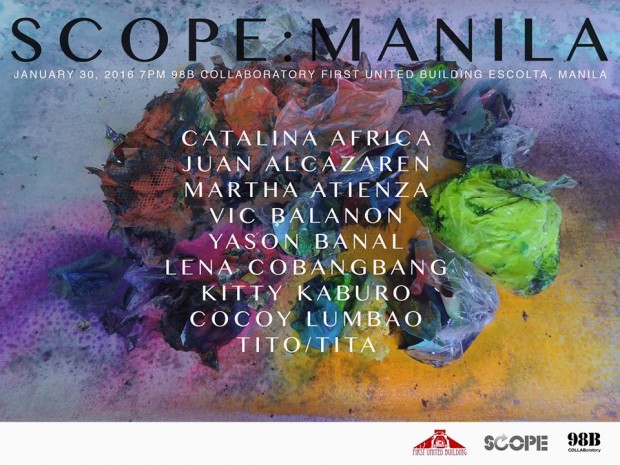 See the works of Catalina Africa, Juan Alcarzen, Martha Atienza, Vic Balanon, Yason Banal, Lena Cobangbang, Kitty Caburo, CocoyLumbao, and Tita/Tito come to life in their latest collaboration.