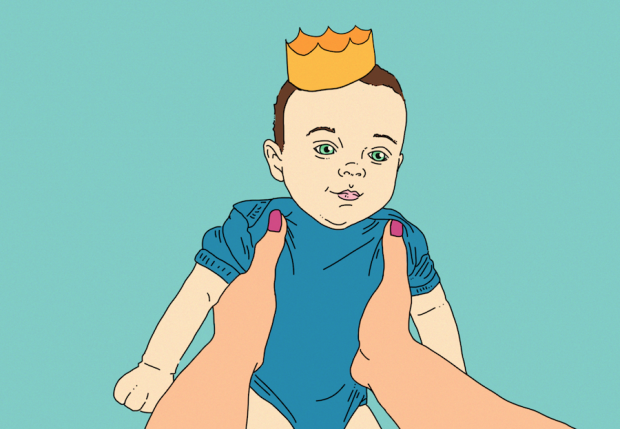 Every week, Preen tackles motherhood sans the rose-tinted glasses. Our columnists L. Juliano, Marla Darwin, Monica Eleazar-Manzano, and Rossana Unson tell their personal experiences like it is—at times frustrating, oftentimes confusing, but always enlightening.
I'm writing this as a mother of daughters. Sadly, I don't have a son, unless you consider my male cat, which doesn't really count because when he grows up, I doubt he'll be getting married or into any relationships which I will have anything to do with.
I digress.
My point is this: Mothers of sons, please, please don't make your sons feel like the earth revolves around them. Don't make them feel like every single woman who comes into their lives after you is graced with splendor and fortune to have him take a look in their direction.
I used to have a neighbor whose son was an absolute brat. He peed on the yayas, threw his toys at them, and acted like the king of the house. He was the king of the house because his mom treated him as such. Her older daughter was pretty much left on her own. This boy did not respect women. He was trained to think that women (his yayas, his mom, and his older sister) were all trained to respect him. On top of all that, he was a really handsome child, but woe to his future girlfriends and his unfortunate wife.
This is not a unique occurrence in this country. To have a son is still something of an honor and most times, sons are treated as future heads of the family as early as when they're still growing up. Mom does everything for him. Mom tells him how lucky women are to have him in their lives. Mom cooks all his meals (so that in the future he'll tell his wife, 'My mom used to make adobo in a different way….'), makes sure all his clothes are ironed and ready to wear, provides him a car at a suitable age, and then shakes her head and says lovingly, "Boys will be boys" when she hears (if at all) about her son's multiple girlfriend problems.
I'm not generalizing this sort of occurrence. Not all mothers of boys raise them as the kings of the world. My friend's son cleans his own bathroom. He also washes dishes. And yes, they also have yayas. They have many cars and often he's dropped off at school but he also knows how to commute and gets a kick out of doing so. My other friend's son cooks dinner for her. He bakes, too. He doesn't expect her to cook for him or prepare things for him; he certainly hasn't been brought up to feel she owes him something for not having dinner on the table ready when he comes home from school.
I wish there were more moms like those two. I am sure there are, but for the moms and moms-to-be, please heed my advice. Think of it this way: You're doing your part in furthering a happy race when you raise your sons right. It's a domino effect—raise your sons right, minimize future relationship problems. Less relationship problems mean better chances at happy families and happy families mean happier people in general.
Oh, I know I'm over-simplifying things terribly here, but bear with me. Perhaps I've been hearing about too many relationship issues that I've become jaded. Perhaps I've dated too many mama's boys. Whatever the case may be, it all comes down to this: If more moms raised their sons right, half the world's problems will be solved!
Disclaimer: The views expressed here are solely those of the author in her private capacity and do not in any way represent the views of Preen.ph, or any other entity of the Inquirer Group of Companies.
Art by Dorothy Guya