Last night, the walls of the main gallery of Vinyl on Vinyl in Makati were peppered with paintings of familiar cartoon characters we used to watch as kids like Mickey Mouse and Bugs Bunny, portrayed in a way that's more playful than what we're used to. It was like staring at paintings—which looked like digital art but were actually hand-painted with acrylic paint and ink—while on a psychedelic high.
As we spoke to the artist, Indonesian painter Arkiv Vilmansa, he let us have a glimpse of his own childhood which inspired his bold paintings in his "Imprinted Memories" exhibit.
"My art is a reflection of my childhood. I loved watching cartoons like Mickey Mouse and Warner Bros., and I made it into a new form. When people look at it, some say that it is Mickey Mouse but it's not the Mickey that you know. It's the Mickey I know," he explains, noting that this was how he remembered those characters as a kid: hazy, yet vibrant and full of life.
"When I was younger in Indonesia, [the culture there was] more of people getting to know what's going on outside of our country—having to see things on the Internet and on magazines. I guess my childhood was pretty amazing because I saw a lot of cartoon shows and movies that always cheered me up," he continues.
As a man in his mid-30s, Arkiv is still very much a kid at heart. When asked what the last show he watched was, he proudly says, "It's still Mickey Mouse."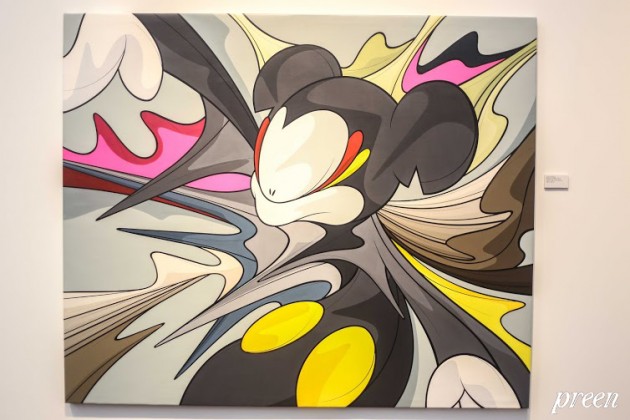 As for animated movies, he says that he doesn't like them that much. "You know the way they design movies these days is different from how they design cartoons which are all two-dimensional, and I'm not used to that."
He shares that until now, he still tries to watch cartoons to sort of continue his childhood and to also pull out more inspiration for his works, even with his busy schedule—an implication that he doesn't want to grow older despite his age. Just like most of us.
Canvasses over blueprints
Arkiv has a Bachelor's degree in Architecture. However, instead of designing structures, he opted to follow his passion and focused on painting with the help of what he learned in university.
"I already forgot about all the other architect things [I've learned,]" he says with a laugh. "What I did was I tried to apply what I studied in architecture to my work."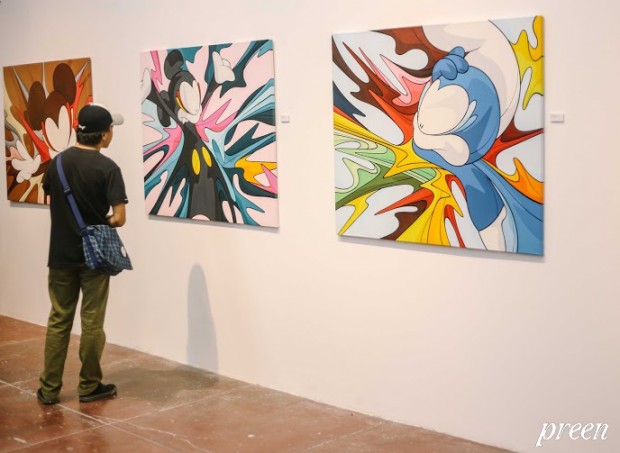 He walked us through his painting process: He draws thin ink lines on his canvas to create a guide for the wave-like background, add in bold lines, and color in the spaces with bright acrylic paint. The job is tedious, especially with the initial ink lines which he says were inerasable and he would have to start over if he made a mistake. "Luckily, I haven't gotten any art wrong yet," he tells us.
Aside from the fantasy world created by Walt Disney, his artworks are mostly inspired by the in-your-face pop art created by Andy Warhol.
"My art has to be strong, clean, and bold. It has to catch everyone's attention," he stresses.
And when he's stuck on what to do, or simply just bored in his studio, he shares, "I have to travel somewhere to get some idea. My favorite country to go to is Japan because of their culture and playful vibe."
Bringing his caricatures to life
As an artist, the world becomes your canvas. Fortunately for Arkiv, his cartoon creations not only lived on gallery walls, they've also made their way to some fashion pieces.
"It wasn't a high-end brand, but my art was mostly used for shirts and hats for a streetwear brand [in Indonesia,]" he tells us. Upon further research, he apparently also painted a few bags for well-known brand Hermès, as well as shoes for Vans.
With his wild reimagining of cartoon characters, surely he's got some television and movie projects lined up for him, right? After all, his collection of vinyl figurines, including the very first and the most popular one he made, Arkiv Instant, already looks exactly like the stuff children watch.
However, according to him, no one has approached him yet to make a show. "I hope so. Especially if it's Disney. If I had my own show, I can do and say whatever I want with my characters," he tells us.
Photos by Paolo Tabuena