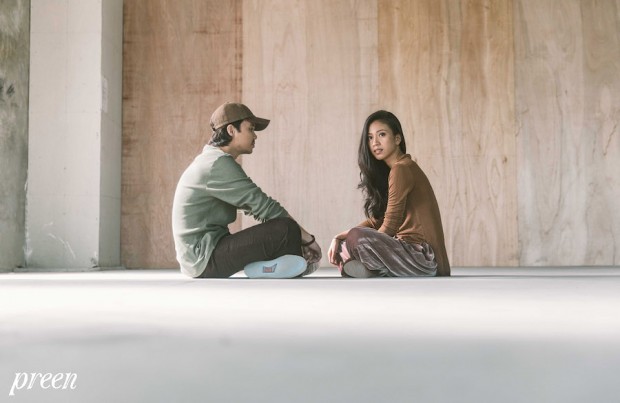 This February, Preen talks about all kinds of relationships and how stories of love don't always follow just one plotline. From fairy-tale romances to overlooked connections, we're hoping to find what makes them all equally special.
The other day, we gave you college sweethearts and photography duo Kimi Juan and Thomas Caja, and yesterday, we featured fashion stylist Ria Casco and her soul mate, entertainment consultant Mike Pio Roda.
And now, on Valentine's Day proper, we have one of my favorite couples: stylist, regular Preen contributor, and Inquirer Red Magazine's managing editor Meg Manzano and her boyfriend Artu Nepomuceno who is a photographer and dessert entrepreneur.
Meg and Artu are your typical people from the south: laidback, good-natured, and in their own little world. They're also one of those couples I look at and think, "Yep, those two belong together."
Both are genuinely one of the nicest people I know—good-hearted to their cores—and also one of the most creative. I have a soft spot for creative partnerships, particularly because I've never been in one, and also because when you look at the work they produce, you always feel that there's something extra added into the mix. I suppose it's different when you're working on something with someone who knows what you want without even having to ask.
And so before I go on and on about why I love these two, allow me to shut up so they can tell you the highly entertaining story (spoiler: their anniversary is the day before Valentine's!) of how they found each other.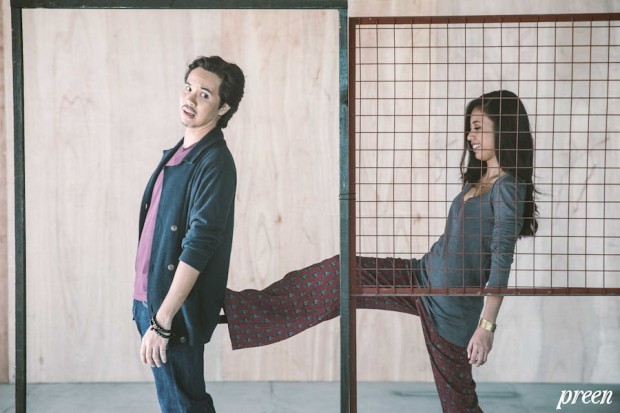 Meg Manzano, 25, magazine editor/stylist
Artu Nepomuceno, 25, photographer and proprietor of Louie-luis Ice Cream Sandwiches
How did you guys meet? 
Artu Nepomuceno: There's a hint of rom-com in how we met.
Meg Manzano: I remember one of the first times we met, my boyfriend at the time brought me to his friend's house to meet a bunch of folks.
AN: She was together with a friend of mine when I first met her.
MM: The whole car ride was reserved telling me background stories of the people I was to meet that night.
AN: At this point, there was already that big "No" sign over her head.
MM: And when it came to Artu he said jokingly, "Whatever you do, don't fall for him."
AN: For the longest time she and I were bros, really being there for each as creative buddies, inspired to somewhat make a difference in whatever craft we were going towards. At one point, we found ourselves single and our own little worlds were against the idea of dating, but it was just there: the intense chemistry in and outside of our collaborations as musician x writer or photographer x stylist.
MM: We were bros for the longest time and to complicate that friendship with an attempt at a relationship seemed like us just asking for drama.
AN: It was just so easy. I unintentionally but luckily placed myself in not the friend zone, but "bro zone" with her, which made our relationship stand on such independent grounds, and made each other's company always so fulfilling.
MM: Around six years after, it's pretty funny to see how things went.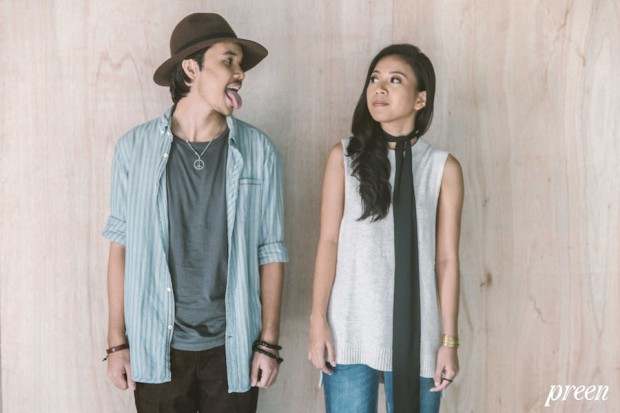 Who asked out whom? How?
AN: What kind of man would I be if I didn't respect the rules of being a proper gentleman and if I wasn't the one who asked her out?
MM: We've had a shared dance of discovery with shooting a couple of years back—I would style some of our fairly good-looking friends and he would shoot them. We called our series of collaborations "Anthems & Affairs" and somewhere along the way, pre-production meetings and post-shoot editing dates just became dates.
AN: In her eyes, I probably did it in the lamest and cowardly way possible.
MM: After a while, when we were in his car after a shoot, Artu told me to close my eyes because he had a surprise. He said he was giving me a necklace because he was going to ask me out. I'm the worst at cheesy moments, so I stupidly blurted out, "If I don't go out with you, can I still keep the necklace?" to which he replied, "Maybe not the pendant."
Describe the moment that you decided you wanted to date this person exclusively.
AN: We used to have so many sunrise sessions talking about quarter life crises and how we would help the industry of creativity by excelling in our crafts, which I think should have been that deciding factor. I believe the moment that won it for me was when were in an empty air conditioned room and I whispered to her, "Cold and silent rooms like these make me want to fart." It was when she said, "Me too" that I knew I wouldn't find anyone else.
MM: With sheer luck, we were able to hitch a hot air balloon ride with two Japanese men piloting a SEGA balloon at last year's Hot Air Balloon Festival in Clark.
AN: A year ago, Meg and I found ourselves riding a hot air balloon on Feb. 13. It was a free ride by a couple of sweet Japanese pilots.
MM: We were both so terrified and happy being a hundred or so feet above ground that I think he realized he wouldn't get a better shot at asking me to be his girlfriend.
AN: I told myself that I didn't think I would find any better way than to ask her spontaneously, soaring through the sky, with my fear of heights eating up all my private parts. With the little courage I had left, I asked her to be my girlfriend in the most shattered voice.
MM: We were standing beside each other, he asked me, and when I said yes (we both didn't want to make a scene because of the Japanese men!!), he patted me on the back and rubbed my arm.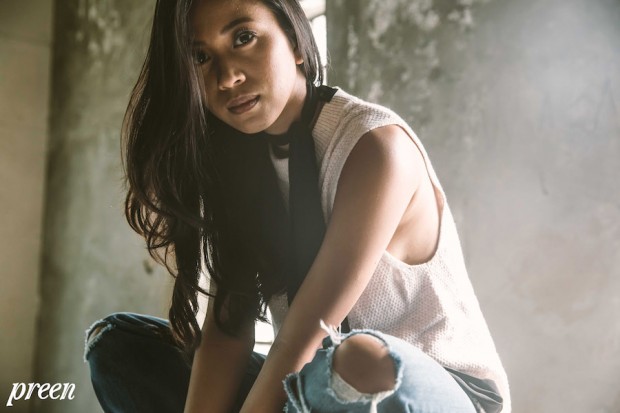 How long have you been dating?
MM: A year.
AN: We've been friends for around six years, I think. Dating would be around two years.
Favorite activities to do together?
MM: Playing with our puppies (we're lucky they get along; his dogs being giants compared to my toy poodle and Jack Russell), cooking (I'm a huge steak eater so I think he figured that it was much cheaper to cook steak for me than to shell out thousands at a decent steak joint), and shooting (we almost never fight when we're working, save for a few times I was grumpy because we hadn't eaten).
AN: Collaborate with models (I shoot, she styles). Cook and explore new recipes. Binge watch. Climb mountains. Cook in the mountains. Dates with our dogs. Should I keep going?
Favorite things about each other?
AN: If I'm a balloon, she's my rock. If she's a rock, I'm antigravity. In a way, I guess you can say that she…rocks my world?
MM: His dogs. (Laughs) I'm tempted to say his commitment to his craft, but I think what gets me every now and then is how kind the guy is. He picked me up from my office one time, it was raining really hard and we passed this old man sitting on the sidewalk holding a tarpaulin above his head. Artu stopped the car, got an umbrella from his trunk, gave it to the guy, and we drove off. I have the worst temper and moments like that with him are pretty humbling—I can't help but feel like such a horrible person compared to him…I think it's because I actually am. 
Pet peeves?
AN: When I show her something from my phone, she likes to grab it from me and turn around to view it. Sometimes I don't understand why she doesn't get that I want to see it again but with her.
MM: He takes forever to get ready. Dami niyang seremonyas!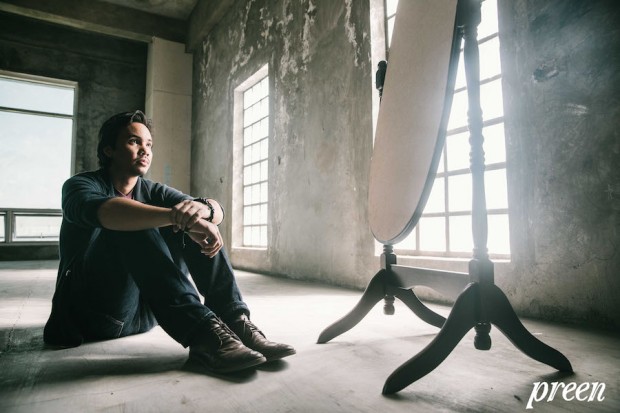 Why do you think you two work so well together?
MM: Before we got together, we were already collaborating on shoots and projects so that really helps. We have a thorough knowledge of each other's aesthetic so it's easier to get on the same wavelength. Hassle makipag-away.
AN: I'd like to think it's because we've never had to tiptoe around each other. From the very beginning, we showed each other (naturally) our good and bad traits. The bad traits didn't mean anything to her when we were just friends, and the good traits were things that made us magnetize towards each other. We stayed honest and appreciated each other's independence.
Can you defend your relationship in the court of law? What would you say?
AN: She would probably be able to defend our relationship in the court of law, being the kid of two lawyers, I've always looked to her for advice on how I should handle almost anything. In a court of law, I wish I could be all Harvey Specter and pull off this whole smooth defense, but in truth I think I'd be more like a terrible and emotional Anakin Skywalker or angry Kylo Ren working with my emotions. (Play scene of Kylo Ren slashing control panel in Ep.7)
MM: Your honor, it was all his idea.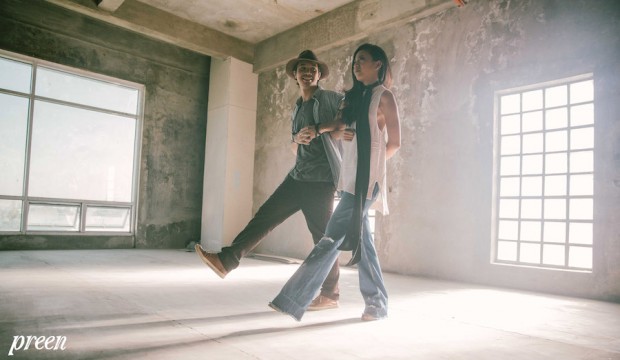 What's your take on V-Day? Fun day of cheese or cheesy Hallmark holiday? 
MM: A bit of both. There's always the pressure to celebrate and do something grand but I think at the end of the day, we're just looking to spend some time with each other and the puppies.
AN: I don't think we need a dedicated day to be sweet to our partners, but I do appreciate that it serves as a day to remind bad relationships [that they need fixing]. I'd like to think that Valentine's Day fixes bad relationships. I mean, no good relationship needs Valentine's Day. It should be Valentine's Day all year round for them.
Are you guys celebrating? How?
AN: Damn straight we are! But not in the way you would think.
MM: It's sort of the encore to our anniversary this year (and all the years that follow, shit). Right now, our plan is to shoot something in the morning for a client, head to the bazaar where he has a booth, and wolf down ice cream sandwiches.
AN: Now we don't need to cringe or make fun of Valentine's Day. We have a real reason to celebrate. It's our anniversary, after all.
Photos by Paolo Tabuena
Sittings by Jacqueline Arias
Styling by Meg Manzano
Makeup by Sylvina Lopez for MAC Cosmetics