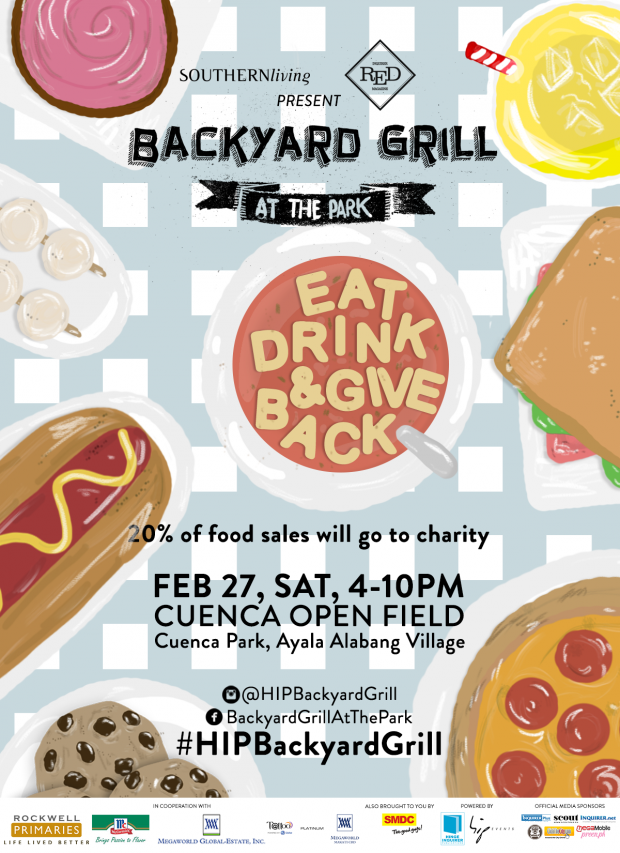 Wondering what to do on a Saturday? Tired of the usual weekend routine of malling or hitting up the local bar? We've got just the thing for you.
Backyard Grill at the Park is invading the south on Feb. 27 from 4 p.m. to 9 p.m. Enjoy great food, refreshing drinks, and great music with us at the Cuenca Covered Court in Ayala Alabang Village.
If you're in it for the food, then prepare your tastebuds for treats such as the mouth-watering meats of Roast Beef Belly, savory burgers of Whitehouse Burger Café, and the delectable skewers of Cocina Peruvia. If you want something on the crispy side, you can help yourself to chicken from Chickilicious Philippines while American comfort food will be served up by Diner on 16th for those who need a reward for the past work week. For those who are a bit more adventurous, there will be the artisanal hotdogs from Schmidt's Gourmet Hotdogs, Kraken Takoyaki, and the yummy healthy mushroom chicharon from Nueva.
After that you can give in to your cravings as there will be some churros from La Lola, Caramilk Creamery ice cream, and homemade cookies from Beeloved by Laura. Refreshments from concessionaires such as Let Juice and Thirsty Turtle will be more than ready to serve those in need of a healthy fix. Caffeine addicts need not worry as Sashy Brew will also be there to offer us delicious cold coffee concoctions.
Lastly, don't forget to drop by Nanny Rose because they will offer health and beauty products if you want to take home something new for your skincare routine.
Enjoy all of this on a chill afternoon with your friends and do some good while your at it as proceeds from the event will go to different charitable institutions like Habitat for Humanity, Museo Pambata, Futkal, Move.org, Silid Aralan, White Cross Orphanage, and CARA Welfare Philippines, to name a few.
Backyard Grill is mounted by HIP events and powered by Hinge Inquirer Publications, Backyard Grill at the Park is presented by Rockwell Primaries, Megaworld Global Estates, Megaworld Makati Central Business District, McCormick Philippines, Globe Home Broadband Platinum. This event is also brought to you by SMDC, with media partners Inquirer Plus, Scout magazine, Inquirer.net, When in Manila, Click the City, Megamobile, and Preen.ph