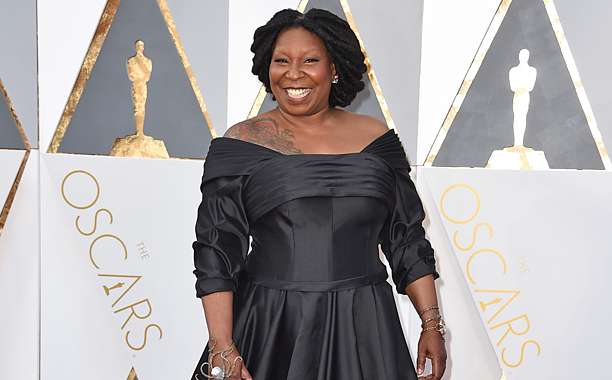 Today's first racial Oscars-related tweet was officially sent out by beauty website Total Beauty in an embarrassing gaffe wherein they mistook the venerable Ms. Whoopi Goldberg for the phenomenal Oprah Winfrey.
Whoops! #ThatsNotOprah pic.twitter.com/Nm6ciVj7u7

— Mashable (@mashable) February 29, 2016
Other than the fact that Whoopi and Oprah do not in any way resemble each other facially, what stuns us more is the fact that whoever posted this tweet didn't even think twice about the idea of Oprah openly sporting a tattoo. I mean, in terms of personal branding, that would've been completely uncharacteristic. (But hey, if she and her bestie Deepak Chopra had matching wrist tattoos of the words like "Purpose" or "Namaste," we would totally be in support of that. Especially if they had gotten them after a hungover meditation sesh.)
The tweet has since been deleted, but we all know that that makes no difference if a screencap exists, which it does. (Unlike Oprah and Deepak's matching ink.)
Various news engines (including this one) have been merciless about pointing out the website's rather egregious mistake, but the more entertaining reactions are coming from various netizens expressing their incredulity through GIFs.
.@WhoopiGoldberg to @TotalBeauty right now: #Oscars #ThatsNotOprah pic.twitter.com/GmniqpsVcx

— Lindsey Kupfer (@Lindseykupfer) February 29, 2016
.@TotalBeauty @Oprah pic.twitter.com/Pce0dXUsmQ

— Anré Dárel Washington (@AnreDarel) February 29, 2016
https://twitter.com/Ziweeee/status/704096189084508160
According to Bustle, Total Beauty is on a roll today having also mistaken Good Morning America correspondent Lara Spencer for Brazilian singer-songwriter Cladia Leiette, and tweeting a photo of Charlize Theron from the 2014 Oscars.
https://twitter.com/TotalBeauty/status/704090775257112577
We have no idea what's going on over there, but we're pretty sure that they're going to have a job opening for a social media correspondent by the end of the day.
[
Bustle
]
Photos courtesy of Entertainment Weekly and The Daily Mail