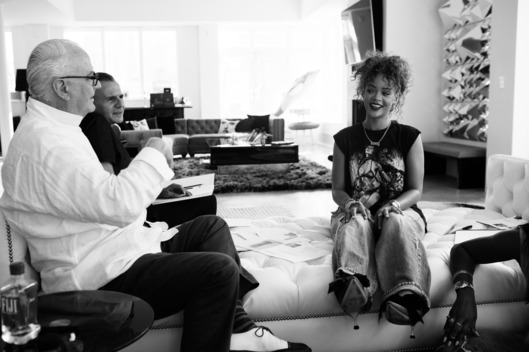 At this point, you can pretty much count on the fact that whatever Rihanna is shilling, we're buying—the bad gal from Barbados can do no wrong. From her sold-out RiRi Woo MAC lipsticks, her best-selling capsule collection with River Island, her limited-edition sock collab with Stance, and those impossible-to-find creepers she designed for Puma—it's possible to literally wear everything RiRi from head to toe.
Want something a little more fancy? How about the six-piece shoe collection she just released with Manolo Blahnik inspired by her tattoos? Done up in blue denim and embellished with crystals, these perilously high heels and boots will definitely make you want to werk, werk, werk—to afford them. Ranging from $895 to $3,995, these are definitely priced way higher than her previous high street offerings.
If you do manage to snag a pair when they launch on May 5 in Blahnik stores in New York, the UK, and Hong Kong, trust that Rihanna herself will hunt you down if she sees you wearing 'em: "I am sorry for that woman, because I'm going to literally run after her, shouting, 'Stop! Selfie! Who are you? Where did you get them?'" she jokes in an interview with British Vogue.
She was joking, right?
[
The Cut
]
Photo courtesy of The Cut