Even though the fall/winter season is still a good six months away, people living up in the northern hemisphere have been braving the cold as if winter was really coming. While we're pretty sure they're totally envious of our same old, same old hubadera weather, we can't help but take a gander at their chic, bundled-up cold weather outfits and want to book our tickets to Niseko, Japan stat, just so we can try on the layer on fur, coats, and tights without looking completely…delusional.
While the spotlight is currently in Paris for Fashion Week, we look back on the recently concluded Milan Fashion Week to indulge our sartorial cold-weather fantasies.
Salvatore Ferragamo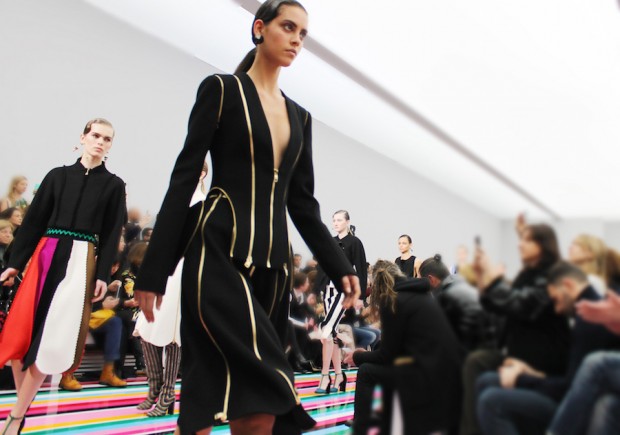 Similar to his men's collection, creative director Massimiliano Giornetti whipped up a psychedelic line-up of exuberant colors ranging from pretty pastels to vibrant hues for Salvatore Ferragamo. He started the show with a series of color-blocked stripes and stretched the graphics to make large-scale linear patterns while pairing them with various prints towards the end of the collection. Mostly composed of dresses, the silhouettes had pretty scalloped hemlines while separate zigzag-patterned skirts flared out in pleats.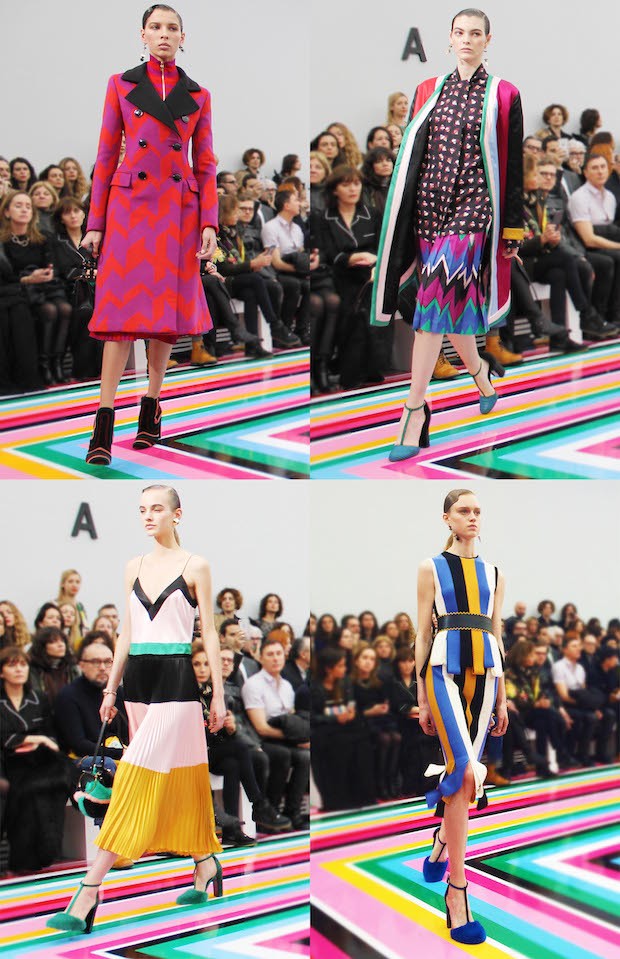 Show highlights: Best in show were the multi-colored coats of exaggerated chevrons, which perfectly clashed with other prints, shoulder strap dresses that were effortlessly chic, and striped separates with ribbon-like hemlines.
Bottega Veneta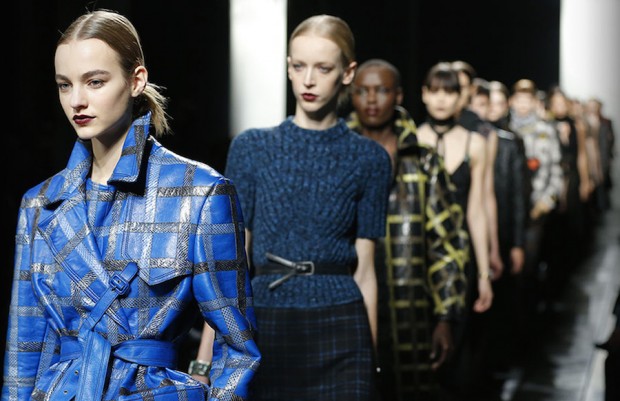 With the aim of reflecting the silhouette of his men's collection on the female counterpart, Tomas Maier created looks that were lean and long while mixing and matching an array of stripes and checkered prints in autumn colors. True to his method of design composition, the clothes were visually appealing from afar, but boast of their true essence upon close contact and observation—wool, for example, is needle-punched instead of color printed.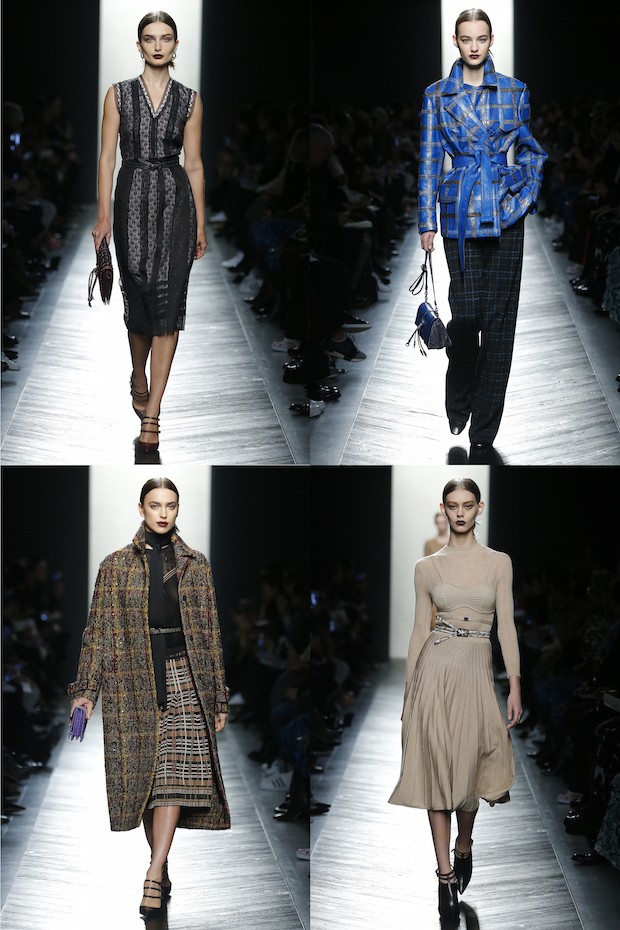 Show highlights: Best in show included a not-so-typical meshed little black dress with flower prints underneath, a shocking electric blue leather jacket in exotic skin, a check-on-check pleated ensemble under a sequin embellished plaid coat, and a cocktail semi-sheer dress with a detachable bustier.
Versace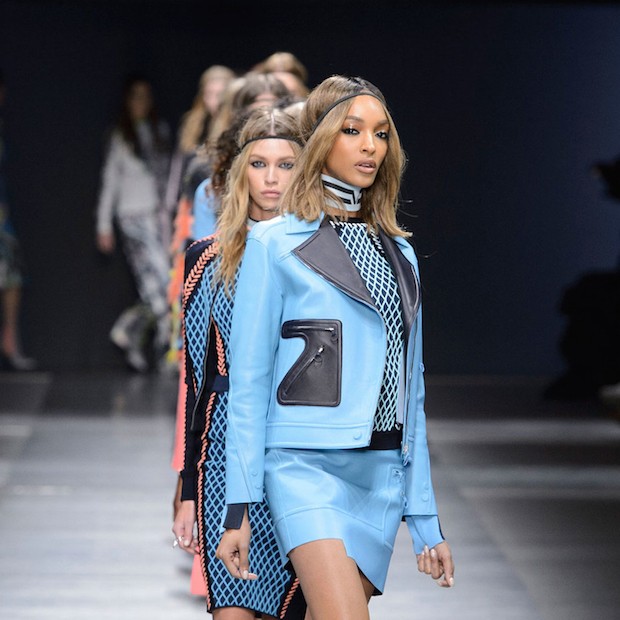 Donatella Versace created a collection for the multi-faceted woman: sporty but feminine, sultry but sweet. The show started with the models fully covered in thick wool coats, while slowly revealing more skin towards the finale as dresses appeared to be shorter and strung up on very thin shoulder straps. Color was a delight: from bright neons to soft lovely pastels, with a contrasting mix of blacks and navy blues.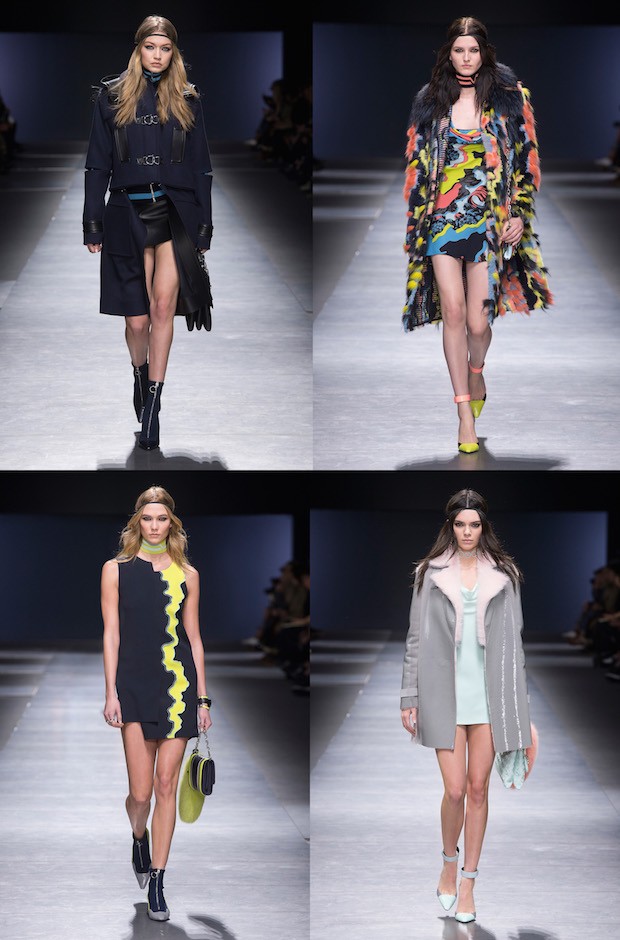 Show highlights: Best in show were a sleek and sexy navy blue wool coat with leather detailing, dresses and a fur coat in highlighter neon tones, and a pastel ensemble in mint green and cotton candy pink fur.
Piccione.Piccione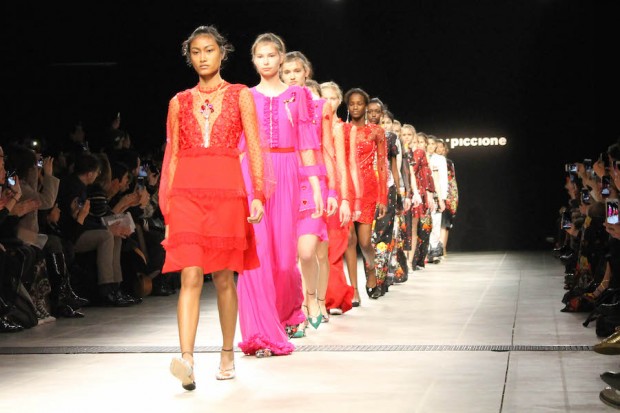 For his first runway show, Salvatore Piccione envisioned his muses in soft, yet seductive romantic dresses. The imagery in the fabrics used was dominated by florals and fun sketches of hearts, balloons, and lipsticks, which were matched with lace and tulle for a very feminine appeal. The color palette included vivid tones of red and pink with touches of black and white—fitting for the fall and winter seasons.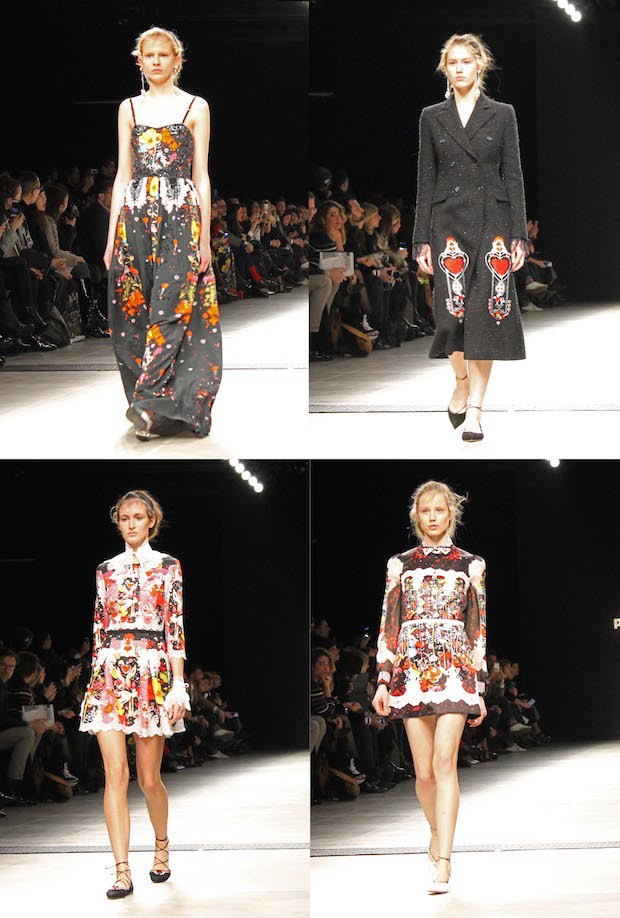 Show highlights: Best in show were the black floor length gowns in floral prints with an almost Victorian feel, a black wool coat with heart embroidery, and shirt dresses with dainty necklines and flirty lace trimmings.
Lucio Vanotti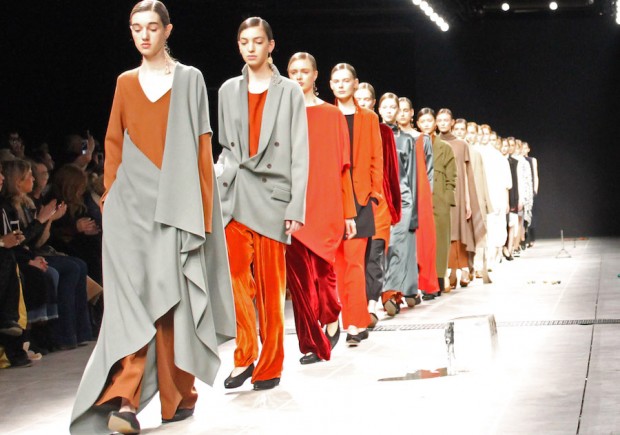 Head designer Lucio Vanotti takes inspiration from his menswear collection and uses military influence to create pieces that are modular and anti-exhibitionist. Layering at split-levels alongside intellectual asymmetry is essential to the pieces. The color palette as rather strict and basic: white, black, and navy with inserts of sage, khaki, and rust.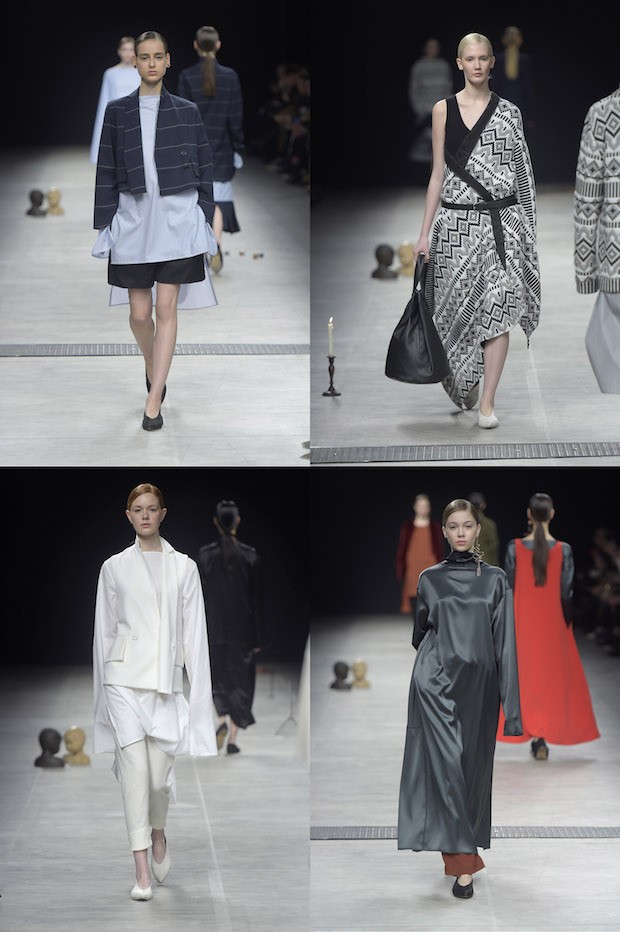 Show highlights: Best in show included a pin-striped coat with an exaggerated long sleeved shirt dress, an asymmetric Aztec robe, an all-white look topped with a one-sleeved blazer, and a sage floor length gown that was covered up in front, cut split open all the way at the back.
Ujoh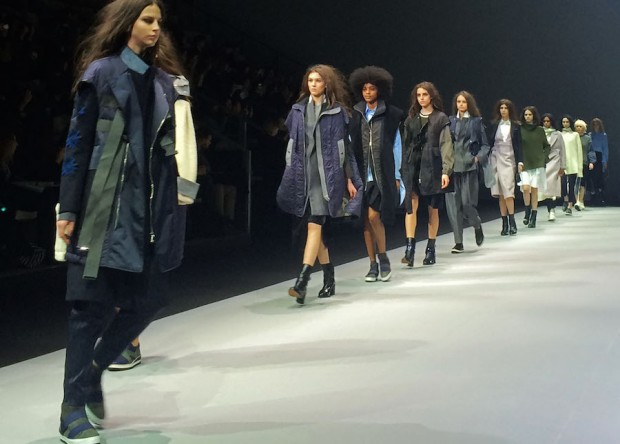 Japanese designer Mitsuru Nishizaki held his very first show in Milano, thanks to the support of Giorgio Armani. The new collection's aesthetics involved borrowing the masculine attributes of tailoring and layering them at different depths to create ambitious volumes for the female figure. Straps, aside from being utilitarian, are also used as focal points for both the clothing and footwear.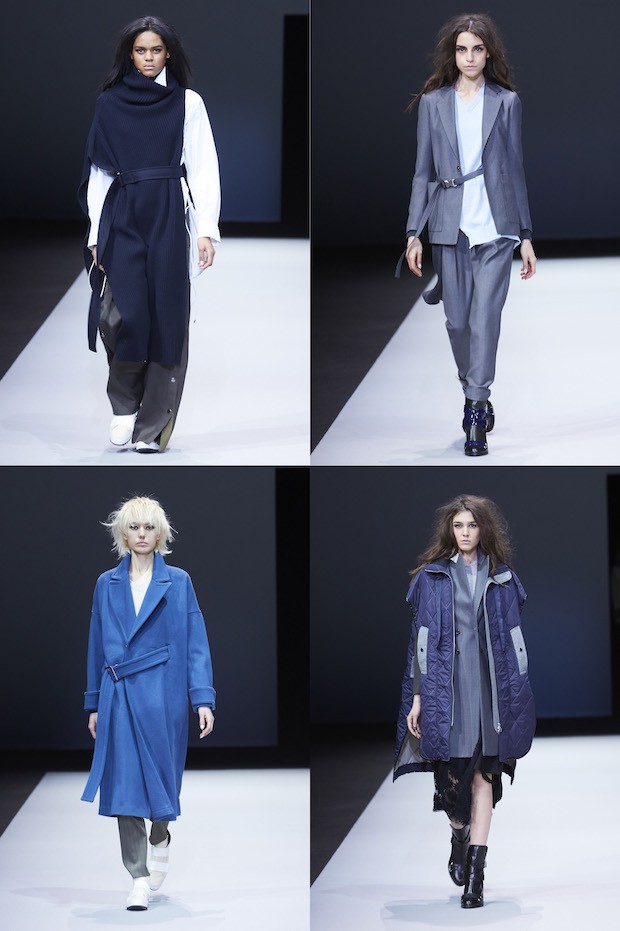 Show highlights: Best in show included an asymmetrical below-the-knee sweater worn over a white shirt dress and baggy leatherette pants, a formal blazer with buckled strap detailing paired with jogger pants, a vivid blue men's coat, and a quilted winter coat contrasted with a lace skirt underneath.
Atsushi Nakashima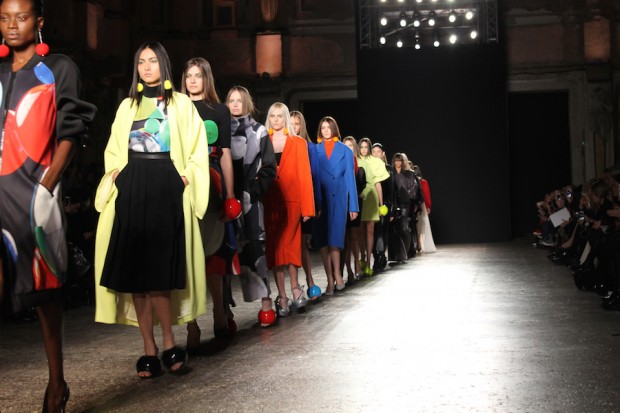 Japanese designer Atsushi Nakashima brought out the anime background of Japanese culture but in a more wearable and perhaps a western interpretation. Prominent in his collection were the repetitive usage of spherical figures in prints, accessories, and even shoes. Bright neon colors lit up the historical Sala delle Cariatidi, while his 3D printed shoes made attendees gasp in awe.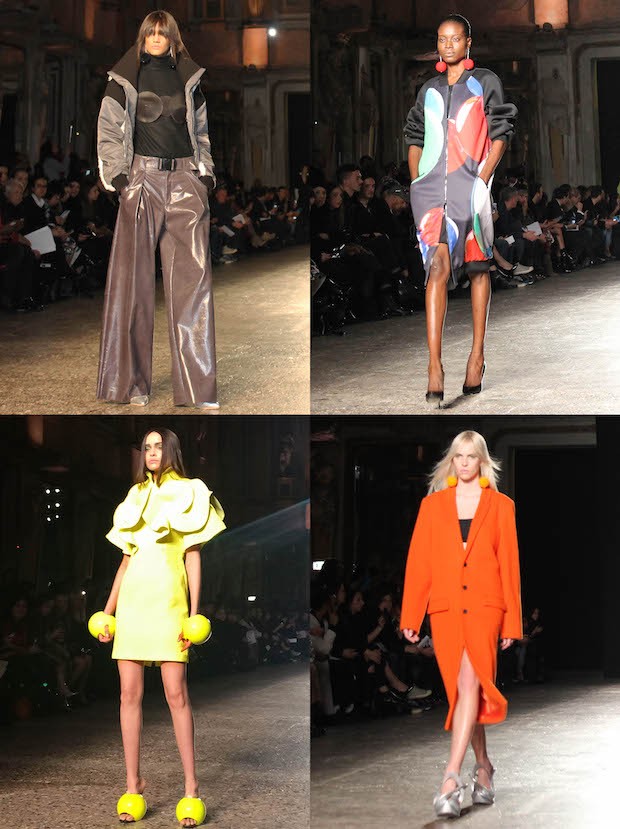 Show highlights: Among the best in show were an oversized jacket and wide legged leatherette trouser, a body-hugging digitally printed bomber coat, an acid green ruffled dress with spherical accessories, and a masculine orange coat paired with a sculptural pair of heels.
Photos by Melo Albert