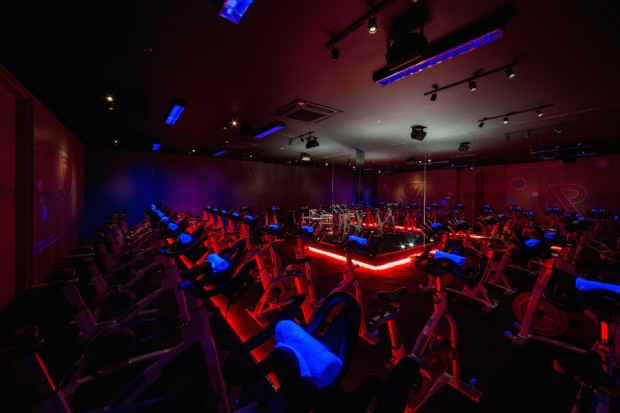 This month, we here at Preen are determined to work on our fitness. Be our witness (see what we did there?) by checking out our motivational #fitspo stories on new workout routines, the low-down on healthy eating, and the latest in athleisure every week—you know, just about everything you need to get those pulses racing.
I was never a ride-or-die bitch; more of a ride-then-feel-like-dying bitch. It's been 12 years since I did indoor cycling regularly, but the memory of a particular instructor still lingers. His motivational technique was to yell at riders at close-range, and he once commented mid-class how unnaturally red-faced I'd gotten from the effort. Who needs shit like that when your legs already feel like cooked noodles and your lungs ready to burst at any second, right?
But maybe indoor cycling circa 2016 is the renaissance of a kinder, more supportive fitness activity, and last Sunday, I got to park my butt on a Schwinn seat at Ride Revolution, the newest boutique indoor cycling studio in the city. Instructor Lexi Gancayco promised everyone 50 minutes of pedalling to Gwen Stefani and Pharrell Williams tunes as spun by DJ Jess Milner, who was doing her spinning right inside the studio. Dope, right? Also, bopping along to "Can I Have It Like That"? Yas, please!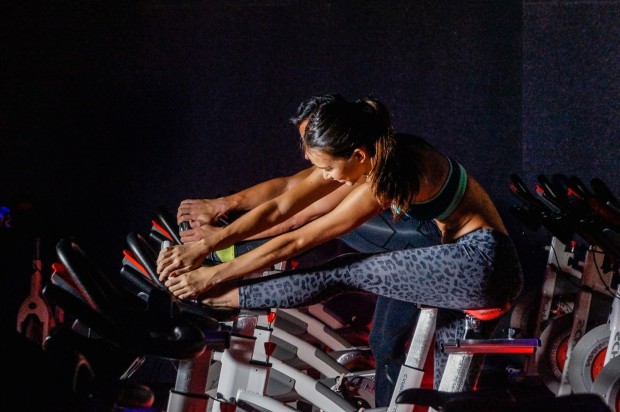 But first things first: modern-day cycling culture 101. A sign in Ride Revolution declares "Nice people bike." Well, with indoor cycling of the noughties, "nice" wouldn't be the first word I'd use to describe the riders. The hustle then started before class, with the strong pushing over the weak to rush to the bikes of their choice. If a newbie found a prime unoccupied spot, it was rarely a case of good luck. More likely, it was the trademark rookie mistake of claiming seats permanently "reserved" for more senior members.
Back then, despite club rules, an unspoken social hierarchy was enforced through passive-aggressive punishment: dirty looks, snide comments, ostracizing. An Unbreakable Kimmy Schmidt episode ("Kimmy Rides A Bike!") about the cultish world of spin classes had me see, though, that the insidious ways order and hierarchy are enforced—in any kind of isolated environment—exist in any decade.
Today's cycling studios, however, nip the problems caused by clique-assigned seating in the bud through online booking procedures where riders select the class, instructor, and bike placement of their choice in a first come, first served system. When Ride Revolution gave me my assigned bike number, the old nightmare of shuffling around to find the last available seat dissipated.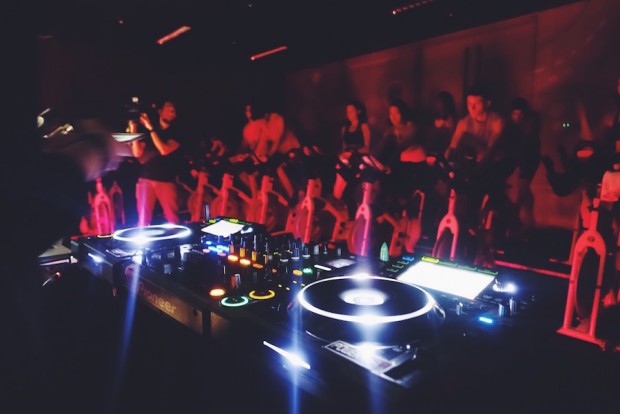 Ten minutes 'til the start of class. That meant 10 minutes of trying not to be conspicuously alone in the sea of toned torsos and defined legs whose owners seem to be friends with everybody else. Even though I'd receive a friendly smile whenever I accidentally made eye contact with somebody, social awkwardness is a tough thing to get over, so I hid my mild anxiety by sipping cup after cup after cup of lemonade, coconut water, and coffee that were on the offer (bad idea when you'd be squeezing your muscles for power shortly).
Also a source of comfort were the '90s and early '00s hip-hop and R&B tunes playing on the lobby speakers. It's always a good sign whenever Color Me Badd's "All For Love" comes on. That means you're in a place where appreciation for harmless, feel-good cheese is welcome. Music is actually a big attraction at Ride Revolution: Each cycling class has a thematic, streamlined playlist set in a sequence meant to eke out the riders' yet untapped energy sources for each stage of the workout, and the music selection ranges from urban beats to throwback hits to dance floor anthems and even mind-melting EDM.
Finally, riding time. The cycling studio lights dimmed, every slip of white fabric glowed under the black light, and off we went, pedalling as if to power a disco ball that contained all of us. We weren't allowed to start at zero resistance on our bikes, and throughout the class, Lexi would have us crank the dial further to simulate uphill pedalling, waking up certain dormant muscle memories. I also enjoyed the shoulder-and-tricep-strengthening push-ups, even the weighted arm pulses that made the workout a good balance of upper and lower body strength. What made me feel like collapsing, though, was Lexi's frequent encouragement for everyone to pump furiously in double time with the faster beats; although my spirit was very willing, my leg muscles had become frustratingly weak. As my heart thudded to the bass of "She Wants To Move," I just wanted to gasp, "No, she wants to rest!"
The studio was a safe space, though. In the semi-darkness, there was no shame in sitting back and pedalling at a slower rate to catch my second (and third and fourth) wind while the rest of the class kept pumping. I lost count of how many times I pressed on the bike console that monitored my performance (RPM, energy, and distance covered), because seeing it tally the minutes until the end of class fuelled my will to live and ride strong along with everyone else. Another thing I was thankful for were the biking shoes provided by the studio with attachment features at the soles. With my feet securely attached to the pedals, there was zero instance of their slipping off suddenly mid-pedal. This used to happen a lot to me, which would get my knees out of proper alignment and banged hard on the bike.
My favorite part, though, was the introspective track where riders were encouraged to pedal at their own pace. Isabelle Daza, one of Ride Revolution's instructors, likened this part of the class to yoga's Savasana. "That's your two minutes of reflection," she explained to me later. "You can close your eyes, ride for yourself, and get some peace as you end your workout." I think my RPM during this part was actually better than average, because I got to time my own speed-ups and slow-downs; I was even doing swan push-ups on the handlebars. Yes, the story of heartbreak then acceptance behind Gwen Stefani's "Cool" brought out the strength of my rarely tapped inner emo.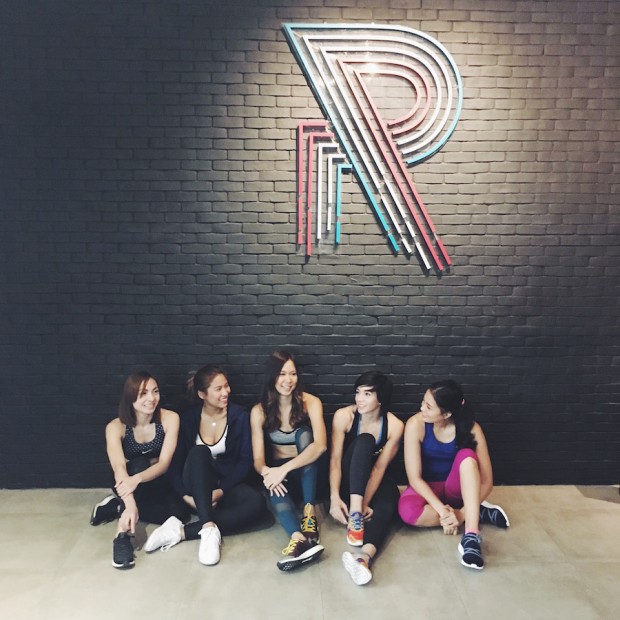 Back in the revealing light of the afternoon sun, I saw flushed cheeks, bright eyes, and sweat-slicked hair. I thought of the belief that working out together must be a ramped-up stage in a relationship because supposedly, no one looks their best after a workout. It's a dumb idea probably spread by someone who never exercised, because really, people are so attractive when they have endorphins zipping through their systems. Seeing Isabelle, Laureen Uy, and Nicole Andersson fresh-faced and pink-cheeked from physical exertion made me feel good about how my carefully filled eyebrows were long wiped off, how strong I was to power through the ride. Now I remember what made me endure the stupid bullying in my long-ago spinning classes before it eventually broke me.
Today, with dedicated studios, indoor cycling is a practice carried out in an environment where practicality and safety, both physical and emotional, are ensured. I may never be the ride-or-die type who'll build a schedule and a social life around it, but I take comfort in having a place like Ride Revolution where I can ride as best as I can and not feel ashamed for whatever limits my body imposes on me. The motions may be the same but the culture has changed. That's the real revolution.
Ride Revolution. 3/F Steps Dance Studio, 8465 Kalayaan Avenue, Poblacion, Makati City. (0977) 807-7545. (02) 744-5460. For more information, visit their official website or follow them on Instagram @riderevolution.