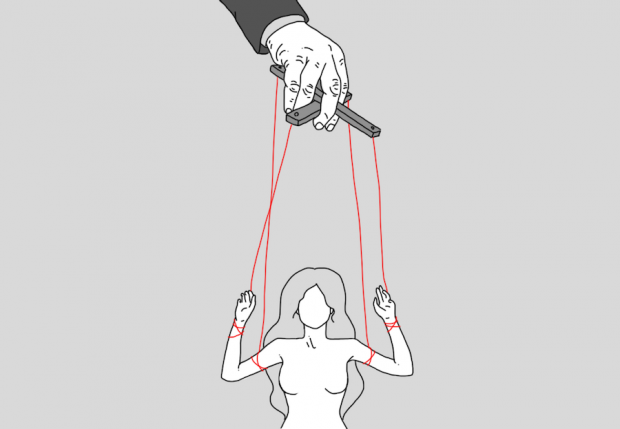 This column may contain strong language, sexual content, adult humor, and other themes that may not be suitable for minors. Parental guidance is strongly advised.
While I agree that there are times when sex can feel like a religious, even transcendent, experience, the Church—the Catholic Church, as well as the fundamentalist, evangelist Christian congregations—really should stop trying to dictate our sex lives. I'm not even going to get into how Islam, radical or mild, has distorted any healthy view of sexuality, with women the inevitable losers, buoyed by frankly barbaric traditions under the cloak of culture still practiced and tolerated to this day, such as honor killings, child brides, female genital mutilation, and marriages between first cousins.
The Algerian novelist Kamel Daoud said it far more incisively that I ever could in a recent op-ed for The New York Times:
"…one of the great miseries plaguing much of the so-called Arab world, and the Muslim world more generally, is its sick relationship with women. In some places, women are veiled, stoned and killed; at a minimum, they are blamed for sowing disorder in the ideal society…
Sex is a complex taboo, arising in places like Algeria, Tunisia, Syria, or Yemen, out of the ambient conservatism's patriarchal culture, the Islamists' new rigorist codes and the discreet puritanism of the region's various socialisms. That makes a good combination for obstructing desire or guilt-tripping and marginalizing those who feel any."
The three monotheistic faiths, in fact, share not just a belief in one God, but, it sometimes seems, a confused and hypocritical view of women and sexual agency. Recently, an 81-year-old woman who had survived the Holocaust and went on to build a long and successful career as a lawyer was asked to switch seats at an El Al flight from Newark to Tel Aviv because her would-be seatmate refused to be seated next to a woman.
The man belonged to the ultra-conservative, ultra-Orthodox stream of Judaism known as Haredi. The Haredim regard themselves as the most authentically religious group of Jews, rejecting modern secular life in favor of observing strict Jewish religious law, which, anachronistically, dictates the segregation of the sexes in education, public transport, and community life.
This rigid adherence to unevolved doctrine is what led to Renee Rabinowitz being rejected as a seatmate. The 50-something man refused to be next to a woman whose arm he may accidentally brush against by accident, or whose legs he may have to bump against in order to get to the toilet.  And the El Al crew accommodated his request.
Renee Rabinowitz, who walks with a cane, was aghast. In The New York Times, she was quoted as saying, "Despite all my accomplishments—and my age is also an accomplishment—I felt minimized.  For me this is not personal. It is intellectual, ideological and legal. I think to myself, here I am, an older woman, educated, I've been around the world, and some guy can decide that I shouldn't sit next to him? Why?"
Why indeed? So many atrocities against women continue to be committed in the name of religion. From craven bishops and their equally myopic sycophantic senators and congressmen who restrict women's access to artificial contraception, to Republican politicians, with the support of Christian pastors and evangelists opposing a woman's right to choose to delay, plan, or terminate her pregnancy, yet providing very little by way of support for the children she does bring into the world, to imams who decree that a woman may not be seen in public without a male relative accompanying her, the affront to a woman's rights and dignity is unrelenting.
The truth is that men—and they make up the majority of politicians and religious leaders around the world—have always felt threatened by women. It's classic psychology: those you fear you try to control and diminish, hence the subjugation of women throughout history, and the continuing culture of male entitlement that is finally and slowly being eroded.
One of the things that galls the most about this attitude as embodied most contemptibly by the pathetic, backward-looking bishops that make up the Philippine Catholic clergy—throw in their Singaporean counterparts, too—is the presumption that we are all utterly stupid and in need of guidance. Again, their aim in dispensing their ostensibly pastoral duties is not to lead us towards a realization of our own sense of personal agency and accountability, but to keep us in a state of almost infantile helplessness, incapable of making independent decisions for ourselves, including not just whom we choose to have sex with, but how and when we have sex.
Case in point: Madonna. I mean, really? Those bishops who are so threatened by a singer who has been truer to her art and her personal belief in female empowerment than they have been to their faith? Well, yes, she is a triple threat—"dance and sing, get up and do your thing"—but to call her music evil or Satanic or inciting to promiscuity is so ridiculously puerile. At least Madonna has used music to examine the religion and conventions she was brought up in instead of following them blindly. And how many people, especially gay men and women, has her music helped liberate from the shackles of conventionality and societal expectations, allowing them to express themselves with authenticity?
The Church should talk. They expect women to rein in their desires, yet, as the movie Spotlight so brilliantly showed, priests themselves could barely keep their hands out of little boys' penises and asses. In one chilling scene, a priest justifies his actions by saying he got no pleasure out of molesting young children. And yet he continued to do it.
The tragedy of it all is that sex can be such a wondrous, beautiful thing, and these priests and all those who appoint themselves as vanguards of their religions have shattered that sense of wondrousness for their victims, destroying their souls in the process.
B. Wiser is the author of Making Love in Spanish, a novel published earlier this year by Anvil Publishing and available in National Book Store and Powerbooks, as well as online.When not assuming her Sasha Fierce alter-ego, she takes on the role of serious journalist and media consultant. 
For comments and questions, e-mail [email protected].
Disclaimer: The views expressed here are solely those of the author in her private capacity and do not in any way represent the views of Preen.ph, or any other entity of the Inquirer Group of Companies.
Art by Dorothy Guya