The Duchess of Cambridge Kate Middleton is receiving some criticism over the pair of gloves she wore during a recent ski trip with Prince William and their two kids Prince George and Princess Charlotte.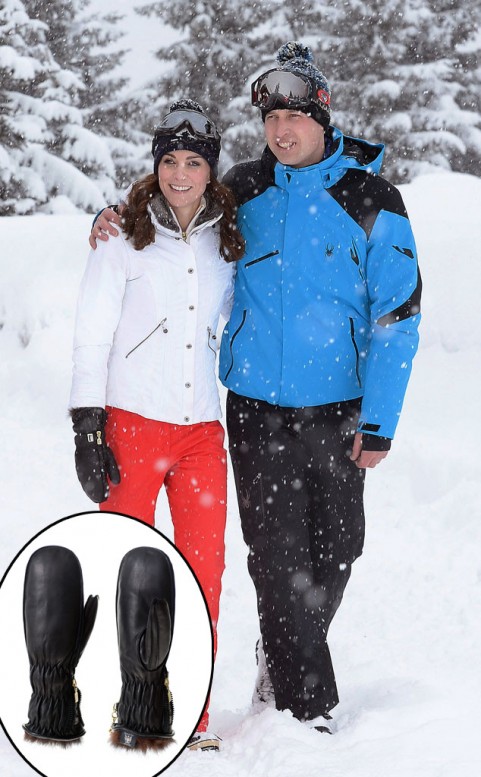 After the royal family released photos shot by John Stillwell of their snowy holiday in the French Alps via the Kensington Palace's official Twitter page last Thursday, the animal rights organization PETA UK slammed the Duchess for wearing a pair of Restelli Guanti ski gloves reportedly lined with possum fur to the trip. PETA UK's director Mimi Bekhechi tells celebrity news site Gossip Cop, "If the gloves are indeed made of real fur, we'll be contacting Kate, who we imagine is unaware that possums killed for their fur are often caught in bone-crushing steel-jaw traps."
"Animals who are not killed outright by these devices can endure horrific injuries and languish for days before eventually dying of hunger, thirst or blood loss. Some trapped animals, especially mothers desperate to return to their young, chew through their limbs in a frantic attempt to escape," she adds.
However, the question in everyone's heads is, if this is such a big deal for the organization, why didn't they notice the gloves sooner if they do have possum fur linings? E! Online reports that according to WhatKateWore.com, a website dedicated to Kate's OOTDs, she's been wearing the gloves since 2008. That being said, there's also no indication on whether the gloves are using faux fur or the real thing as they are only described in the Alex Ski website to be made out of "English kid leather outer, lined with waterproof membrane and a full interlining of possum fur," which doesn't help Kate's case at all.
But surely Kate knows the consequence of using real fur, right? After all, the royal family are supporters of environmental conservation, and Princes William and Charles are both advocates for anti-poaching of endangered animals and illegal wildlife trading. So whether or not she does get into trouble for wearing those ski gloves, we just wish her the best of luck.
[
E! Online
]
Photo by John Stillwell via The Kensington Palace's Twitter