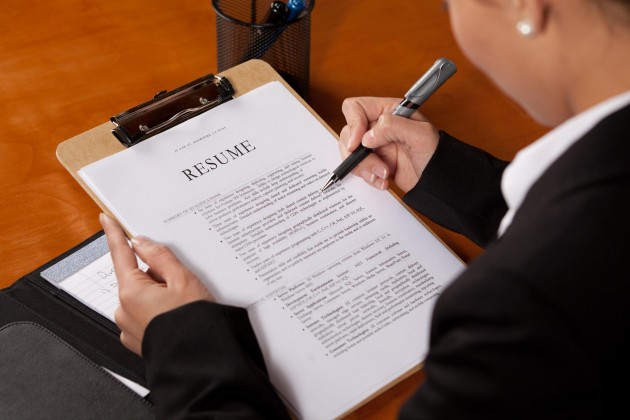 Whether you're fresh out of college or simply just looking for a new job, updating your resumé can be a stressful task. It's not just a piece of paper with a bunch of your details written on it, it's actually more tedious than you think. After all, this is a company's official first impression of you, and according to a study published by Microsoft, your resumé should catch your future boss' attention in just a few seconds. One small slip-up and you just might lose your opportunity to get called for a job interview.
To help you out with your job search woes, we've picked up four helpful resumé writing tips that you can apply before you pass them to your prospective companies.
#1 Choosing the right font
This may seem silly, but this is one of the most crucial things you must consider when writing your resumé. But before you use the ever-trusty Times New Roman font style on Microsoft Word, do know that it's not advisable to use it because, according to Brian Hoff, creative director of Brian Hoff Design, in an interview with Bloomberg last year, it's the equivalent of wearing sweatpants to a job interview.
"It's telegraphing that you didn't put any thought into the typeface that you selected," he tells the outlet.
So, what are acceptable to use? Brian suggests that sans serif fonts like Helvetica, Calibri, and Arial look more honest, lighthearted, and professional on paper. But if you want a more sophisticated look to it, serif-type fonts like Garamond and Cambria  is recommended because it's well-spaced out and easy to read.
#2 Don't over-Photoshop
We all want to look our best in our 2×2 photos—wear something nice, fix yourself up, and flash a sincere smile. However, it's a no-no to Photoshop them to the point that you start to look unnatural than what you really look like—even worse if the studio you went to didn't do a good job in editing your photos. So better keep an eye on who's retouching your photos, or just go to someone you can trust with this task.
#3 Describe your accomplishments
This is the part where you need to impress your future boss with your skills and past job-related experiences, so it's a must to keep their attention span going by ditching the vague enumerations. LinkedIn's executive resumé writer Jessica Hernandez suggests that typing out your skills and experiences in bold—like what you would do with headlines—would catch their attention even if they're just scanning through your resumé. But despite that, she adds that putting a brief description on your accomplishments and tasks that you would want the company to take note of.
Another helpful tip comes from Laszlo Bock, Google's senior vice-president of people operations, where he says that applicants sometimes forget to put content on their resumés, especially when it comes to showcasing what they can do for the company. He shares with The New York Times, "The key is to frame your strengths as: 'I accomplished X, relative to Y, by doing Z.' Most people would write a résumé like this: 'Wrote editorials for The New York Times.' Better would be to say: 'Had 50 op-eds published compared to average of 6 by most op-ed [writers] as a result of providing deep insight into the following area for three years.' Most people don't put the right content on their résumés."
#4 Use infographics to measure skill level
If you're having trouble expressing or measuring how good you are at something, it doesn't hurt to put a few infographics on your resumé. As we said earlier, attention spans are growing shorter, and Jessica notes that 65 percent of people are able to retain information from visual and textual presentations. Of course, the design and color of the infographic also depends on the job you're applying to, and if it's a corporate job, a Time article suggests that using the color blue in headers and infographics for a more clean look.
Photo courtesy of Lawrence University's website