If there's a duo you'd love to be besties and spend the day shopping with, it's probably sisters Chi and Gabs Gibbs. Currently taking over our social media feeds with #ootd's and snaps from their colorful lives which involves shoots, music festivals, and modeling stints, the two are just as active and bubbly IRL.
Right after their event in Makati, they braved traffic to meet with us all the way in Quezon City for this shoot. Like real pros, they didn't arrive frazzled or in need of some time to do their makeup (okay, maybe they re-touched in the car) and were excited to talk to us about beauty. "It's rare we get featured for beauty shoots, it's often fashion, but we love makeup just as much," says Chi as she was filling the table with bags full of products for us to choose from for the photos. Gabs quickly agreed, as the younger one between the two, it was actually her who got Chi into makeup more. "I would be watching one of my beauty vloggers like Lisa Eldridge or Teni Panosian and Chi would ask me what I would be doing," she says, "Soon enough, we'd often watch together."
Though Gabs tells us it was her influence that helped Chi to experiment with her looks, both sisters say they caught the makeup bug from their mother. "She was really known for doing her own makeup for shows and tapings," says Chi of their mom, Bing Loyzaga, who was an actress known for her perfect tisay complexion aside from her acting chops.
And nowadays, the sisters often also do their own makeup. Who can fault them? Layout after layout, you can tell that they know what works for them and they've mastered a few tricks I am sure you'd care to know as well.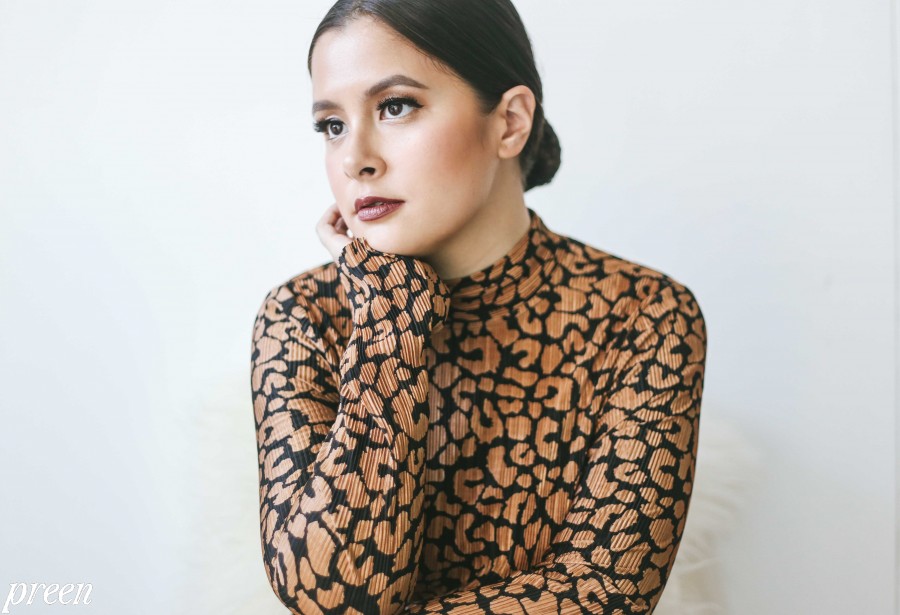 Describe your approach to beauty
Chi: Same as my approach to fashion! I have fun with it. For me, beauty and fashion go hand in hand, they complement each other.
Gabs: It's art, it's like painting. It's self-expression. I'm very experimental with makeup and hair.
What's the best beauty advice you've ever received from your mother?
Chi: Never sleep with makeup on.
Gabs: Always moisturize your face, elbows, and knees.
If you had to prioritize skincare or makeup, which would it be?
Chi: Skincare
Gabs: Skincare, definitely! You don't want to apply makeup on a dirty surface.
When did you feel your most beautiful?
Chi: [When I was once] on the beach with salty hair and bronze skin.
Gabs: When we went up to Threadbow and it was snowing. My skin adjusted very well to the weather. I'm not a tropical person. (Laughs)
Which product is your latest discovery?
Chi: The Balm's Betty-Lou Manizer
Gabs: Color correcting concealer, it will save your life during bad skin days.
If you had a signature beauty trick, what would it be?
Chi: [I can do the] perfect cat eye in five seconds.
Gabs: Curling my lower lashes.
What's your guilty pleasure?
Chi: Keeping Up with the Kardashians
Gabs: Watching makeup tutorials 24/7.
Name one beauty faux pas that women should stop immediately.
Chi: [Choosing the] wrong foundation and powder shade.
Gabs: [I agree with Chi, it's choosing the] wrong foundation and concealer shade. And rusty blonde hair.
What makeup items do you always associate your sister with?
Chi: Anything [related to] eyebrows.
Gabs: Eyeliner and cheek tint.
Who do you ask makeup advice from?
Chi: My sister for sure!
Gabs: Lisa Eldridge
What makeup look is your favorite?
Chi: '60s bombshell
Gabs: Mauve, glowy makeup look
It's 12 midnight at a club, what lipstick is found in your clutch?
Chi: Nars Audacious Lipstick in Honolulu Honey
Gabs: MAC Lipstick in Whirl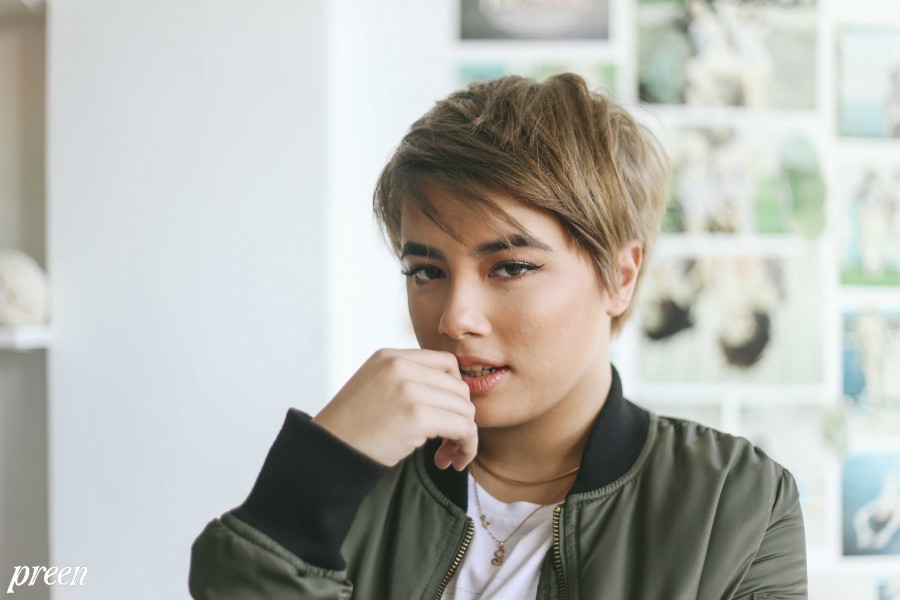 You're headed to an early lunch with the family, what five makeup items are with you?
Chi: Clinique Chubby Stick, eyeliner pen, eyelash curler, Clinique powder, and MAC Lipstick in Taupe
Gabs: A powder, powder brush, Carmex lip balm, concealer, and lippie
What hair care item do you always use?
Chi: Argan oil
Gabs: Wax and dry shampoo
What makeup cleanser do you recommend?
Chi: Clinique Take The Day Off Cleansing Balm or Pond's Cold Cream.
Gabs: Anything mild like the Clinique Three Step System, or the Shu Uemura Ultimate Skin Cleanser.
What skincare items you would often use when pampering yourself?
Chi: Estée Lauder eye cream. I'm pretty simple with my skincare routine.
Gabs: Wonder Glow Hydrating Skin Mask, Clinique Firming Face Mask, Banish Acne 100% Avocado Oil, and the Banish Acne Pumpkin Mask
Which celebrity looks do you always try to copy?
Chi: Kim K's brown smokey eye
Gabs: Kim Kardashian, Alexa Chung, Miley Cyrus, and Kendall Jenner
Favorite shops:
Chi: Neon Island, Topshop, Nasty Gal
Gabs: Topshop, MAC, Nasty Gal, Zara
Favorite vacation spot:
Chi: Byron Bay
Gabs: Japan or Australia
Favorite dish and restaurant:
Chi: Ooma scallop and Tuna aburi maki
Gabs: Todd English Food Hall Burger
Favorite person on Instagram:
Chi: Danielle of WeWoreWhat
Gabs: Alexis Ren and Jay Alvarrez
Favorite person, period:
Chi: Anton Cruz, my boyfriend
Gabs: Myself
Photos by Paolo Tabuena
Hair by Sherwin Mora of Bench Fix Salon