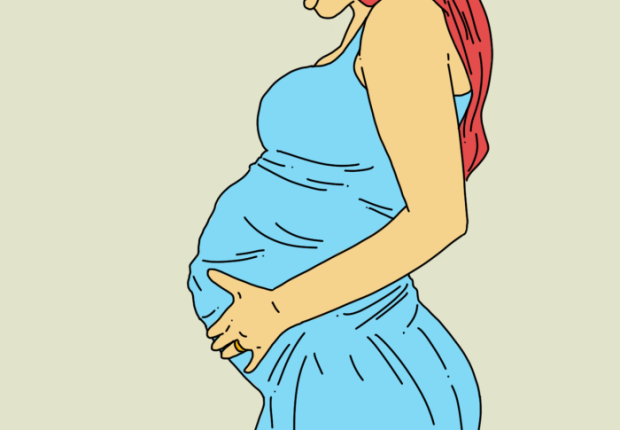 Welcome to Ask Poppy! I'm Poppy, your go-to girl for all of life's woes. And when I say ALL, I MEAN IT. I'm not an expert on anything except maybe for being me, which makes me totally qualified to do this.
Hey, Poppy!
It's been a very weird period for me these past seven months ever since I learned that the girl I loved is going to be a mother and will start a family with the man she's been dating after we became a thing.
I say "thing" because we weren't really together but we had the best of times when we dated. I lost my virginity to her and saw myself marrying her someday. I know I sound cheesy but I just knew that I would never find another one like her. I just felt a connection with her that I feel I will never be able to replicate with anyone else. But she lived in another country and we met because out of sheer luck. I didn't know back then that it would be the start of a magical week, of a year-long relationship of sorts through letters and photos online.
I refer to her as the love of my life so far. And as much as we talked about how and why we could have never worked out and agreed to be friends, there is always a part of me that hoped that someday we'll be together.
Right now, she tells me the name of her son and how maybe her family will visit the Philippines for a vacation someday so her son can meet his uncle. I tell her I am happy for her and excited. But what I really want to say is I want to be father of her kid. I want us to be together. I want to give us a try.
But the best thing to do is to move on. How?
Thanks, Poppy
―Sam 
 Hello, Sam!
Run. Run as far away as you can from the woman you love and admire because simply put, she's no longer yours. You may have spent so many blissful moments together, online and IRL, but it's simply not enough for you to ruin this family just because you think that you're never going to find another one like her.
That's just not true.
This girl is just a speck in your soon-to-be long list of lovers. You said you lost your V-card to her, which, to me, is exactly why you're still hung up on her. Whenever I see the guy who first plowed me ever so gently, I still feel him between my legs. And that thought lingers, it swirls, it bubbles from deep within, but I know that he, too, is in a relationship.
Have you seen this video of Claudine Barretto visiting Rico Yan's grave to commemorate his death? It's effing heartbreaking, Sam. No matter how staged it looks, everyone knows that some part of it rings true. I just broke down, literally, on the floor when I hit the play button. "Mom, you miss him already?" Claudine's son from Raymart Santiago asks. "Every day," she replies while looking at the son Rico Yan could've had.
You're Rico Yan. She's Claudine. You have no idea how badly I want you to drop everything now and meet her, but I know that shit's going to leave you even more broken-hearted and torn as ever. She was yours, but she is not yours anymore. You guys are just friends. Stick to that.
The truth is that you can easily shake this off, Sam. It's going to be tough because moving on is always a nightmare. The last time I tried to move on, it was eerily reminiscent of that scene in Trainspotting when Renton tried to kick off the drugs. "Too old to sleep, too tired to stay awake; I'm in a junkie limbo." I hated myself. I hated him. I hated the world. But then you wake up one day, and everything is just so effing clear.
Sure, you can sleep around with random girls. Drink. Do drugs. But that's not really productive, is it, Sam? For me, it was simple: I chose me. The pain and the bullshit ceased to exist once I learned that I was more important than that stupid jerk who tore my heart to pieces. You spend all these moments lingering in the past, zooming in on the wonderful moments that you sometimes forget that the most important person that you should take care of is you.
I refuse to believe that choosing yourself is selfish. Pighati o Sarili? F that, man, I'm gonna try and become a better person na lang. Ang Bandang Shirley phrased it well in their song Siberia: "May taning ang ginawa. Pinili ang sarili. Sumaya." Ask this to yourself: "How can I make myself better?" Try and do something that you've always wanted to do and just effing do it.
To be honest, there's no single path that you can take in your journey to move on. It all depends on you. What is it exactly that you want in life, Sam? Discover it. Push it. Make it real.
My friend got her heart broken in New York, so she wrote a song about it. In Before Sunset, we learn that Jesse and Celine didn't really meet again, so Jesse fell in love with someone else and wrote about that one perfect night that they had. It became a best-seller and he ended up meeting up with Celine again years later. In films like That Thing Called Tadhana andSakaling Hindi Makarating, wanderlust (I effing hate this word) became a way for people to deal with it. Like, literally running away from their problems, exploring cinematography-friendly places around the country, hoping to learn something about their true selves. Make art. Learn how to fly a kite. Kickstart the slutty phase of your life. The thing is, do whatever the hell you want just as long as it's beneficial to your mental health and emotional growth.
Sam, you have to accept that some things are just never meant. I'm not barring you from seeing this girl ever again, although I did say that you should run away. All I'm saying is, you have to keep a distance. You have to condition your mind that she's married and with a kid.
And don't think that you're never going to meet another girl like her. There's billions and billions of us on this planet. You just have to keep on sifting through the shit that life scatters around you, and you will eventually find someone who's either pwede na or even better than her. You just really have to make yourself better first. You have to keep building yourself up so that you can present a better version of you to someone else.
I really want you to be happy, Sam. Keep dating. Keep searching for the one. Keep hoping that things are going to get better. Keep wanting more. I know you're clinging onto the memory of the one you love, but you have to let go. One day, she might come back to you. And if you're both totally free then you should totally make it happen. But until then, you just have to make yourself the best you could possibly be.
Say this with me: I am warm and powerful.
Love yourself, Sam.
Always, Poppy
Got a question for Poppy? From love and relationships to weird questions you dare not ask even your psychologist, Poppy is ready to answer them all. Send in your questions to [email protected] or post your question over Twitter or Instagram with the hashtag #AskPoppy, and you just might get the answer you are looking for.
Disclaimer: The views expressed here are solely those of the author in her private capacity and do not in any way represent the views of Preen.ph, or any other entity of the Inquirer Group of Companies.
Art by Dorothy Guya