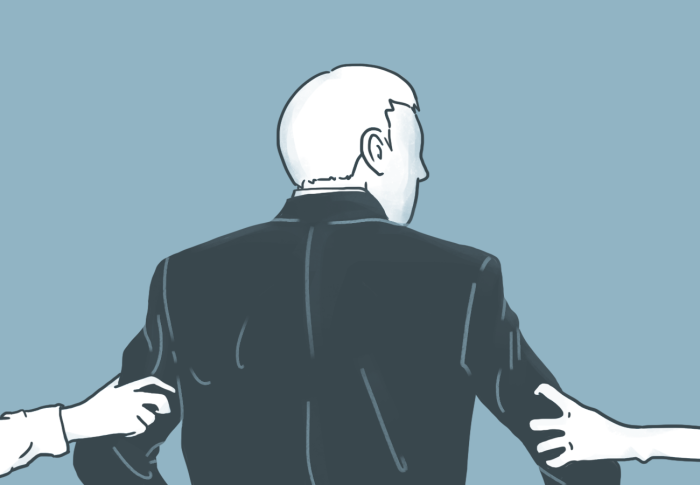 Welcome to Ask Poppy! I'm Poppy, your go-to girl for all of life's woes. And when I say ALL, I MEAN IT. I'm not an expert on anything except maybe for being me, which makes me totally qualified to do this.
Dear Poppy,
My older brother is driving me nuts. You see, our mom—a single parent for some time now because our dad left—has an ovarian disease and needs medical attention. While she does get what she needs, it's still isn't enough in the long-run because it's so expensive, especially considering that we've been living in the United States for the past three years.
Naturally, my kuya and I vowed to work our butts off in our relatively average jobs and allot a portion of our salaries for our mom's treatments and medication. But here's the thing: I don't think he's owning up to his side of the bargain because of his girlfriend who lives in the Philippines.
I'm not saying that the girlfriend has a fault in this, but kuya keeps buying and shipping her pricey stuff like new shoes and even a frigging iPhone. He can even afford plane tickets to go home to the Philippines to see her which makes me question even more whether or not he's even invested on helping our mom out.
I asked our mom if I should talk to him, but she simply told me, "Hayaan mo na siya." But I can't support her alone. What should I do, Poppy?
—AJ
Dear AJ,
Your brother is driving me nuts. If this were a teleserye, they would probably cast someone sleazy like Victor Neri or whichever Padilla sibling is available to play him. But yeah, he is family so you really can't say that to his face. Baka you'd end up hurting his feelings.
But for something like this, I'd like to think that you're free to be savage as hell just to whip him into shape. Damn all these priorities back at home because what your kuya needs to understand is that he should at least offer a chunk of his monthly earnings to help make your mom better.
No idea how your life story goes, AJ, but I'm thinking that your mom really worked hard just so that you guys can live a pretty sweet life in the States. Lately, I've started seeing how an OFW's life isn't always as smooth-sailing as they make it seem. Having both of my parents living abroad made me realize this, especially since both of my younger siblings are living there.
My mom would often tell me how living there costs a lot. Chickenjoy is expensive, so is the commute from their Brooklyn suburbia to Queens. Her phone bill is always upwards of a hundred bucks, while I'm constantly struggling to pay my P1,500 monthly bill. And that's just for one phone. Sometimes, I'd think of ways so I can offer a bit of cash, but then I realize that they're still the ones paying for the WiFi at home.
People in Manila would think that my parents are living the high life in New York. How they're getting a constant cash flow from the two small businesses that we have in Brooklyn. My mom would eagerly share their weekend apple-picking trips in the countryside. What they don't see is how hard it is for my parents to manage two businesses and two teenage kids in a place that is totally alien to them.
Recently, my lola suffered A mild stroke and life in New York got a bit tougher. It's good that my mom lives with my tita; the two of them share the responsibility of taking care of my lola. You really can't do it alone, AJ. You need someone's help to take care of your ailing mom.
What you need to do is to sit down with your brother and be transparent about your mom's condition and the expenses that you two need to work on in order for things to work out. He has to see that his katamaran (laziness) amounts to a lot of stress on your part. It's cool that he's sending crap to his girlfriend back home, but that just contributes to the droves of spoiled brats (me included) with OFW loved ones who treats gadgets and balikbayan boxes as signs of affection. STOP IT WITH THE MATERIALISTIC MINDSET THAT WE ARE UNKNOWINGLY CULTIVATING.
When my mom asked me what I wanted for my birthday, I said NOTHING. I really wanted that new Batman's Cave Lego Playset, but do I really NEED it? Nope. I'm nearing 30 and I'm still asking my mom for crap.
My only problem with this is that if your brother is a real piece of shit, then maybe he won't give a shit about your burden. You need to get your mom on board. See, when the pleas come straight from your mom, maybe your brother would listen, and listen well.
And how important is this girl back in the Philippines, really? Does she give amazing blowjobs through Skype? How special is she to your brother that he gleefully hands her free iPhones and sneakers like it's nothing? I don't want you to meddle in your brother's affairs, and it's not a good idea to cause a rift between them just because your brother is wasting time on her. You really have to make him think about his priorities: Do you choose the woman who gave life to you or someone who is sucking up your life savings? I mean, come on, kuya.
You really have to tell him that he has to value your mom's life more than his girlfriend. Dude, there's like a million girls who are way hotter than the one back here at home. Why is he settling with someone who he doesn't even see? Long distance relationships should only exist if naanakan mo na (you have a child with them). If not, then sinong niloloko mo? (Who are you kidding?)
This may sound so effing weird, but in Shaun of the Dead, Edgar Wright's zombie rom-com, one of the recurring themes is Shaun's inability to move away from the past, always carrying the burden of the things around him, making things a lot more worse than the zombie apocalypse that they're in the middle of. I'm saying this because even when Shaun's mom is slowly turning into a zombie, he still envisioned a life living with her, which by the end of the film, he got his wish by keeping his zombie best friend in the garden shack. I guess what I'm saying is, it takes a lot of effort not to give up on an ailing loved one. For that, AJ, I want you to keep on fighting for your mom. If your brother can't help you, then F him. I applaud your efforts and I want you to know that even if it's hard seeing your mom get sick, that thing that you're doing, that you're helping her out of the goodness of your heart, that will help her get to a better and healthier place.
I wish you all the best, AJ.
Always,
Poppy
Got a question for Poppy? From love and relationships to weird questions you dare not ask even your psychologist, Poppy is ready to answer them all. Send in your questions to [email protected] or post your question over Twitter or Instagram with the hashtag #AskPoppy, and you just might get the answer you are looking for.
Disclaimer: The views expressed here are solely those of the author in her private capacity and do not in any way represent the views of Preen.ph, or any other entity of the Inquirer Group of Companies.
Art by Dorothy Guya