Still at a loss for what to eat in the office every time lunchtime rolls around? Sick of having the same bowl of yogurt and granola every day for breakfast? We hear you. In Preen Food Diaries, we take a closer look at the eating habits that keep people fit, healthy, and satisfied, while taking note of the treats they allow themselves to indulge in.
We introduce this series by asking Ride Revolution's lead instructor and Origins Brazilian Jiu Jitsu purple-belter Ida Paras to share what she eats in a day. Don't be fooled by her abs—this girl is not afraid of carbs, and it's because of a program she follows that turns her body into a fat-burning machine.
The eating system I follow is called the "Carb Nite Solution" developed by physicist-turned-fitness expert, John Kiefer. Developed by a trained scientist, the Carb Nite Solution is backed by scientific research and testing, as opposed to most other diets out there which are based solely on anecdotal evidence. But without having to go through the boring science stuff (read the book for that!), simply put, the system manipulates our body into burning fats (instead of carbs) exclusively for energy while using carbohydrates for muscle development, among other benefits.
The diet consists primarily of two phases. The first is the ultra-low carb phase which lasts for five to seven days. During this phase I consume no more than 30 grams of carbohydrates per day. Then on the eve of the fifth or seventh night, I get to devour obscene amounts of carbohydrates. Its really not as scary as it sounds—check out some of the sample dishes I eat below!
I know what a lot of you may be thinking: "Oh, so it's like having a cheat meal!" Though your Carb Nite will definitely feel like an opulent treat, it is much more than that. The system is specifically crafted to stimulate very precise physiological and hormonal responses. The system lowers the level of hormones responsible for weight gain, at the same time, sky-rocketing the levels of fat-burning hormones to the point that you don't even need to exercise—you will basically turn your body into a fat-burning machine 24/7. Science is amaaazing!
In short, I am on a ketogenic state for five to seven days, meaning I get my fuel from fats and not carbs. In fact, on these days, I am carb-depleted. When the body does not have any more carbs to burn, it goes on ketosis and turns to fat for energy. This means the body burns actual fat as energy, making me leaner. By the fifth or seventh night I indulge on carbs because this provides me with the necessary insulin spike that revs my metabolism and feeds my muscles.
With that, I will give you two meal plans for Ultra Low-Carb day and Carb Nite day
Ultra Low-Carb Day
Breakfast
I always start my day (at 6 a.m.—I am a morning person) with fasted cardio. On days when I lead the morning classes, I do my fasted cardio on the bike. On other days, I do animal movement exercises first thing in the morning. I have found that starting the day with a warm body leads to better function throughout the day.
Breakfast is NOT encouraged, despite whatever your grandmother says! We do this to prolong ketosis (look up intermittent fasting) to maximize fat burn.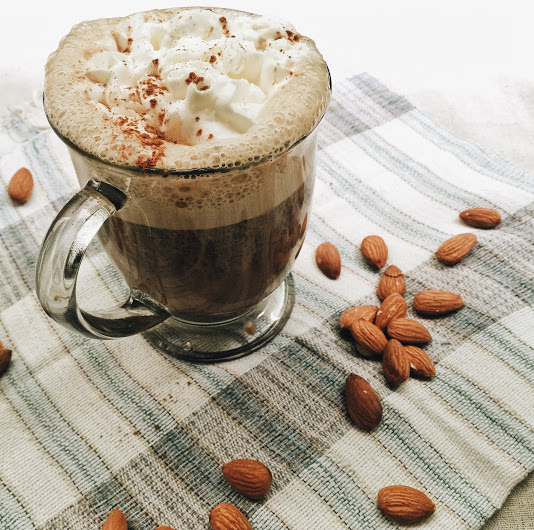 Around 10 a.m. to 12 n.n. (and not earlier!): I have my Morning Accelerator Shake, which is made with whey protein isolate, black coffee or espresso shots, coconut oil or grass-fed butter. Sometimes I add sugar-free whipped cream. I also add some cinnamon because I love how it makes my coffee taste like Christmas and it also has some added benefits for my metabolism.
Lunch
I usually have my first meal around 3 p.m. Lunch usually consists of lots of vegetables, fats, and lean protein. So bacon, eggs, pork rinds (chicharon) are very much allowed. Remember, and this is important: Though our primary goal is to burn fat, consuming fats are not only allowed, but highly encouraged during the ultra low carb phase. The same goes for salt. When in a state of ketosis, the body tends to flush out a lot of water in our body. Including salt in your diet will help you retain some of that needed water.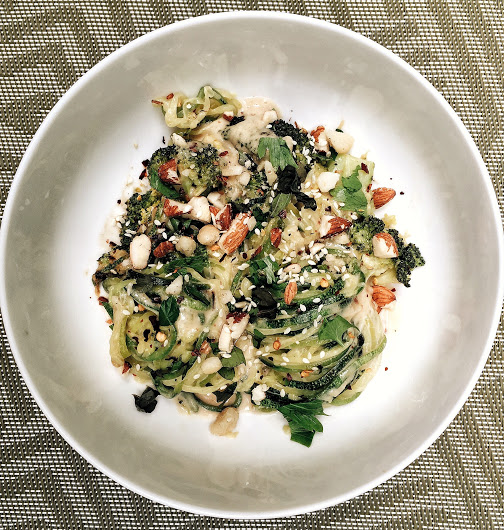 This one is my own version of pad Thai made with zucchini noodles ("zoodles"). I made the sauce with fresh coconut milk, almond butter, organic fish sauce, and some chili. Topped it with diced shrimps, chicken breast, some of my favorite nuts, and cilantro! YUM!
Snack
I usually have a snack at least two hours before working out. The size of my "snack" depends on how far long my training/workout is from the time I eat. The closer it gets to my training or workout, the smaller my snack gets, just so I don't feel heavy.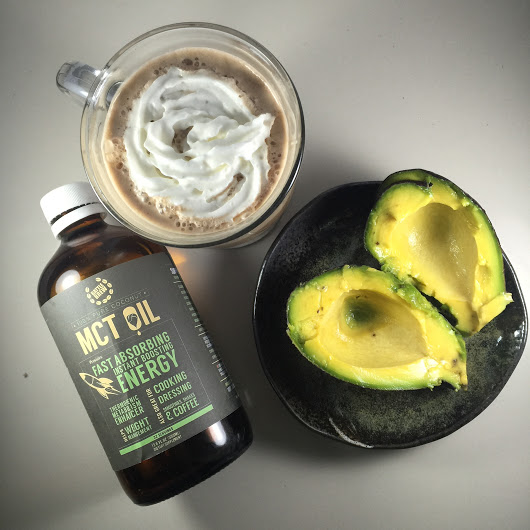 MCT oil, avocado, and espresso with sugar-free whipped cream are my favorite go-to pre-workout snacks.
Dinner
I have made it a rule for myself to only eat when I am hungry, so dinner is optional. When I have to eat, I usually have it around 9 p.m. or 10 p.m., after workouts (indoor cycling classes, Brazilian Jiu Jitsu and/or weight training). And just the same with lunch, I always make sure to include a lot of vegetables, fats, and lean protein.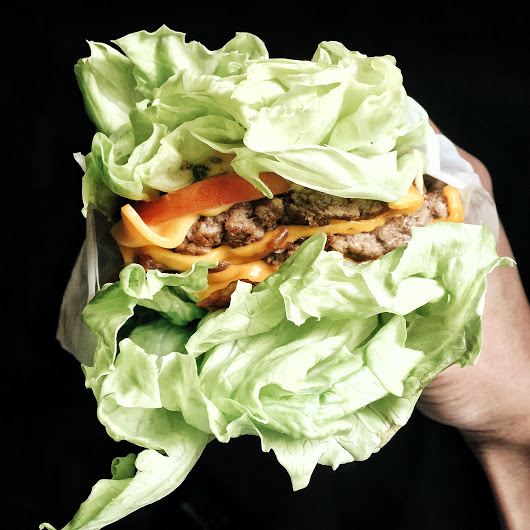 This is my own version of a cheese burger minus the buns, and replaced it with lettuce "buns" instead.
Carb Nite Day (after five to seven days of being on ultra low-carb)
Breakfast
As I have mentioned earlier, I skip breakfast and only have my Morning Accelerator shake not earlier than 10 a.m.
Lunch
I usually get so excited for my Carb Nite that I tend to eat less on these days. I think I subconsciously try to make lots of room for my carb-loading phase later in the night. But just like any other day, I keep it ultra low-carb and with very high fat!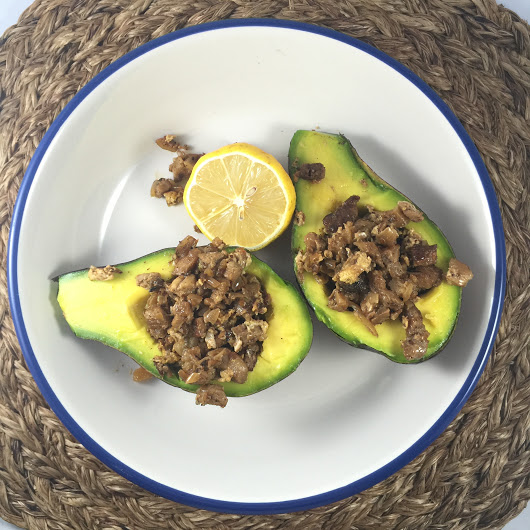 This is an avocado stuffed with pork sisig drizzled with coconut oil for extra fat. I know, right? Okay, you may drool now.
Snack
On Carb Nite days, it gets harder to control carb cravings. Maybe because my body knows it will get carbs at the end of the day and it's been deprived of carbs for days, especially bread. I used to love bread and sandwiches so much! So during my weak moments, I try to recreate that sandwich/wrap feel with my cream cheese egg wrap! It's still full of fat, while giving me the satisfaction of having "bread."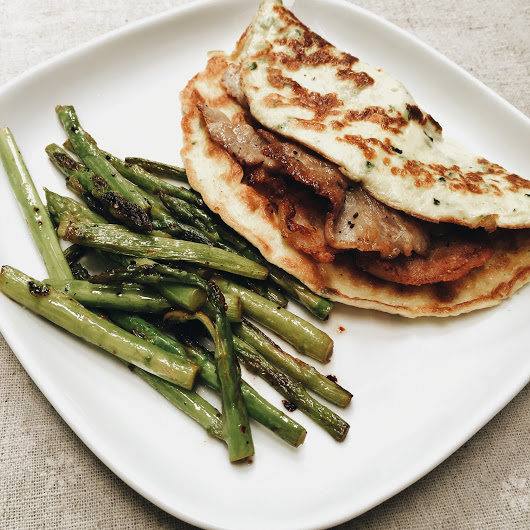 Here, I pan fried some strips of breakfast steak in butter, added some of my homemade Caesar dressing with some tomato slices and a slice of cheese. There you go, sandwich craving satisfied!
I also make my dark chocolate chia pudding with almond and coconut milk to curb the sugar craving— at the same time keep my fat-high so I stay fueled until dinner.
Dinner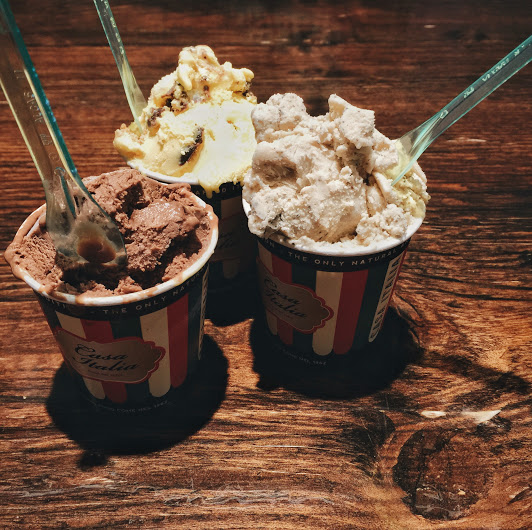 This is it. This is when all the rules go out the window. Fortunately, my boyfriend and I are on the same eating system, so we plan our date nights on these glorious nights. This is the time I try out new restaurants because I can eat all the carbs I want: pastries, cookies, cakes, rice, sugar, fruits, ramen…ICE CREAM—sky's the limit! As soon as the clock strikes 6 p.m., I start indulging. Carb Nite time!
As told to Cai Subijano
Photos by Ida Paras