A wedding is a dream for many women, and finding the right gown is a definite must, whether it's a "ready-to-wed" one or a couture piece created by the country's top designers. And at the Vows of Elegance bridal event last night, we were given a generous dose of the latter.
As we entered the Makati Shangri-La Hotel, we were already greeted with a line of wedding cakes of various designs and women wearing bridal gowns by Michael Leyva gracefully navigating through the lobby. Actress Anne Curtis also made an appearance wearing a ball gown-type creation.
But this was just the beginning. The night still had more gowns to offer courtesy of designers Vania Romoff, Kristel Yulo, and Maureen Disini. We got a firsthand look at their latest collections so sit back and read what we thought of them. You never know, maybe one of their gowns may become your own on your wedding this summer.
Vania Romoff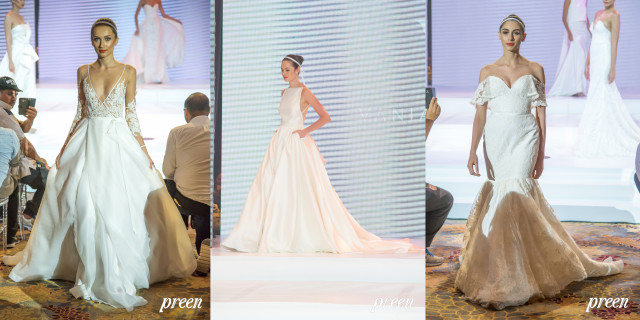 It's all about airiness for Vania Romoff's newest bridal collection. One of the first things I noticed with the gowns is that they looked simplistic yet sophisticated―nothing too over-the-top and was like something you'd wear at an outdoor wedding. She kept them crisp and simple with a touch of lace, and made sure the skirt will flow naturally as the bride walks down the aisle.
Kristel Yulo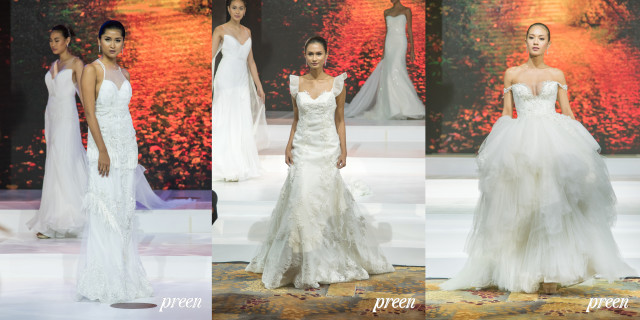 If you're one who likes prominent trains, then you'll most likely go for Kristel Yulo's gowns. She took the idea of fairytale princesses up a notch by adding feather and flower designs, and of course, putting emphasis on the skirts with layered fabric and long trains. One dress also looked like a different spin on the Filipino terno with the same feather-like embellishments and light silk sleeves.
Maureen Disini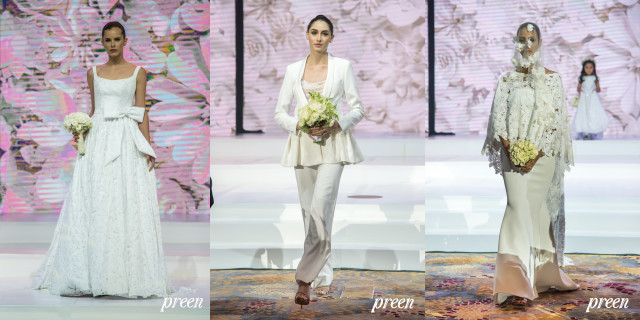 One word: pantsuits. Reminiscent of spring 2016 runways abroad, Maureen Disini showed everyone in the room that brides can wear pants in their weddings too, which is a fresh take on the occasion. But these suits were far from covered-up as they took a daring turn to emphasize the clavicle. Meanwhile, the gowns went a more traditional route with heavy lace and floral designs, and mermaid tail skirts.
Photos by Javier Lobregat