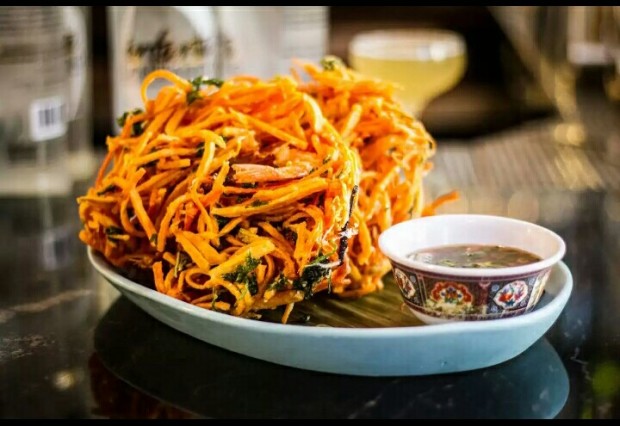 At first, Bad Saint sounds like any other hip restaurant in Washington D.C. Reaping up good reviews from The Washington Post and, more recently The Wall Street Journal, however, makes it a standout in the scene and is putting Filipino cuisine on the gastronomical map.
Owned by chef Tom Cunanan, Genevieve Villamora, and Nick Pimentel, Bad Saint has made dishes like ukoy and diniguan a runaway hit to young and working Americans. In the piece written by Matt Rodbard, it was praised for its rich flavor despite its initially unattractive appearance. "The dish creams of deliciousness, presented the color of mole with a deeply satisfying vinegar-based stock, a few pork cubes, pork belly, and served with the most delightful steamed coconut-rice cake, called puto…"
The restaurant, since opening last September, has seen a lot of success often packed that the owners had to resort to only serving tables for two to four people. "The pro-tip, which I found out on my visit was to arrive on the late sidem as a solo diner, where a ringside seat near the deep fryer awaits," writes Matt.
The piece goes on to explore how the owners created Bad Saint out of a Kickstarter campaign, have seamlessly incorporated Tagalog names for their dishes in the vocabulary of Washington's young set, and have resorted to unusual ways to find best way to cook up kilawin and ukoy. 
With this, plus how Anthony Bourdain has dedicated the first episode of the new season of Parts Unknown to the FIlipino food experience, looks like your mom's adobo doesn't seem so humble anymore.
Photo by Farrah Skieky for The Wall Street Journal