Have you ever encountered people who travel to foreign places and just go straight to the nearest McDonald's, Starbucks, or if it's within the country, Jollibee instead of trying the local dishes? Fortunately, I haven't, but I've heard stories of people who'd rather eat what is familiar to them than try something new.
While we can't blame people's pickiness when it comes to food, we also can't deny that besides the sights, we get a taste—literally—of their culture through their dishes. Plus, you need to take a break from eating fast food burgers and Chickenjoy.
At the World Street Food Congress, which kicked off yesterday, we encountered around 30 stalls serving street food from different regions of the Philippines and different countries. As we mazed through a crowd of people and crazy lines, we spotted a few dishes which we think encapsulates and represents their culture through flavor and the innovative use of their signature food items to create something new.
#1 Pasta Bicolandia (P180) from Bicol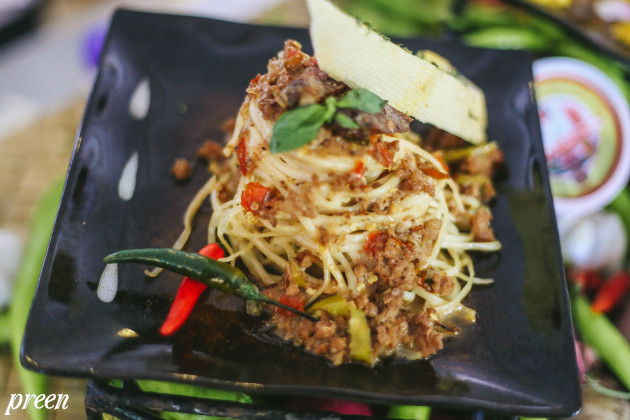 Growing up in a family of part-Bicolanos, I think it was already ingrained in MY tastebuds to withstand chilis and spicy food in general. The Bicol region stall of Flavours of Philippines had no shortage of that as they served a Bicol express-inspired pasta dish with garlic-malunggay bread. Along with this, they also have a small cup of sili ice cream.
#2 Kiniing-Inapoy Bingungen, Okoy Tikyosko, and Panera (P180) from North Luzon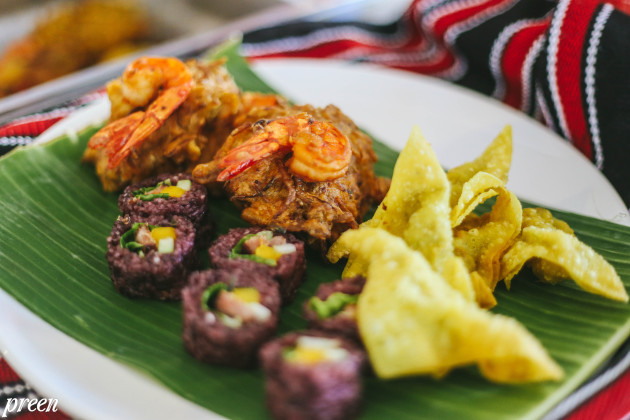 Probably one of the most famous dishes from this region comes from Ilocos, which are okoy and Vigan empanadas. This stall gave a new look and flavor to the said dishes—the Okoy Tikyosko is made of shrimp and various veggies, and the Panera is a mini-empanada filled with papaya and shrimp. They also highlighted a dish from Cordillera callled Kiniing-Inapoy Bingungen which is a local take of the humble sushi with a dark purple tint to it.
#3 Banh Xeo (P280) from Vietnam
In Vietnam, they create mini pancakes in clay pots called Banh Xeo which are considered one of their national dishes. These pancakes are usually topped with seafood and vegetables, and served with a sweet and sour sauce on the side.
#4 Nam Bo Sticky Rice Banana (P150) from Vietnam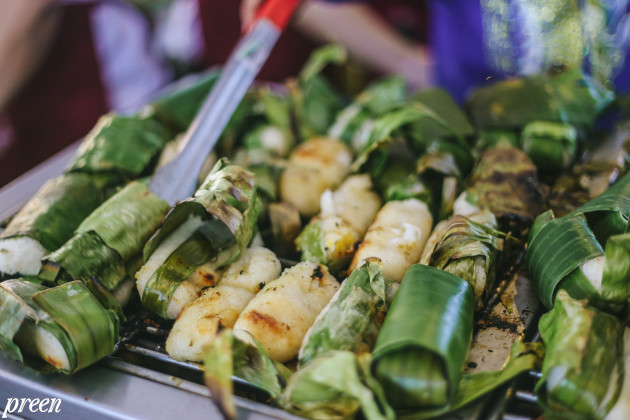 Another Vietnamese staple is sticky rice banana, which is like a combination of our traditional kakanin and bananacue all rolled into one. The bananas are wrapped in sticky rice and are placed on a grill to cook. It is then served with coconut cream and roasted sesame seeds.
#5 Smoked Chilli Grilled Tofu Bao (P160) from USA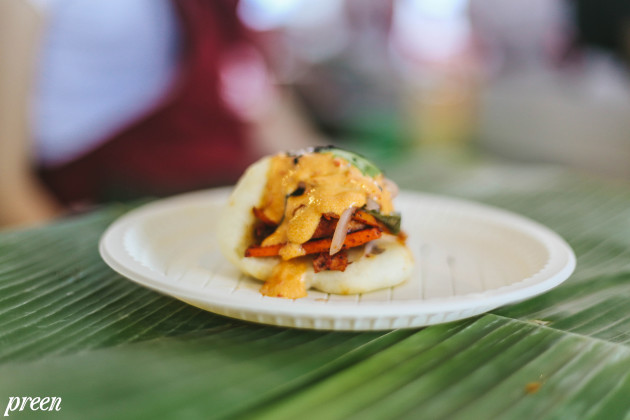 While this is sold in an American stall, the small sandwich showcases fusion elements as it includes other Asian ingredients like kimchi and sambal olekcream (a spicy sauce reminiscent of sriracha). This definitely says a lot about the intermingling of cultures in the country.
Photos by Paolo Tabuena