After a long and grueling week, it's high time you reward yourself. It's Labor Day weekend after all. While half of the Philippine population seem to be partying it up at Laboracay, that doesn't mean you can't celebrate over in the metro. It actually seems like an even better idea to trot the metro now since everyone's away. So, we at #TeamPreenPH scouted north to south for events you wouldn't want to miss this weekend. From beauty workshops to mini music festivals, we've got you covered.
See where you'll be this weekend in the list below.
Beauty
#1 NUXE Summer Workshop
April 30, 4 p.m. onwards
Beauty Bar, TriNoma, Quezon City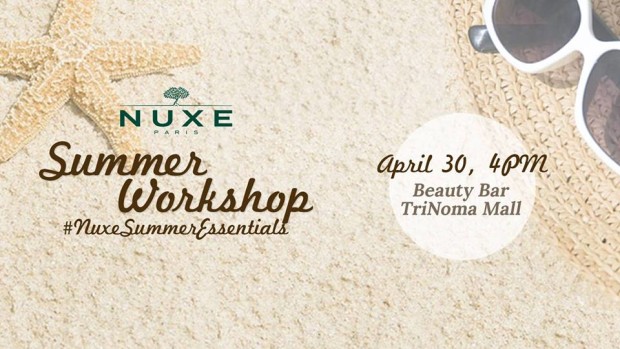 Enjoy an afternoon learning beauty and skincare tips from Paris' top beauty brand.
Launches
#2 Segue
April 30, 2 p.m. to 6 p.m.
Exile on Main Street, 299 Katipunan Avenue, Quezon City

To celebrate the launch of their literary folio, Misc, Ampersand will also hold an open mic for spoken word performances and maybe even some music.
Spoken Word
#1 Ampalaya Monologues
April 29, 6 p.m. to 9 p.m.
Splice Resto Bar, Greenfield District, Mandaluyong City

For the last installation of Ampalaya Monologues, watch several tap, music, and spoken word performances.
Shopping
#1 Flow In the City: Summer Wellness Market
April 30, 11 a.m. to 9 p.m.
Mandala Park, Shaw Boulevard, Mandaluyong City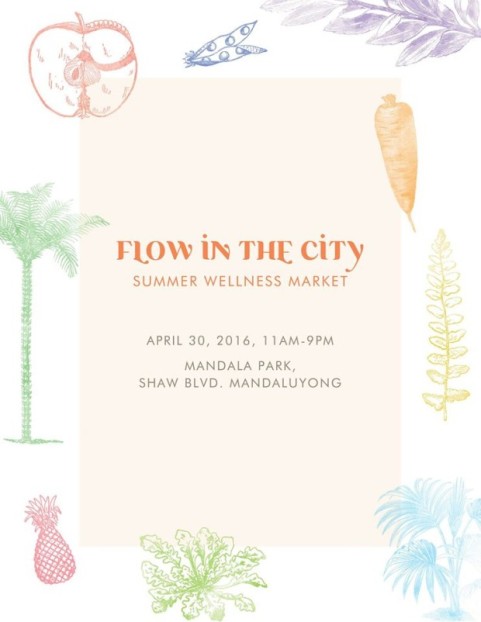 Support local, feel-good brands at this weekend market! Maybe even attend some of their yoga and health workshops, too.
#2 Kawaii Market 2016
April 30, 10 a.m. to 7 p.m.
The Open Space PH, 134 Jupiter Street, Makati City

Spend the day getting creative and shopping for your favorite arts and crafts products.
Food
#1 McCormick Flavor Nation Festival
April 30, 12 n.n. to 9 p.m.
Bonifacio High Street Central Amphitheater, Bonifacio Global City, Taguig City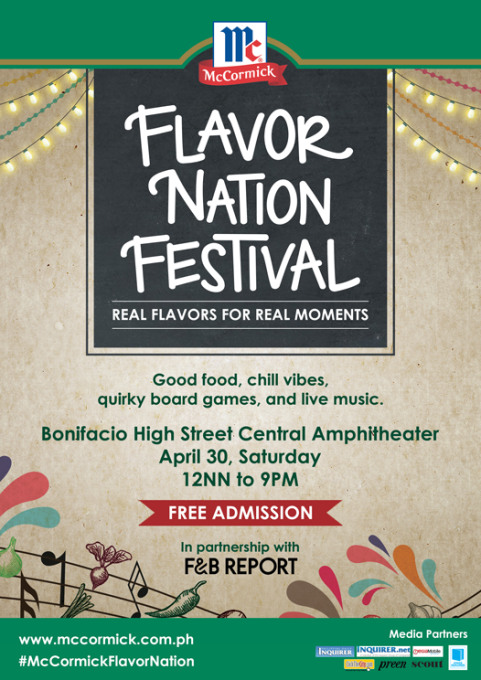 Bring your friends and family to this food and activity-filled event organized by McCormick, and also get the chance to try their new noodle products. A cooking demo by Sabrina Artadi and live music by Reese Lansangan, Fools & Foes, Basti Artadi, and more also await you.
Parties
#1 The After Affair
April 29, 9 p.m. onwards
Museum Café, Makati Avenue corner Dela Rosa Street, Makati City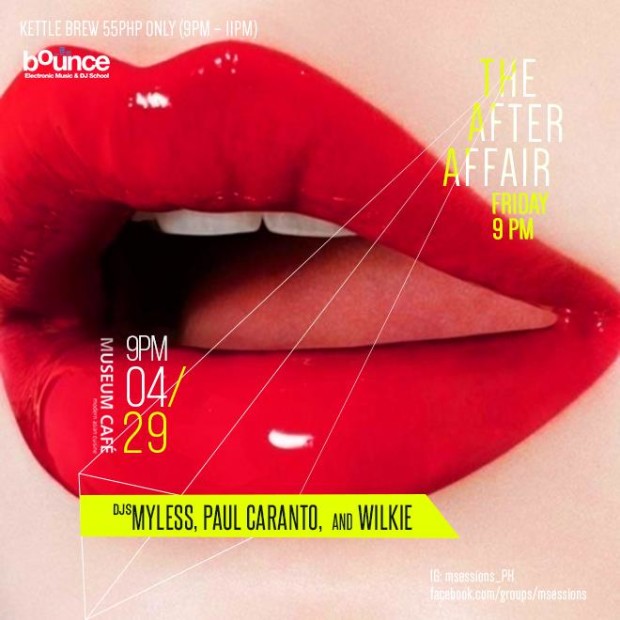 Get lost in the rhythm of Wilkie, Myless, and Paul Caranto's beats.
#2 Walrus Summer Shooters Party 
April 30, 4 p.m. onwards
Walrus Katipunan, 3/F, 318-A Katipunan Avenue, Quezon City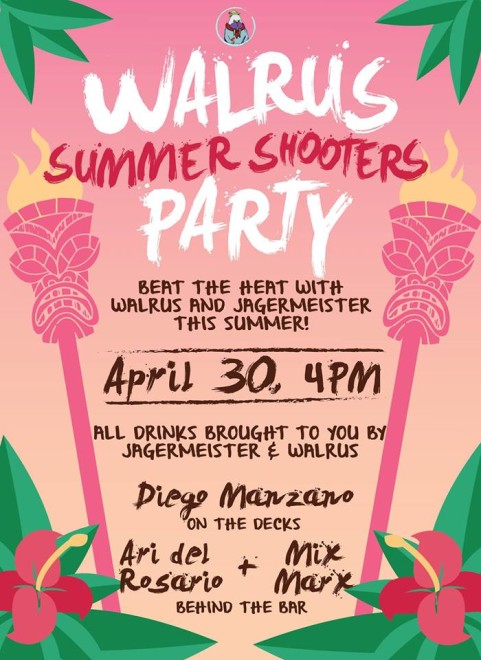 Beat the heat with concoctions by Mix Marx and Ari del Rosario in partnership with Jagermeister.
#3 UNKNWN NIGHT
April 29, 10 p.m. onwards
B-Side, The Collective, 7274 Malugay Street, Makati City

While a lot about this night still remains unknown, what we do know is that they'll be going back to basics with performances by an Ostgut Ton resident and the Panorama Bar family, as well as the debut performance of Red Bull Music Academy attendee, Arms Akimbo.
#4 Riot House
April 30, 10 p.m. onwards
Black Market, Warehouse 5, La Fuerza Compound 2, Sabio Street, Makati City

Your weekly house party just got even crazier with DJs Mulan, Funkatalyst, Kevin Ruiz, and The Communist Party.
Music
#1 Youngblood
April 30, 7 p.m. onwards
The Clubhouse, Temple Drive, Quezon City
Jam to music by homegrown acts Arthur Tan, Joseph Tempongko, Rusty Machines, Jensen & The Flips, and She's Only Sixteen.
#2 Satchmi Vinyl Day
April 30, 12 p.m. onwards
UP Town Center, Katipunan Avenue, Diliman, Quezon City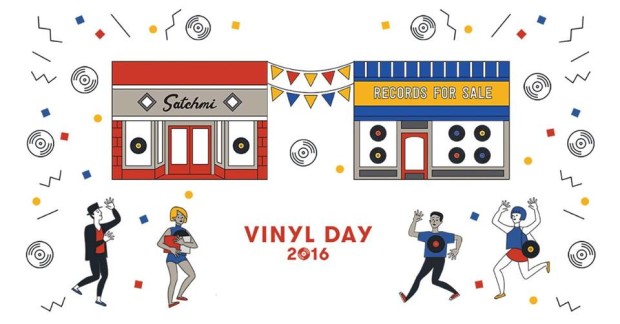 Curtismith, The Ransom Collective, BP Valenzuela Reese Lansangan, Chocolate Grass, and Moonwlk are some of the many acts set to perform tomorrow. Plus, you can also grab some vinyl records at discounted prices!
Film
#1 Alingawngaw X Bulong
April 29, 5 p.m. to 9 p.m.
Cine Adarna, UP Film Center, UP Diliman, Quezon City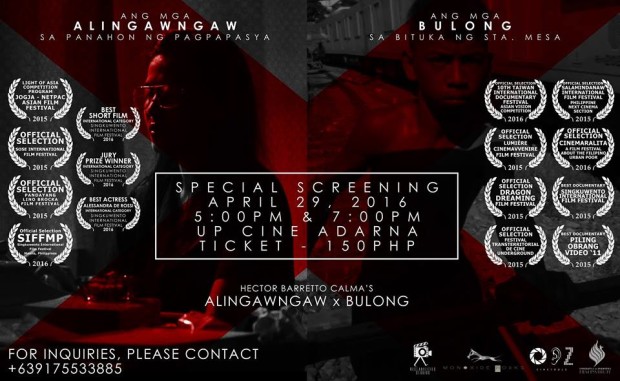 Catch the special screening of these award-winning films by Hector Barretto.
Fitness
#1 Night Trek to Mount Batulao
April 30, 4 p.m. onwards
Mt. Batulao, Nasugbu, Batangas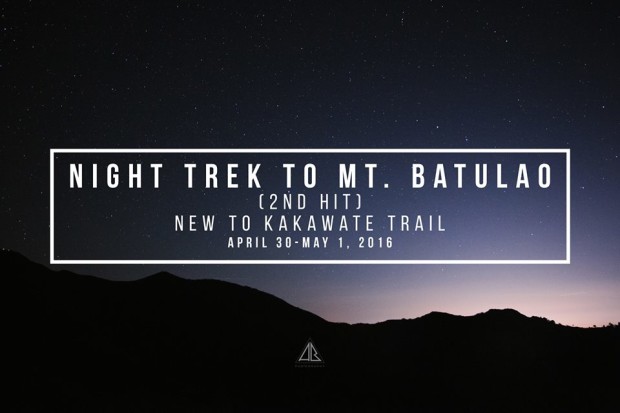 Take a break from the city by booking this easy one-hour trek up to Mount Batulao.