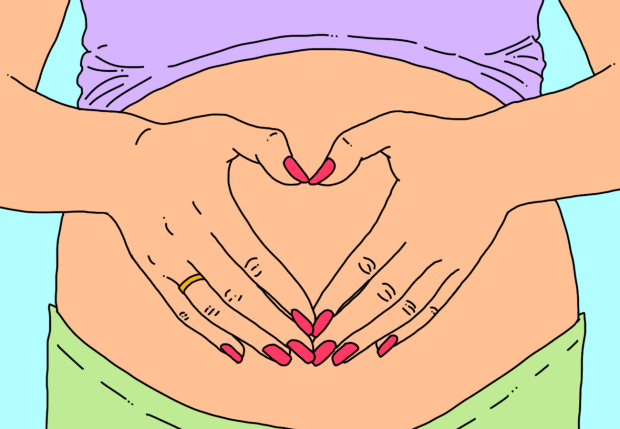 Every week, Preen tackles motherhood sans the rose-tinted glasses. Our columnists L. Juliano, Marla Darwin, Monica Eleazar-Manzano, and Rossana Unson tell their personal experiences like it is—at times frustrating, oftentimes confusing, but always enlightening.
I know I'm eating my words—all those years I said I'll never have a baby. I claimed I hated kids. Noisy and rowdy toddlers would get into my nerves. I'd mutter under my breath, "Hindi ka cute. Wala kang karapatan maging brat!" (You're not cute! You don't have the right to be a brat!)  I would roll my eyes and unfollow friends who flooded my Facebook feed with baby photos. And here's a confession: I wanted to believe, and I really did, that I'd never want a child. It's mostly because I couldn't make one. My OB confirmed that after years of infertility. But only a month before I was totally surprised to be expecting. How fate works, huh?
It's a running joke in our circle how I turned into the doting, feed-flooding mom I once despised. I think I deserve it. But to my friends who are saddened with my "situation," or expressed how they lost a partner in singlehood, know that this new stage in my life is by far the very best thing that ever happened to me. Better than that lost promotion at work. Better than the missed backpacking trips, music festivals, and night outs. I'm not trying to turn you to the "dark side," as you say I've succumbed to. But know that having a child is not the end of my life, and it won't be for you either.
I'm still no different from you. I still aspire to leave a mark, to have a solid sense of self that lacks disbelief in my abilities. I love the creative field and I wish to grow in it, be known by it, and connect myself fully with it.
But despite all that identity and glory-seeking traits that come with my humanity, having a child shifted the focus away from me and influenced my perspective. And if only for those reasons, I've held my tongue many times to encourage you to have one too. That's so tita of me, isn't it?
Yes, adding to overpopulation bothers me. And seemingly opting to have my own instead of adopting one disturbs me extremely. But now that my daughter is here, I focus on molding a soul that can contribute to real, positive change. She'll belong to a special class of thinkers and doers. We still need more of those. If that is the goal, I see no reason to feel guilty. Having her is an immense blessing and challenge.
Am I losing myself in the process? You told me that's one of the things that scares you about motherhood. In a way, yes I am. But maybe this is who I should be right now. There's a time and place for everything. If this phase calls for me to be selfless, then so be it. I'll miss out, I may even weaken bonds in friendships but it's all part of the natural transition and it's really not as scary as it sounds.
It isn't terrifying because you'll be filled with this otherworldly love. I can't describe it any other way. It's the closest I can get to understanding unconditional love. If there's a God, it's probably an iota of what pure Godly love feels like.
I know it all sounds exactly like an idealistic banter of a newly proclaimed mom, and I'll drive you to boredom if I go on. I completely understand if you'd rather hang out with someone who doesn't keep shining her daughter's photos on your face every millisecond. Just know that the journey is beautiful, and if you ever find yourself in it too, you have me to walk with you through it.
Disclaimer: The views expressed here are solely those of the author in her private capacity and do not in any way represent the views of Preen.ph, or any other entity of the Inquirer Group of Companies.
Art by Dorothy Guya